Big 12 defensive coordinators describe difficult job
Being a Big 12 defensive coordinator is a tough job. Oklahoma's Mike Stoops and Oklahoma State's Glenn Spencer explain.
• 5 min read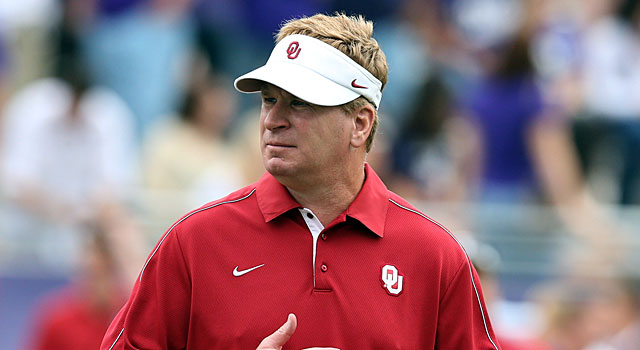 STILLWATER and NORMAN, Okla. -- If it's not the hardest job in college football, it's top five.
The application to become a Big 12 defensive coordinator should come with a Tylenol packet and a back rub.
Both will be necessary on Sunday mornings, sometimes earlier.
"A mixture of nausea, grief, anger," Oklahoma State defensive coordinator Glenn Spencer said. "It sticks with you (after a score) at different levels until you have a chance to succeed and prove yourself again."
There are plenty of chances for that -- five Big 12 teams averaged 76 or more snaps per game last season. Five of the top-15 offenses in the country came from the Big 12 (not counting defection Texas A&M).
No-huddle attacks, dual-threat quarterbacks and quick spots that befuddle defensive substitution patterns are among many factors affecting most Football Bowl Subdivision defenses but especially the Big 12.
When it comes to giving up points in conferences such as the Big 12 and Pac-12, 24 is the new 17. Staying under 30 is probably a darn fine day in most cases.
While making spring football tours around the country, I caught up with two Big 12 coordinators -- Spencer and Oklahoma's Mike Stoops -- and let them vent about the challenges, rewards and changes of the job.
Spencer was promoted from linebackers coach this offseason. Stoops, the former Arizona head coach, enters year two as the Sooners' coordinator.
You can't be so predictable: "At times we were predictable, which was good in some situations and not as good in others. We want to put more pressure on the quarterback to make him think on the field. You have to make him react to different things." -- Stoops
Total yards is an outdated stat: "Points per possession is a good one. We defended 17 and 18 possessions per game last year. The national average was 14. Total snaps is a good one. We led the conference in red-zone defense two years ago. That's a huge stat." --Spencer
There's only so much you can do against a spread attack: "They put you on an island. That's the dilemma. Do you try to play two high safeties as opposed to one safety in the box or bringing another one in and loading the box and stopping the run? Now you're at the mercy where they have to throw. You're trying to play that game constantly to show different looks, to try to spin down, hide things more. You have to be able to play the game where you're able to check something. Then if they re-check, you have to check out into another defense." -- Stoops
Just can't gang tackle like the old days: "They are using the entire field. Power game, two back game, insert safeties for run stopping -- now you can't do that. En vogue is pop passes. Zone read, then pass off it. If you don't tackle perfect and have perfect discipline with your eyes, it's a big gain. One mistake is points." -- Spencer
Must have speed at defensive end: "We're not playing against a tight end. We had bigger 6-4, 280-pound defensive ends, but now it becomes more of a speed game. You need an edge rusher because the edges are shorter. We're not playing a lot of bulk in this league. That's changed." -- Stoops
Take calculated risks with your disguises: "So much of what they are doing is based on leverages and assignments, giving a run-pass read, overhang plays. You have to disguise that. You've got to affect the quarterback. Forces some of your guys on an island, but you have to do it. To do that, you have to take some risk and you have to pick your times." --Spencer
One of hardest parts of defending no-huddle is in-game adjustment process: "It takes some of the thinking out of the quarterback. They can see it upstairs, your rotations. They can get (the quarterback) in a good play if you're not in it. There is more and more of that that I see, the game being called more from the sidelines, even the audible being called from the sideline. -- Stoops
Forget points: "You can't lose sight of ultimate goal is to win the game." -- Spencer
At Oklahoma State, a defense can be off, then back on the field in a few seconds: "We've chosen to win games like this. Based on that, tempo and all, if things are clicking, great, we're just going to outscore people. When things aren't clicking, the offense could be off the field in 30 seconds -- incomplete, incomplete, incomplete, hurry up and punt. All we have to realize in our room is to be loyal to each other." -- Spencer
Late-season slides are humbling: "We may have gotten a false sense of security about who we were (late last season against West Virginia, Texas A&M and other high-powered offenses). We probably got away with some things that exposed us more." -- Stoops
You have to celebrate the positives: "Realizing in our room, 'That was a great job, guys,' instead of always beating them down -- you gave up 450 today, you gave up 500, just brow-beating them. That's what they hear from the outside. The media is going to portray them a certain way, so you have to keep them nailed down to the truth.
"I'm never going to be ashamed of a win. Otherwise, by Weeks 9 or 10 you're going to have a dejected defense. There are times you have to accentuate the negatives." -- Spencer
Accountability crucial: "You can't be blind and just say it's great offense. You have a part of that, too. You've got to look at yourself." -- Stoops
You're a better tackling team if you recruit better tacklers: "There's some truth to that. Can't just tackle with two dummies and angle tackles. You have to work realistically about what you're seeing on the field. The drills over and over -- tunnel screen that angle, quick screen flying 100 miles per hour on a great athlete, what's your leverage, sinking hips, where are your eyes. It won't be perfect, but you tend to get what you emphasize." -- Spencer
Heartache and more heartache: "Could be the next drive or after a loss and you aren't over it until you play the next week. Isn't it the same in life? If you care about something so much, failure and success are tied into your guts." -- Spencer
The SEC released its 2018 schedule in full Tuesday afternoon, and it's dripping with intri...

The 2021 Chick-fil-A Kickoff Game will feature Louisville and Ole Miss

The Fornelli 50 ranks teams based on nothing but their performance in 2017
Penn State better have its eyes wide open with a trip to Iowa City on deck this weekend

Ohio safety Javon Hagan has a rather unique personal tradition during games

Mississippi State has been good to Mullen, but he should be the next Bulldog to upgrade