Big 12 expansion: Examining the pros, cons and candidates
Oklahoma president David Boren sheds light that it's contractually more viable for the Big 12 to expand than previously portrayed. Still, the candidates are no slam-dunks.
There's a valuable lesson when tracking conference realignment speculation in college sports: Believe the words in TV contracts more than the words coming out of people's mouths.
Oklahoma president David Boren provided a reminder of that Wednesday when he mentioned at a university board of regents meeting that the 10-member Big 12 should "strive" for 12 members. According to the Oklahoman, Boren revealed that the Big 12's primary television contract does not hurt the conference from expanding in the way that has been portrayed for years.
"The contract says that our main television contract ... if we grow from 10 to 11 or 11 to 12, their payments to us grow proportionally," Boren said. "So everybody's share stays the same. If it's 'X' dollars, it stays 'X' dollars."
Ultimately, it may not make sense for the Big 12 to expand, especially if the conference is able to change an NCAA rule so a football championship game can be staged with 10 members. It's far from a given that the Big 12 thinks there are schools attractive enough right now to add. There is no Florida State lurking as a potential free agent in this round of realignment speculation.
Boren tends to be a loose cannon and his words are those of just one president. Remember, as always, be careful believing moving lips when discussing conference realignment.
Still, in the mind of at least Boren, there's an underlying message being conveyed: "If you want to join our conference, keep investing in your athletic program because expansion is more viable than you might have thought."
Big 12 commissioner Bob Bowlsby confirmed to the Dallas Morning News and later told CBSSports.com that the Big 12's TV contract calls for pro rata increases or decreases based on the number of members. Bowlsby said he has no indication that the majority of Big 12 presidents support Boren's desire to reach 12.
"It's my sense that the majority are either unsure or not supportive of expansion at this point," Bowlsby told CBSSports.com on Thursday. "But David is a very influential member of our board and I think his comments will cause some to have pause and think about it again. David is obviously very politically savvy and insightful and very influential, so those are his thoughts on it and I'm certainly going to listen to them."
It's important to note: Expansion would mean the Big 12 would have to share other league revenue 12 ways instead of 10. That means further dividing money from the College Football Playoff, other bowls and the NCAA Tournament -- real money some Big 12 schools won't want to lose without getting enough value in return from new members.
Bowlsby said that the portion of divided Big 12 money represents about 40 percent of current conference revenue. The Big 12 announced last month that it distributed $252 million to its 10 members for the 2014-15 school year. "There are some places we could gain (financially) by being larger and some places we'd lose by being larger," Bowlsby said.
Reaching 12 members is "something we should strive for while we have the time, stability, all of that to look and be choosy," Boren said, according to the Oklahoman. "[We] can be very selective about who we want to add. It would have to add value to the conference. I think we should."
Boren comes from the Oklahoma perspective of having to compete with Texas and its lucrative Longhorn Network. Even though the ESPN-owned Longhorn Network has struggled to get distribution, Texas is going to receive approximately $15 million per year until 2031.
Eventually, the Big 12, Texas and ESPN will have to tackle the Longhorn Network question again. Will it make sense financially for ESPN to do another deal with Texas? Would it make more sense for ESPN to roll the Longhorn Network -- which has more channel clearance right now than the Pac-12 Network -- into a Big 12 Network? Would Texas flirt again with joining the Pac-12? All of those are questions for many years down the road.
There are Big 12 schools taking notice of the anxiety some Pac-12 people are experiencing several years after expanding from 10 to 12. It's not all roses for the Pac-12, which fully owns the Pac-12 Network. Thus, the Pac-12 is distributing a lower percentage of its revenue to members than other major conferences pay to their schools.
There's a line of thinking among some lower-budget Big 12 schools that the 10-member conference has incredibly helped their television exposure. Instead of playing some important football and basketball games on a conference network, some Big 12 schools are getting more attention than ever by playing on ESPN and Fox.
It's not lost on some Big 12 folks that its best football teams at the moment are Baylor ($86.9 million in reported 2013-14 athletic revenue) and TCU ($77.1 million), and not Texas ($161 million) and Oklahoma ($129.2 million). Now, that could obviously change if Texas and Oklahoma get their acts together again, as you would expect to eventually happen.
But the 10-team, round-robin model is working nicely to help the brands of some lower-tiered schools. The biggest reason to go to 12 teams would seem to be if the Big 12 can't stage a conference championship game with 10 and not having one continues to hurt the Big 12's playoff chances. When the Big 12 didn't collapse in 2010 and 2011 due to schools leaving, ESPN and Fox agreed to keep paying the conference the same amount without a Big 12 championship game.
"Because of the volatility that was in place at the time, TV partners said if you lose people, we'll give you pro rata down and if you gain people give pro rata up," Bowlsby said. "I think our TV partners might justifiably assert we ought to do (a championship game) without any uptick in money."
Would expansion reopen the Big 12's TV contracts that are through 2025? "The answer is we would suggest that it does," Bowlsby said. "I don't know if our TV partners would agree with that."
Still, no one can predict what college sports will look like in a couple of years. The Big Ten's next TV deal that further financially separates the Big Ten and SEC from everyone else could be a factor. Some of the anxiety felt within the Pac-12 could be a factor. CFP appearances or absences for particular conferences could be a factor. The changing landscape of legal obligations for schools to provide more benefits to athletes could be a factor.
Meanwhile, the performance and maturation of some athletic programs in the coming years could make some schools look more attractive to the Big 12. The Pac-12, ACC and Big Ten all expanded by adding programs that were viewed to be on the lower end of the spectrum in their new conference. Always remember this: Conference expansion has largely been about getting into new TV markets with heavy populations. Who are some of the very speculative candidates?
BYU: The Cougars badly want to get into a Power Five conference for more money, exposure and scheduling help. BYU, owned by the Church of Jesus Christ of Latter Day Saints, probably offers the largest potential audience for the Big 12. It might not be a cultural fit for the Big 12, though, such as BYU's policy of playing no games on Sundays.
Central Florida: This would get the Big 12 into Florida for games, although Texas and Oklahoma already recruit the state. Bowlsby has long suggested that if the Big 12 expands, it's going to go East for at least one member. UCF is in a state that's driven by Florida and Florida State, but the size of UCF's student body is big enough that it's growing its own fan base and could be a decent addition if UCF keeps winning in football.
Colorado State: The Rams are building a new on-campus football stadium with a price tag of around $200 million. Still, the stadium will seat 9,000 fewer fans than the Big 12's smallest (TCU) and Colorado State doesn't really capture the Denver TV market.
Cincinnati: The Big 12 would get into a large-market city and help solve the West Virginia travel problem. The Mountaineers are in no-man's land in the Eastern half of the country. But football drives college sports and right now the Bearcats' football program doesn't resonate in a pro sports city with the Reds and Bengals.
Houston: If Tom Herman is as good a head coach as he was as Ohio State's offensive coordinator, the Cougars could be winning big very soon while in a new stadium. Again, though, there's the concept of playing in big TV markets and the concept of capturing TV markets. But would the Big 12's schools really want another member from Texas?
Boise State: Competitively in football, Boise State makes all the sense in the world. The Broncos are a brand name by winning games. They also play in Idaho with a very small TV market.
Memphis: Like Cincinnati, adding Memphis would help solve the West Virginia travel problem. Memphis has a quality basketball program, has been improving in football, and is located in a decent (and new) TV market for the Big 12. Memphis president David Rudd apparently got Boren's memo and tweeted Wednesday: "Will be announcing new football & basketball facilities soon, stay tuned. Committed to competing at the highest level."
Boren's comments are just one president's opinion. Good luck getting the Big 12 to reach consensus without it turning into a circus.
Still, the revelation that everyone's Big 12 TV money is guaranteed makes Big 12 expansion more viable than we once thought.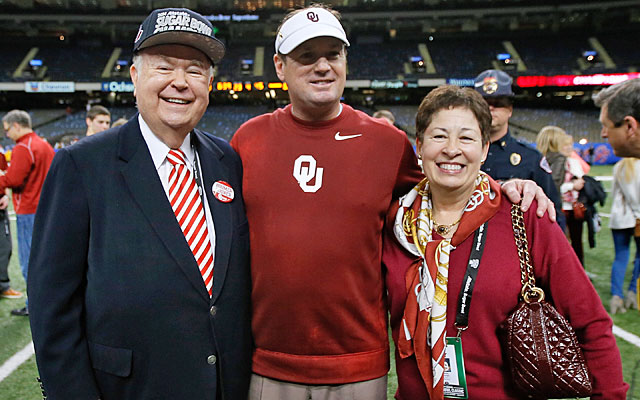 Cristobal's first game at Oregon ended the same way Chip Kelly's did

Conner Manning and the Panthers dominated the Hilltoppers in the Cure Bowl

You can only go to the well so often before it dries up
The Trojans beat LSU earlier in the year and now have their first 11-win season as a FBS t...

Saban has never been a fan of the early signing period and made it clear that hasn't chang...

Paul Tyson is a three-star quarterback prospect for the 2019 recruiting class