Big 12: Leaders are 'very close to getting playoff really right'
TV negotiations just getting down to nitty gritty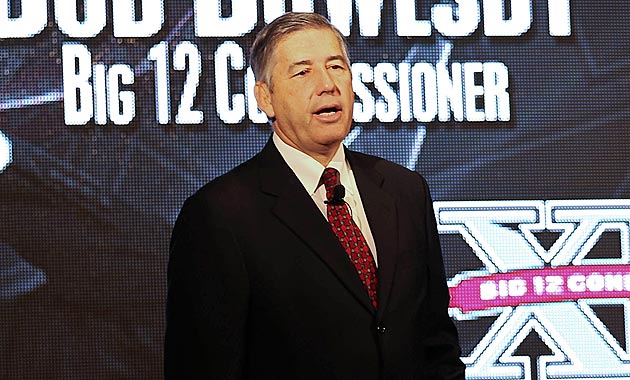 Former Stanford athletic director Bob Bowlsby has been Big 12 commish since June 15. (US Presswire)

KANSAS CITY, Mo. -- As college football's playoff formation continues, Big 12 commissioner Bob Bowlsby said Wednesday, "We are very close to getting to this really right."
Bowlsby was confident that the playoff, beginning in 2014, will deliver on all its promises: keep the regular-season relevant, stage a compelling playoff and distribute revenue fairly.
"I'm confident we're going to get it right by the time it's all done," Bowlsby said at Wednesday's Big 12 basketball media day. "That's why we're going slow and sweating all the details."
Among those details is an exclusive TV negotiating window with ESPN that was due to begin Oct. 1. Bowlsby said the parties are just about to "embark on" those negotiations that could go on for months. Bowlsby indicated the parties "can do whatever you want to do as long as both parties agree and the TV partners go along with it."
The playoff is expected to be valued between $400 million to $600 million per year.
Bowlsby estimated that the selection committee which will select the playoff teams will number about 18.
"Some of them will be active people currently in the profession [and] retired people," he said. "I'm probably a little more trusting than some others might be having gone through the basketball committee process. The basketball process is a very honorable process. If you have a dog in the fight, you leave the room. You don't try to influence the other people in the room for your own benefit. This will be the same way.
"Will it be harder to come up with four teams than it is to come up with 68 [in basketball]? Yeah. Would we be any less confident in terms of integrity? No."
Bowlsby is former chairman of the NCAA men's basketball selection committee. The nine-man committee annually selects the 38 at-large teams as well as seeds and brackets the 68-team field.
One of the most distinguished members of a possible committee has not been contacted. Former SEC commissioner and father of the BCS, Roy Kramer told CBSSports.com recently that he is not particularly interested in being on the committee. Bowlsby said he would have no problem with Kramer being on the committee.
Bowlsby reiterated that a seventh bowl to accommodate the so-called Group of Five (MAC, Big East, Conference USA, Sun Belt, Mountain West) has not been finalized. In fact, Bowlsby was not in favor of the Orange Bowl becoming closed on both ends. Beginning in 2014, the ACC champion will play either Notre Dame or available teams from the SEC or Big Ten.
"It's no secret I wasn't entirely happy with that," said Bowlsby who lost a possible bowl berth for the Big 12.
As it stands, there could be a maximum six open spots in playoff bowls and a minimum of two in any given year (without a seventh bowl). Bowlsby was reminded that Utah attorney general Mark Shurtleff is still soliciting partners in order to sue the BCS on anti-trust grounds.
"I hope we do a good enough job that those complaints will sound hollow," Bowlsby said.
The Big 12 and SEC are still in the process of deciding where to place its Champions Bowl. CBSSports.com reported last week that Bowlsby said it was a "dead heat" between Dallas and New Orleans. The assumption is that the city that doesn't get the Champions (Big 12 vs. SEC) will get an access -- or open -- bowl in the playoff rotation.
Many NFL-eligible juniors ignore advice provided by the league and risk going undrafted each...

Snyder died in Manhattan, Kansas, on Wednesday

Locksley joined Alabama's staff in 2016
Saban reportedly wants to hire Freeze, but there may be things keeping that from happening

Florida State-Miami will be on Oct. 6, and the Seminoles will play Clemson on Oct. 27

Weis Jr. was an offensive assistant for the Atlanta Falcons in 2017