Big 12 officials take stand: Pay players for name and likeness
Big 12 commissioner Bob Bowlsby and West Virginia AD Oliver Luck are on board for players profiting off their name and likeness, and said so in a public setting.
• 4 min read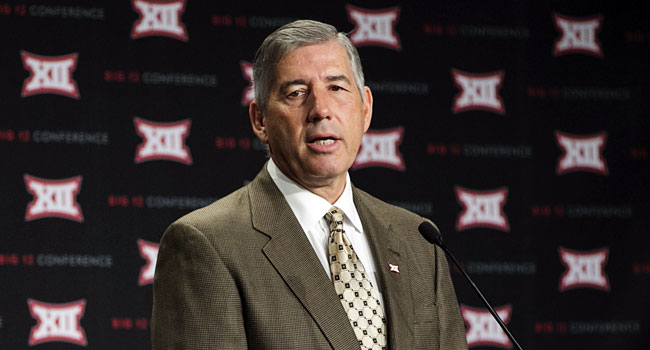 More college football: Jon Solomon | Dennis Dodd | Latest news
NEW YORK -- Even the men in suits, conditioned to swat away anything that threatens the multi-billion pot of gold, can start to acknowledge a college player's worth now.
Call it progress.
As part of a 10-person panel at the Big 12's first-ever 'State of College Sports' forum, West Virginia athletic director Oliver Luck said college athletes have a "constitutional right" to govern their own name, image and likeness -- the very thing the NCAA fought in last month's well-publicized O'Bannon trial.
Big 12 commissioner Bob Bowlsby later echoed Luck's sentiments during Wednesday's two-hour session in a New York City Hilton ballroom, a lead-in to the NCAA board of directors' vote on power-conference autonomy today.
"That is who you are...That's sort of existential," Luck said. "If we are in fact using name, image and likeness of student-athletes, they should be compensated."
Luck added there's "not a big pot of gold" for players outside of a select few -- college stars such as Johnny Manziel or Jameis Winston, for example.
Creating a workable model that pays players while sustaining the NCAA's precious 'competitive equity'...well, officials don't seem ready to go there yet.
U.S. District Judge Claudia Wilken in Northern California could make an O'Bannon ruling in the next week. A key issue in the case is whether players should profit off live broadcasts, which is where the money is.
Luck declined comment on live broadcast profits, citing the ongoing case, but said players have a case for archival broadcasts and sponsorships. The NCAA recently pulled a student-athlete waiver form that relinquished name, image and likeness to the organization.
Acknowledging players deserve any profits in a public setting is considered rare for college football administrators.
"The collegiate community has learned a lesson about taking broad lattitude with name, image and likeness," Bowlsby said.
Texas athletic director Steve Patterson wasn't so convinced about players profiting from their own brand.
"I don't think you should create a marketplace for the one half of the one percent that might have a certain market value and distort all the competitive issues around that and all the revenue issues around that to the detriment to the other 99 1/2 percent of students out there," Patterson said. "What will happen is you'll shrink the number of scholarships and you'll shrink the number of teams, hurt the number of Olympic sports on the men's and women's side. And the only people that will make out are the runners and the agents acting on behalf of a small fraction of student-athletes. So I don't think we should create a system that benefits a bunch of agents."
For much of the forum, league officials revisited well-worn bullet points about a big-money conference's place in the game.
*Professionalizing sports by paying players a salary is not the way.
*Despite multi-billion television deals, most athletic departments don't have a "big pot of cash just sitting there," said Kansas State athletic director John Currie, citing ballooning expenses and misconceptions about how much money comes in.
*The five power conferences need NCAA autonomy, which is voted upon by board of directors today, because they win most of the championships, have distinct needs driven by high resources and want the right to legislate for more player rights, such as paying for cost of attendance.
These lines seem rehearsed because, well, they've been said before. The 10-person panel was diverse but Big 12 officials were always going to be playing defense in this setting, especially against Dr. Donna Lopiano's aggressive push against the autonomy plan.
The plan will give the ACC, SEC, Big 12, Big Ten and Pac-12 more voting power on a bevy of issues, including paying players for cost of attendance (beyond tuition, books, room/board), reformed health care for players and systemic changes to the player-agent relationship.
In the current voting structure involving 340-plus Division-I schools, it's harder for the power conferences to pass legislature.
"Why are we blaming the 365 that you won't share money with?" said Lopiano, president of Sports Management Resources.
"Why should we share it if they are not generating it?" Patterson responded.
The forum debated whether playing college football is a full-time job, a suitable argument after Northwestern's unionization efforts in the spring.
Bowlsby conceded players might log full-time hours in-season but maybe 2-3 hours a day from January to late summer. 
The panelists debated the merits of the NCAA's trusty student-athlete moniker, and whether 'athlete' should come before 'student.'
Schools can tout good team GPAs but aggregate data "hides problems," Lopiano said.
Bowlsby calls for more transparency on the issue, perhaps publishing GPA and test score ranges.
"We have too many people on campuses that, one, are not serious students and, two, are not academically prepared and three, are probably not motivated for any other reason than it's a rite of passage to get to the next level," Bowlsby said. "Some sunshine on that process might not be a bad idea."
Big 12 officials were defending money issues for much of the segment -- mainly, why they have it and others (smaller schools, players) don't.
Patterson said his athletic budget will approach $175 million soon.
Currie highlighted what he feels are misconceptions about athletic department money, saying K-State earned $50,000 off the EA video game.
"Perception is we're making $20 million," Currie said.
Freeman will not play in the New Mexico Bowl on Saturday

SportsLine simulated every bowl game 10,000 times for pick'em leagues and confidence pools

Grier will return to West Virginia for the 2018 season instead of entering the NFL Draft
The Chick-fil-A Peach Bowl just got spicy

Anderson had been under investigation for an incident at a bar in Cleveland County, Oklaho...

Between Arizona State and Tennessee, no one would have guessed how this coaching cycle turned...