Big 12 takes different path to college football playoff era
The Big 12 will navigate the looming college football playoff as a unique power conference: the only 10-team league, no championship game and no 24-hour channel. The only goal that matters is making a national semifinal.
• 4 min read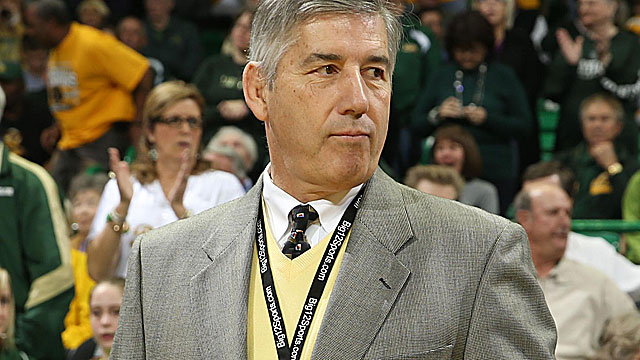 PASADENA, Calif. -- While the ACC is working to become the fourth power conference with its own network thanks to a grant of rights this week, the Big 12 enters the college football playoff landscape as an outlier in a few areas.
It's the only 10-team power conference. It's the only power conference with no championship game. And by this time next year, it might be the only power conference with a traditional television deal.
That's just fine when you consider the league's conference-high $26.2 million per school in 2012-13 revenue. The Big 12 still has a heavy hand.
But does the playoff era mean everyone has to play by the same rules?
That depends in part on the composition of the playoff selection committee, which will be discussed at this week's BCS meetings in Pasadena but probably not finalized.
"Our model is quite different," Big 12 commissioner Bob Bowlsby said.
More so than ever.
Three months ago, Bowlsby and Big 12 athletic directors conducted a closed-door, four-hour meeting at the Four Seasons Las Colinas about conference realignment.
The league expressed widespread satisfaction with its 10-team model but still exhausted all options, most of which involved the ACC. Officials forecast which teams the Big Ten or SEC might target should they expand, and which would still be available should the Big 12 join the raid.
This was considered a blue-sky meeting, strictly hypothetical, but the point was certain: The Big 12 couldn't be asleep at the wheel if Big Ten commissioner Jim Delany got crazy again.
That conversation is useless, at least for now, after ACC commissioner John Swofford convinced his membership to drop the $50-million exit fee model and sign a grant of rights. The Big 12, which signed its own grant of rights in September, even talked with the ACC about wording of the grant of rights in January.
Delany, Bowlsby and Swofford all agreed that the ACC's move has a calming effect on realignment.
The Big 12 has been a 10-team league by choice. Now, it basically has no choice. Expansion options are scarce.
The question remains: Will a 10-team makeup help or hurt the Big 12 in playoff positioning?
There's an argument a conference championship, which would necessitate 12 teams per NCAA rules, would have elevated 2011 Oklahoma State and 2012 Kansas State -- both with one loss -- closer to the top of the standings in a playoff format. The Big 12 has asked the NCAA to revisit the ruling that 12 teams are necessary for a title game, mostly for deregulation purposes but possibly for future flexibility.
But it doesn't appear the playoff committee will require a championship game for the Big 12 to earn a title shot, which is fine by Bowlsby.
"I feel very good about it," said Bowlsby about no title game. "The further we go into this new model the better we feel about it.
The Big Ten's Delany said he's been hearing for 20 years that a championship game would help his league, but he knows that hasn't always been the case.
"If you're not good enough, maybe in some cases it can blow your way and in some cases it blows against you," Delany said. "I don't think there's any one answer other than it's an additional game to play. Sometimes it can catapult you forward, playing a great opponent. Sometimes it can stop you in your tracks."
In 2014, it's all about giving your league a chance with a top-four selection. The Big 12 hasn't made a title game since 2009 but has had two top-three teams in that span.
Non-conference scheduling will be huge in the playoff, and the Big 12 is working on that with a potential ACC alliance on resources, television scheduling, bowl agreements and more.
Kansas State finished fifth in last year's end-of-regular-season BCS rankings. Would a selection committee -- made up of at least one representative per conference -- have voted in the Wildcats? Or another one-loss Big 12 team in the future?
Oklahoma athletic director Joe Castiglione wants to answer that question for his fan base soon, but he can't yet because the selection committee process isn't far enough along.
A playoff subcommittee is meeting this week and could make headway on pressing issues, such as whether members should be employed by a school or retired.
"There are still a number of elements to this process that have not been disclosed, the criteria of how teams are going to be evaluated," Castiglione said. "We're trying to play for a championship. Everything we do each year is geared toward that."
As for revenue, a Big 12 Network is unlikely because the league's tier 3 rights belong to the individual schools. Buying those back would be an exhaustive process, though Castiglione said a network is possible if the league so decides.
A network won't help with playoff seeding and a $500 million annual television pot.
There are new names to learn every season, and here are 14 to keep an eye on from the SEC

Taking a close, detailed and opinionated look at the SEC a week before the start of the 2017...

Rosier will start for the Hurricanes in their opener against Bethune-Cookman
Alabama has won three straight conference titles, and the rest of the SEC is full of quest...

Struggles out of the SEC in 2016 were a mere blip on the conference supremacy radar

Georgia Tech has been with Russell Athletic since 1992