Big 12's Bowlsby rips NCAA enforcement, says 'cheating pays'
Big 12 commissioner Bob Bowlsby criticizes the NCAA at his annual address, saying 'cheating pays' and that financial stress is coming.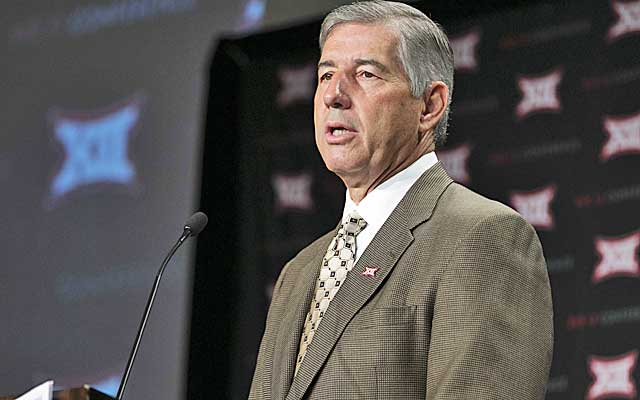 More college football: Dennis Dodd | Jeremy Fowler | Jon Solomon | Latest news
DALLAS -- Cheating pays.
Financial stress is headed the NCAA's way.
Get ready for an across-the-board reduction in minor sports.
Big 12 commissioner Bob Bowlsby painted a bleak picture of the future of college athletics during his address Monday at the conference's media days.
Much like last year's address, Bowlsby went out of his way to criticize the NCAA. A year later, autonomy is a virtual certainty for the major conferences but Bowlsby's comments may indicate how far the Power 5 commissioners are willing to go.
"[NCAA] enforcement is broken," Bowlsby said. "The infractions committee hasn't had a hearing in almost a year, and I think it's not an understatement to say cheating pays presently."
Bowlsby's was the latest blast against the NCAA's enforcement division. Last month, Big Ten commissioner Jim Delany told CBSSports.com that enforcement was "overmatched."
Delany, heading a subcommittee addressing enforcement in autonomy, added that the subject was down the list of priorities. However, Bowlsby went out of his way to raise the issue again.
"They're [enforcement] in the battle with a BB gun in their hand," he said. "They're fighting howitzers. We have to find a way to make progress on it. It undermines the confidence of the system."
Bowlsby went as far to suggest the federal government may have to take over enforcement. That, he said, would allow investigators to issue subpoenas. The lack of such is a key criticism of the NCAA process.
"I am really not very far of being of the mind that some form of federal statute is not a good idea," he said. "You could say it's against the law to influence where a student athlete would go to school, influence the outcome of a contest, to provide a benefit that is outside of the rules."
CBSSports.com's Jon Solomon detailed in May the lack of enforcement cases being processed. A six-month fallow period was the longest in 16 years. To be fair, the NCAA has come back in to investigate North Carolina regarding celebrated academic fraud allegations. Enforcement also is looking into Oklahoma State after a Sports Illustrated series last year alleged misconduct.
NCAA enforcement director Jon Duncan was asked why all the criticism at the moment?
"Unless you're on the Committee on Infractions or our staff you don't know what's in the pipeline," Duncan said. "We don't publish our tracking chart. They assume if they're not reading about us every day, we're not doing our job."
Duncan added that in 2014 the enforcement department are on track to bring more than 100 allegations against approximately 20 schools. The majority of those are Division I. There are "upwards of more than 100 cases under investigation," Duncan said.
Sounds impressive, but the NCAA doesn't have previous numbers to compare it with. Duncan said the preferred method of dealing with cases is summary disposition. That's when the school and NCAA agree on the violations. There's no need to appear before the infractions committee. The two sides basically out of court and out of the limelight.
"The members have been clear," he added. "They want us focusing on those [cases] that compromise the collegiate model. We're really focusing on complex, complicated cases."
A Big-12 sponsored college athletics forum series that kicks off next month in New York will vet some of the issues discussed Monday, Bowlsby said.
"If you like intercollegiate athletics the way it is, you're going to hate it going forward," he said. "There's a lot of change coming."
The commissioner predicted "a path of significant financial difficulty" for the NCAA. He cited what Bowlsby said was annual NCAA revenue growth of 2 ½ percent. Expenses, he added, are growing at 4 percent.
Bowlsby added that financial pressures from fighting court battles and providing student-athlete welfare will put unprecedented pressure on athletic departments. That's without accounting for enhanced medical care and lifetime educational opportunities. Both of those items are expected to be adopted in autonomy.
"Coaches and athletic directors aren't likely to take pay cuts …," Bowlsby said. "Over a period of time what we'll find is that instead of keeping a tennis program, they're going to do the things that it takes to keep the football and men's and women's basketball programs strong."
That, he said, could conceivably impact the Olympics. Eighty-five percent of U.S. Summer Olympians are developed in college programs."
Providing student-athlete welfare is one thing, being able to afford it is another. Bowlsby said the average program will have pay at extra $1 million per year for an unlimited training table. The path of least resistance, he said, will be to cut minor sports.
"In the end it's a somewhat zero-sum game," Bowlsby said. "There's only so much money out there."
Memphis outscored Houston 42-21 in a wild second half win on the road

Scott leads the Spartans with 408 rushing yards

One of the finest restaurants in Columbia has a unique partnership with University of South...
While Mother Nature has wreaked havoc, some teams have been just plain bad so far this sea...

Bryce Love's video game season and early-season turnarounds lead our group

Trust the Process as Tom Fornelli leads you toward his best bets for Week 8 of the season