Big East football still has options amid breakup from hoop schools
Big East football still has its membership intact despite the seven Catholic basketball schools' imminent departure and talk of a total dismantling of the league. The Big East still has a 12-team football membership in 2013 and hopes for more. Execution of a television deal will be crucial.
• 4 min read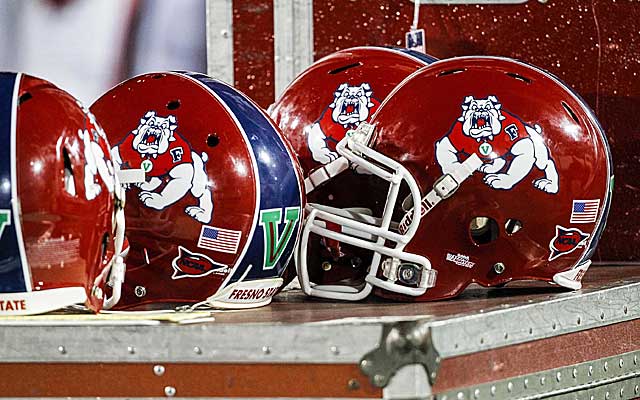 Maybe there's strength in numbers for the Big East. Could Fresno State be the next expansion target? (US Presswire)
There's still a football product back there, camouflaged this week by disgruntled Catholic schools, talk of dissolution and inevitable lawsuits.
Not much actually has changed in the way of Big East football despite the seven basketball schools looking for commonality elsewhere.
In a statement Saturday, Big East commissioner Mike Aresco says, "The basketball institutions have notified us that they plan to withdraw from the Big East Conference. ... The 13 members of the Conference are confident and united regarding our collective future. We have a strong Conference with respected national universities, and are working together to forge the future. We have a variety of options, and are looking forward with great partnership, collegiality and optimism."
Big East football schools can now take honest stock of where they are, guzzle a dose of realism and assess all options. The league still has arguably the best football lineup among the five smaller conferences.
The Big East has a 12-team football membership intact for 2013, at least right now. Louisville and Rutgers would have to negotiate an early exit if they plan to bolt for the ACC and Big Ten, respectively, before their scheduled 2014 start date.
More on the Big East
Analysis

Related content
It's still the Big East's goal to reach 14 football teams by the time Navy is scheduled to enter in 2015. Adding a western team is preferred, and Fresno State has been a target. From what I've heard, the Big East didn't have immediate plans to poach Conference USA like it did last month for East Carolina and Tulane. But all options could be on the table at this point.
The Mountain West could have several attractive options for the Big East -- Fresno, incoming MWC members San Jose State and Utah State, maybe UNLV. Fresno and San Jose State have had recent football success, while Las Vegas is national market.
The conference also believes it can win the battle for the "Big East" namesake, since it's not the one packing up to leave. The basketball schools could go after the name.
The Big East bowl contracts are still in place. Those contracts expire in 2013, paralleled with the conference's BCS term. Hanging onto the BCS automatic qualifier for 2013 will be crucial.
Beyond that, however, the football television money has to be there. That has been the issue for months. Finding an attractive deal starting in 2014 is how the Big East staves off its own dismantling and, at the moment, it's almost impossible to execute. The basketball developments derailed Aresco's plans to negotiate with television execs in New York, though he wants to rejoin the bargaining table as soon as possible.
The Big East already has been left behind plenty of times. It's used to this. The crushing blow would be a mass exodus starting with UConn, Cincinnati and Boise State. But their options seem limited right now. Joining another smaller conference provides no guarantee of more television dollars, despite the Big East's low valuations in recent months.
The ACC isn't begging UConn and Cincinnati to join anytime soon. Perhaps Boise State and San Diego State could find a Pac-12 home eventually.
The Mountain West would have to flip quite the renegotiation with CBS to lead a small-school cannibalization of the Big East. It would have to sell CBS, which holds the Mountain West's rights until 2016, on a package involving current and potential members. It's possible, but hardly a sure thing.
Perhaps a small-school alliance is feasible down the road, some sort of 40-team mega-conference. But getting that deal done would be cumbersome because of legal wrangling and scheduling conflicts.
The basketball schools' exit will be ugly, just another dart into the chest of a commissioner who clearly didn't sign up for this four months ago. Recently-joined members didn't sign up for this, either. The Conference USA defections spent money to join a conference that looks an awful lot like Conference USA.
But now is not the time for Big East football to jump off the ledge. There are still options. Get the remaining members to pledge public support for the league, maybe in a unified press release like the ACC did, and take that to the television execs. Public assurances are hollow in realignment, but they're better than the alternative, which is playing out with the basketball schools.
Maybe go on the offensive, gobbling up as many football schools as possible. Go to the MAC, Mountain West, Conference USA for invites. Go for a 20-team membership. That could dilute the brand, but that has already happened. Maybe the Big East will find strength in numbers.
The movie will zero in on former Penn State coach Joe Paterno during the Jerry Sandusky sc...

Bidding for Salaam's trophy, which the auction house says was obtained legally, ends Satur...

Locksley has been the offensive coordinator at Illinois and Maryland during his coaching c...
Many NFL-eligible juniors ignore advice provided by the league and risk going undrafted each...

Snyder died in Manhattan, Kansas, on Wednesday

Locksley joined Alabama's staff in 2016