Big Picture: A murky Heisman picture and a bunch of coaching scoops
With Johnny Manziel, Marcus Mariota and Bryce Petty all struggling, the Heisman race is more muddled than ever.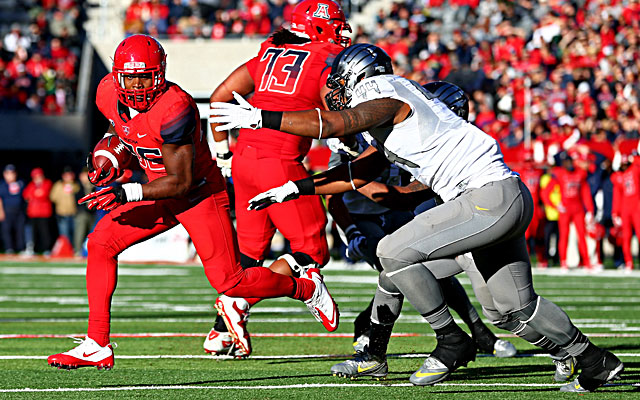 I can't recall a Heisman Trophy race in this much disarray going into Thanksgiving week. Saturday's games toppled a few guys in the front of the pack and left things muddled. Johnny Manziel had the worst game of his college career as Texas A&M was held to a season-low 299 yards in a 34-10 loss at LSU. Bryce Petty, whose candidacy surged in the hours after the Aggies went down, took a nose dive later in the night after Baylor was crushed 49-17 by Oklahoma State. Marcus Mariota, who didn't have an INT all season, threw two in a game where unranked Arizona destroyed Oregon, 42-16.
The one guy from the front of the Heisman race who didn't have a rough Saturday is FSU QB Jameis Winston. His team scored 80 on a dreadful Idaho squad. With Petty's struggles, the Seminoles redshirt freshman now leads the country in QB rating at 194.50. To update the Winston investigation: State attorney Willie Meggs told AP on Saturday that he likely wouldn't make a decision on whether the FSU QB would be charged until after Thanksgiving.
I know some Heisman voters have said in recent years that "character" is considered on their ballot. I have tried to steer clear of those judgments because, quite frankly, we don't really know these guys all that well, if at all. Last year, Manti Te'o seemed to be the ultimate character guy, but a little more than a month past the Heisman ceremony a ton of questions emerged about his character.
Back to Winston, I suspect a few Heisman voters may have already decided what they'll do with him. Right now, until more facts come in, I'm taking a wait-and-see approach.
For the entire season, I've had three QBs in some combination as my top three. Now I think you could make a strong case for two running backs in the top three trailing Winston.
Andre Williams has put the Boston College program on his back this season. Last year, the Eagles were 2-10. Thanks in large part to Williams, BC is 7-4 and won four in a row. Williams rumbled for 263 yards Saturday in a close win over Maryland. It was his third consecutive 200-yard effort and gave him an eye-popping 2,073 yards on the season. He became the first RB since Donald Brown in 2008 to eclipse the 2000-yard mark. Not bad for a guy who in 2010 was an under-the-radar recruit ranked by Rivals.com as the No. 44 RB in his class. Scout had Williams at No. 92 among running backs, while ESPN ranked 151 other running backs above him in the recruiting class.
Thing is, as amazing as Williams has been, I'm not sure he's been the most impressive running back in the country. Arizona's Ka'Deem Carey trampled Nick Aliotti's Oregon defense Saturday, carrying the ball a school-record 48 times for 206 yards. It was his 14th consecutive 100-yard-plus rushing game. Carey has been great against every team he's faced. (You can't say the same for Williams, who while excellent against FSU, managed just 108 yards on 41 carries combined in two losses to USC and Clemson.)
Carey's worst rushing output of the season was 119 yards in a 44-20 romp over Colorado on the road, and in that game he ran for four touchdowns. Arizona has played three ranked teams this season and Carey is averaging 162 rushing yards in those games. I think both running backs deserve a trip to New York City for the Heisman ceremonies, but I doubt either will get enough first-place votes.
The other contenders:
• AJ McCarron just keeps piling up wins and is almost a default candidate right now. His 23-5 TD-INT ratio is strong and he has a big game against Auburn coming up. He can impress voters who might feel like he's been overshadowed by other standout QBs and perhaps even his own teammates (linebacker C.J. Mosley comes to mind).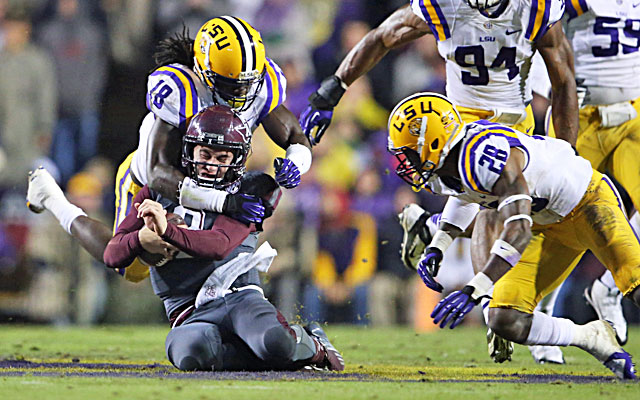 • Manziel: I thought his bid to make it two Heismans in a row was over with the LSU game, but given all the issues the other top guys had this week, we'll see how the next few weeks play out. There is still a strong sentiment among many college football coaches and media I talk to that believe he is actually the "Most Outstanding Player" in the game, but would he be the most deserving? There is no denying he and his team had a bad day Saturday against an LSU team that earlier this season allowed 494 yards to Georgia and 525 yards to Ole Miss.
"You have to give a lot of credit to them," Manziel said of LSU. "They came out and mixed a lot of things up. They kept us guessing, and it really took us awhile to figure it out. You have to give a lot of credit to them. They have a very talented defense regardless of how their season's gone. I think they came out and played a heck of a game defensively scheme-wise and all. They continued to get a free rusher at will."
"We got punched in the mouth today, and it wasn't fun."
During the game CBS reported that Manziel was bothered by an injured hand. It's actually a banged-up thumb. I asked him after the game how much, if at all, that banged-up thumb affected him Saturday.
"It's been a factor throughout the past couple of weeks," he said, adding that it wasn't the reason why A&M lost.
"I felt like I came out and spun the ball pretty well. We just didn't get the pitch and catch that we wanted and completing passes. It's not many times that we come into halftime to look at the stat sheet and it's 8-for-22 [passing]. A big thing for me is getting completions early and some of the other games we go 10-for-10, 7-for-8 and start completing some high percentage passes. That's what we do, and we have to do that to be successful. Having a lot of drops and incomplete passes -- both on my part and the offense -- it can't happen and make for a good outcome."
LSU's D deserves a lot of credit. During the week A&M coaches told me the Tigers present different kinds of problems than Alabama does. LSU defenders are more long and agile. They also were pretty well-schooled on Manziel's tendencies (if there is such a thing) by LSU DC John Chavis:
"It's unexplainable what he did with us," LSU cornerback Jalen Mills told NOLA.com. "Our individual periods (in practice) were more about technique and really breaking down Manziel, knowing his moves, knowing how he likes to spin out, knowing his throws like the back shoulder. Me and the freshmen (cornerbacks Rashard Robinson and Tre'Davious White) worked 30 to 40 minutes extra after practice everyday."
Manziel's Heisman hopes are definitely on the ropes. He'll need to be spectacular in a win at Missouri this weekend but even that probably won't be enough.
• Mariota: His TD-INT ratio is still amazing: 27-2, but he and his team are in a tailspin and it's doubtful beating a free-falling Oregon State team will help him all that much. The Ducks averaged 56 points per game in their first eight games, but are averaging under 27 ppg in November.
• Derek Carr: The Fresno State QB has been superb all season, and has the numbers to back it up with a 39-4 TD-INT ratio for an unbeaten team. Carr's thrown 21 TDs since his last INT. He threw for 527 yards and seven TDs in a win over New Mexico. Trouble is, Fresno's schedule leads to too many shoulder shrugs. Just getting invited to New York seems optimistic.
• Tajh Boyd: The charismatic Tigers QB has been excellent in every game, but one, the 51-14 home loss against Florida State. Boyd's thrown for 29 TDs and run for eight more and only has seven INTs. He also has a chance to win a few more votes if he can help boost ACC credibility with a win over arch-rival South Carolina, a 9-2 team. Still, probably not enough to even get to NYC.
• Jordan Lynch: Similar to Carr, Lynch just keeps on winning and putting up gaudy stats. He's thrown for 21 TDs and run for 17 more. He has only five INTs and his completion percentage has jumped from 60 percent last season to 66 percent. Lynch just beat a good Toledo team by notching his 11th career game with 100 rushing and 200 passing yards. Biggest factor that holds him back in voters' eyes: Last year's FSU game, where he completed 37 percent of his passes and managed 1.9 yards per carry. Fair or not, stuff like that can give a guy a low ceiling. Then again, if we can tout other guys' development at bigger schools, why not Lynch?
• Aaron Donald: Here's my biggest wild-card candidate. He won't win the Heisman, but he got my Lombardi vote this weekend. The Pitt DT saved the Panthers Saturday by blocking an extra-point in a 17-16 win. He also had eight solo tackles and 3.5 more TFLs. He has 26 TFLs this season, leading the country in a key defensive stat by a wide margin. Donald might scoop up a bunch of 'sure, why not?' votes.
There's also the outside chance that if Auburn's Tre Mason or Nick Marshall puts on a show in an upset win over Bama that they could springboard into the race. Both have been terrific in November and they'll have the spotlight this week and potentially again in an SEC title game.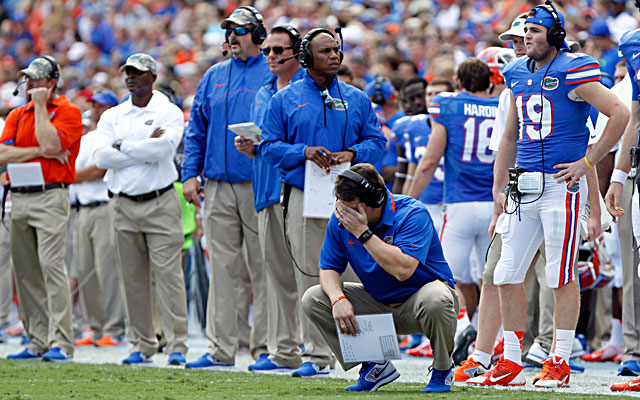 Random stuff
• Earlier this week a source told me that Florida would be getting rid of offensive coordinator Brent Pease after this season and offensive line coach Tim Davis also would be gone. But after the Gators dismal showing in the loss to Georgia Southern on Saturday, UF's first loss to an FCS program, there's even more doubt about whether Will Muschamp also gets canned this winter despite AD Jeremy Foley's "1,000 percent" support comment last week. This wasn't even an FCS program with a winning record in its own conference the Gators lost to.
The Gators, preseason No. 10, are staring at a 4-8 season with FSU looming.
I thought Muschamp was a good hire at UF, but he's learning on a huge stage. Getting to be a first-time head coach at a powerhouse program in the SEC with a big spotlight is really, really hard. Mark Richt succeeded but most don't when they're thrust into such a spot without figuring some things out at a smaller program (See: Nick Saban, Urban Meyer, Kevin Sumlin, Butch Jones and a bunch of others). Guys like Richt and Bob Stoops are in the minority.
• Oklahoma State defensive coordinator Glenn Spencer just made a great statement for his Broyles Award candidacy honoring the nation's top assistant. His defense completely derailed the high-powered Baylor attack, which came into the game averaging 61 ppg. They held Baylor to 2.6 yards per rush and just three first-half points. OSU forced Baylor into five three-and-outs, which is almost as many as the Bears offense had the entire season coming into the game. What a crazy season it has been in Stillwater.
• Huge win for Rich Rodriguez and his Arizona squad thumping Oregon. His defense did a nice job slowing the Ducks down. Oregon has six drives of 11 plays or longer and only managed two TDs the whole day. That is uncharacteristic of the Ducks.
• Speaking of Rodriguez, it's rare when a conference has a year where it makes a bunch of coaching hires and all of them work out, but it looks like that happened in the Pac-12 where the conference certainly seems stronger after the influx of four new coaches following the 2011 season.
Arizona, Arizona State, UCLA and Washington State were a combined 20-31 in 2011. Now, in Year Two, its four new coaches have led these programs to a combined 31-14 mark and all four have defeated ranked opponents this season.
Last week, Arizona lost to a desperate Washington State team, which followed up that win by beating Utah to be in position to play in its first bowl game in 10 years. Mike Leach's team is 4-4 in Pac-12 play and those four conference wins are as many as the program had in the previous four seasons combined. This is the first time WSU has reached the six-win total in seven years and also the first time the program won back-to-back league games in seven years.
• Leach is known as an offensive guy and his disciples are all over college football, but this season the Leach head coaching protégé having the best season is actually a defensive guy and the one who generated the least fanfare: East Carolina's Ruffin McNeill. His Pirates are now 9-2 and have blowout wins at North Carolina and NC State. ECU's only losses are against Virginia Tech, by five points, and in OT against Tulane, by three.
A few years ago, McNeill made a shrewd move by bringing Lincoln Riley with him to NC as his play-caller from Texas Tech. Riley's been a gem. ECU's won five in a row and averaging over 50 ppg in that stretch. He's also developed a good QB who also came from Texas, Shane Carden, who now leads the nation in completion percentage at 73 percent.
• One month ago at this time, the Oregon-State-Oregon game sounded intriguing. OSU was 6-1 and the Ducks were 6-0. Now? Not so much. On Saturday, the Pac-12's Oregon teams got beat by two unranked opponents by a score of 112-43.
• James Franklin's stock is surging especially with some potentially big jobs coming open this winter. The Vandy coach has now led his program to back-to-back wins over arch-rival Tennessee for the first time since the 1920s and Vandy has won eight in a row in November. The Commodores are 9-6 in their last 15 SEC games. Keep in mind the program had only won 13 SEC games in previous 10 YEARS before James Franklin arrived.
• Three names in the mix at UConn that I'm hearing: UCLA OC Noel Mazzone; Michigan State DC Pat Narduzzi and Ball State head coach Pete Lembo, according to a source. There is also one other veteran head coach's name I've heard from a few sources intrigued by the UConn job.
• I know Virginia brass has been strong in its support of fourth-year coach Mike London, but this program just doesn't seem to be getting better and don't rule out a change this winter there. Virginia is 0-7 in ACC play and six of those seven losses were by double-digits. And only one opponent was ranked (Clemson, 59-10).
• Most underrated QB in the Big Ten: Michigan State's Connor Cook, who is quietly putting together an excellent season. The 6-4, 215-pound sophomore now has a 16-3 TD-INT ratio for the Spartans. MSU, which hasn't been to a Rose Bowl since 1987, is 7-0 in the Big Ten for the first time in 52 years.
• Props to Buffalo's one-man wrecking crew Khalil Mack, who turned in another dominating performance. The future first-rounder had a team-high eight tackles, three sacks and three forced fumbles in Buffalo's 44-7 win at Miami. Mack smashed the NCAA record for career forced fumbles with 16, surpassing the previous record of 14.
• Congrats to the Illini for ending its 20-game Big Ten losing streak with a 20-16 win over Purdue. It has been a shaky second season for Tim Beckman, but at least there has been some progress.
Stat of the Day: In the first two months of the season where Michigan faced only one ranked opponent, UM averaged 42.1 ppg. In November: the Wolverines, who have only faced one ranked opponent in the month, are averaging 15 ppg. Don't be surprised if Brady Hoke looks for a new OC this winter.
Stat of the Day, Take II: I saw this on Twitter from Fox college football analyst Ryan Nece: Baylor has now lost 37 straight road games against AP ranked teams and is 0-10 vs Oklahoma State in Stillwater since being in the B12.
Stat of the Day, Take III: Florida has scored 26 TDs this season. FSU has scored 32 TDs this month.
Stat of the Day, Take IV: BC RB Andre Williams has 17 runs of at least 30 yards or more. No other player in college FB has more than nine such runs.
Tweet of the Day: From Georgia beat writer Seth Emerson on the run of Bulldog injuries that included the news that star QB Aaron Murray is having knee surgery Tuesday:
From @sethmerson: ACL tears: Aaron Murray, Malcolm Mitchell, Keith Marshall, Justin Scott-Wesley. Multiple games missed: Gurley, Bennett, Conley, Rome.
CBS Sports HQ Daily Newsletter
Get the best highlights and stories - yeah, just the good stuff handpicked by our team to start your day.
Please check the opt-in box to acknowledge that you would like to subscribe.
Thanks for signing up!
Keep an eye on your inbox for the latest sports news.
Sorry!
There was an error processing your subscription.
The lawsuit claimed Colorado officials failed to properly address domestic violence claims...

The cupboard isn't bare in Tuscaloosa

Media members are now on the record for their picks for the 2018 season
Bubba Cunningham believes his coach's remarks were 'poorly communicated'

Ball is still life for Malzahn, but he now has some space to be himself as he leads the Ti...

Swinney is happy to have his current quarterback situation