Big Picture: Bama leads clear top 5; Ohio St., Baylor face climb to top 2
There are five teams clearly atop the BCS, and Bama, FSU top that group. For Baylor and Ohio State, outside forces are not helping the climb.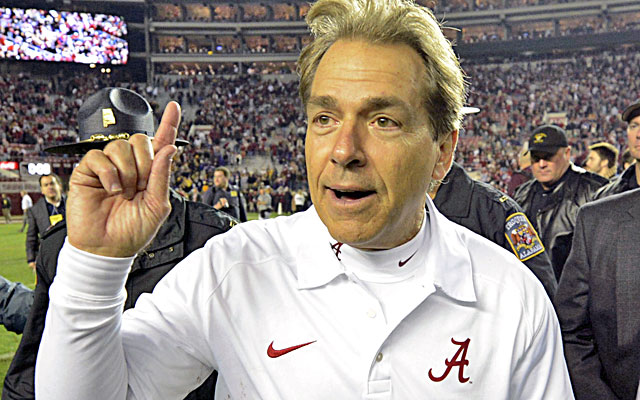 Nick Saban looked giddy.
Before Saturday, I wasn't sure I'd ever write that sentence. But that is how it appeared moments after Alabama Crimson Tide finished off LSU Tigers with a dominant second half as Saban jumped into AJ McCarron 's arms to cap off a fascinating weekend of college football.
To me, there is now a pretty clear Top Five, though the order is a little shaky. I'd put it like this with more confidence on the gap between the first two teams than the next three:
1. Alabama: I feel they are Stanford Cardinal with a more experienced big-game QB and a better tailback.
2. Florida State: The Seminoles have blasted everyone they've faced, and while people can knock the ACC, FSU crushed Clemson Tigers at home after the Tigers beat Georgia Bulldogs there, and before the Dawgs were beat up. Only two teams in the past two decades have ever beaten every opponent by 14 points or more -- 1995 Nebraska Cornhuskers and 2004 Utah Utes , but the Noles look like they're primed to do that, at least for the regular season.
3. Ohio State: The Buckeyes keep improving and have answered whatever challenge has been put in front of them. Do I think they'd stay within 10 points of the Noles or the Tide? No, but it's not Urban Meyer's fault the Big Ten is down.
4. Baylor: The Bears and the Buckeyes have similar situations. Both have run through underwhelming nonconference schedules and conferences mired in down seasons. After Baylor's romp over Oklahoma Sooners on Thursday night, I was tempted to bump Baylor ahead of Ohio State, but I think if they squared off Meyer would find a way to win.
5. Stanford: David Shaw's Cardinal has the season's most-impressive win, against Oregon Ducks . Now about that game with Utah. ...
I know Auburn Tigers is now in the top 10, but I'll be very, very surprised if we don't have an Alabama- Florida State Seminoles BCS title game. The Tide has the tougher road, and that was a really impressive showing by Saban's squad Saturday night. The maturation of new OL coach Mario Cristobal's line has been particularly noteworthy. The Tide surrendered 12 TFLs in their opener against a good Virginia Cavaliers Tech defensive front. Since then, Bama has only given up 23 TFLs in the next eight games combined, including only three against LSU.
Random Stuff
•Vandy is showing that last season's No. 20 finish was no fluke. The Commodores just went into Gainesville and beat Florida for the first time in 22 years. Vandy (5-4) has a very good shot to go 8-4 in the regular season and is 14-6 in its past 20 games. Some cynics can try and take shots at that and the caliber of competition, but they're grasping at air. Vandy has beaten UF and Georgia in the same season. Keep in mind this program was 2-18 in the 20 games before James Franklin took over in Nashville.
•Hats off to George O'Leary's squad. UCF Knights survived a game Houston Cougars team to remain atop the AAC. How UCF, which beat Louisville Cardinals at Louisville, is ranked behind Louisville is beyond me. The Knights' only loss was by three points to No. 12 South Carolina Gamecocks .
•Most baffling team in the country: Utah. The Utes have won one game since September -- and it was against No. 5 Stanford, the leaders of the Pac-12 North. The Utes, almost won again Saturday against Pac-12 South leader Arizona Wildcats State, but fell after squandering a lead. The Utes' 410 yards against the Cardinal -- the defense that shut down the vaunted Oregon attack -- is actually more than Utah has produced in any of its four losses since September.
• Michigan Wolverines 's offense has regressed this season, and has been downright dreadful the past two weeks. The Wolverines, who allowed 11 sacks in their first seven games, have surrendered 15 in the past two games. Their rushing totals, which do factor in sack yardage for the past two games: minus-69 yards. Their RBs have managed only 35 rushing yards on 25 carries.
•Speaking of the Wolverines-Huskers, Tommy Armstrong Jr. Jr., despite a 5-6 TD-INT ratio, is now 5-0 as Nebraska's starting QB.
•I am feeling better and better about an off-season prediction that Baylor would win the Big 12. After last Thursday night's thumping of Oklahoma, I wonder if another conference rival will stay within single digits of BU. My hunch is the best bet to give the Bears problems is on the road at Oklahoma State Cowboys .
•I thought Urban Meyer would be a lock for Big Ten Coach of the Year honors, but Minnesota Golden Gophers interim head man Tracy Claeys is giving him a run. With a win over Penn State Nittany Lions , the Golden Gophers (8-2) have won four consecutive Big Ten games for the first time since 1973. David Cobb went over the 100-yard rushing mark for a fourth time in a row, running for 139 yards on 27 carries with a touchdown.
•Auburn (9-1) ran for soul-crushing 444 yards and an 8.4-yard per carry average at Tennessee Volunteers . They are averaging 45 points during their six-game winning streak since losing 35-21 at LSU. During the streak, Nick Marsh all is averaging 126 rushing yards and 10 yards per carry (he missed the game against Western Carolina). In the games before the streak started, he was averaging 37 yards a game and a little more than 3 yards per rush. Obviously, first-year coach Gus Malzahn has done a fantastic job. I'll have more on Malzahn later in the week.
• Myles Jack earns the "That Guy" award for the week, as in Jack -- a true freshman at UCLA Bruins -- is that guy that college football fans are buzzing about. It's rare when Arizona's Ka'Deem Carey isn't the best running back on the field. It's even more rare when the RB who upstages him actually is a linebacker. But Jack, an explosive 230-pounder from Seattle, displayed some great burst bailing out a banged-up Bruin offense with 120 yards on only six carries. He also had eight tackles and a fumble recovery as UCLA dropped Arizona.
"The guy is a great athlete, a great player," raved Arizona coach Rich Rodriguez. "He'll be a first-round pick as a linebacker. We tried to recruit him as a running back. He's really good."
•I didn't think there was much shot of Florida canning Will Muschamp after the season. And I still doubt it happens even after the loss to Vandy. But the effort by the Gators -- especially on offense -- has to be troubling to AD Jeremy Foley. In the first half of UF's last four games, they've been outscored 67-9. Injuries or not, that number is stunning.
Florida was ranked in the preseason Top 10, and now they're looking at a 5-7 finish and its first losing season in 34 years. My hunch is Muschamp will be forced to make changes on his offensive staff but no doubt things got dicier after Saturday's effort. Another factor in play here is UF's attendance dropping. It didn't look good last weekend especially for a Homecoming weekend, and I'm sure it made Foley and UF brass wince when local columnists are tweeting out pictures of a near-empty stadium moments before kickoff. (UF still reported a near-sellout Saturday, but the perception of sparse crowds won't sit well for a program that likes to mock the fan support of its two biggest rivals in the state.)
•I realize the Miami D is not very good, but give credit to Logan Thomas and the Hokies for an inspired effort in a rainy road win after consecutive losses against unranked opponents. Thomas had his best game of the season and maybe his career, completing 81 percent of his passes (25 of 31) for 366 yards and no picks. He also ran for 42 yards in 42-24 win. Tech was a sterling 8 of 14 on third-down conversions and rolled up a season-high 549 yards.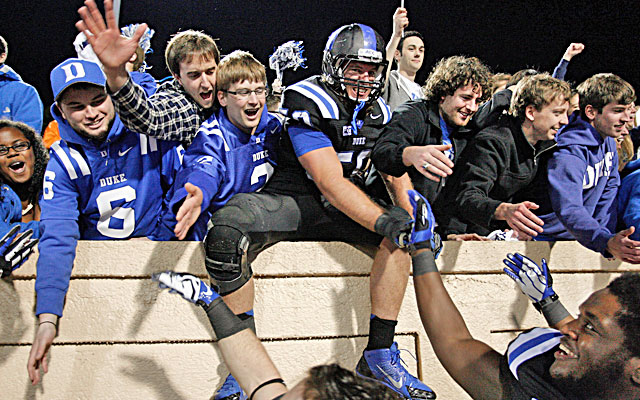 •Could Duke Blue Devils go 10-2? I know that sounds ludicrous but the Blue Devils, who have won five in a row, next get a visit from struggling Miami before finishing against Wake Forest Demon Deacons and North Carolina Tar Heels (combined records of those two: 8-11). What David Cutcliffe and his staff have done is remarkable. Duke (7-2) is assured its first winning football season since the year (1994) when Cherokee Parks was the Blue Devils' top scorer in hoops. The Blue Devils have some players who weren't even born then.
•Penn State continued its dismal ways in Big Ten road games. The Nittany Lions are 0-3 as a visitor and been outscored in those games by an average of 44-16. PSU still has one road game left: at Wisconsin Badgers .
•Good news for Mizzou. James Franklin got back in a game for the first time in a month, although it was only in garbage time -- only five snaps and he didn't attempt a pass.
"Our medical staff felt that [Franklin] could play on an emergency basis only," Missouri Tigers coach Gary Pinkel told reporters after the game. "We would be very limited in what we could call. ... Our whole thing was we did not want him to get touched."
Just to circle back on a report I had last month after Franklin went down in the Georgia game -- I tweeted that according to a source, Franklin "is expected to be out for at least the next six weeks, probably longer with a Grade 2 shoulder separation." Obviously, Franklin got back into a game sooner than the source had expected. By the way, CBS never reported that Franklin was out for the season, as a few folks on Twitter seem to think. Also with the Tigers off next week, it will be six weeks before Franklin attempts a pass in a game.
•Stat of the Day: Alabama, which ran for 193 yards on 42 carries in the win over LSU, is averaging a gaudy 6.5 yards per carry in SEC play. However, the Tide is only averaging 3.9 yards per rush in nonconference games. I suspect that's more of a function of a new O-line jelling as much as anything.
•Stat of the Day, Take II: Notre Dame Fighting Irish lost to Pitt as senior QB Tommy Rees threw arguably the worst red zone INT of the weekend. Rees' inconsistency, especially for such a veteran QB, has to be maddening for Irish fans. He has thrown only three INTs in ND's seven wins, but he's thrown seven INTs in the three losses.
•Stat of the Day, Take III: Florida State's defense only allowed eight first downs Saturday while forcing seven turnovers against Wake Forest, notes former NFL scout Daniel Jeremiah.
•Stat of the Day, Take IV: Teams are converting at a whopping 90 percent (9-of-10) on fourth downs against Southern Miss.
•GIF of the Day: @jreed013: here is an animated version of the LSU fan acting like a dinosaur.
•Tweet of the Day: @GBHunting Taking a Knee - The Johnny Football Way [GIF].
Find out which of your favorite team's players are among the nation's best entering the 2017...

Rosen, a junior, will be eligible for the upcoming NFL draft

Texas A&M has to be better defensively to stand a chance in the SEC West
A letter indicated that there is a growing awareness of the persistent problem in college...

The series will follow the Navy football program throughout the 2017 season

Should college football players still be tested and punished for using marijuana?