Big Picture: Baylor looking more like BCS sleeper on day of blowouts
Baylor piles up points on a lackluster Saturday which included more near-stumbles by Michigan and USC and the coolest onside kick ever.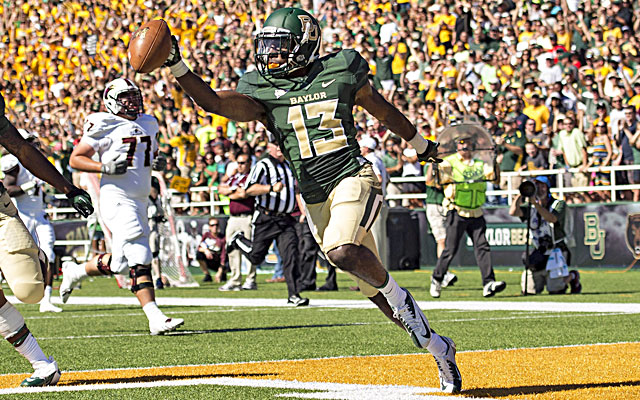 There is no such thing as a bad day of college football, but Saturday, Sept. 21, 2013, will be remembered solely for a bad batch of lopsided games and underwhelming matchups. Two games spiraled into such bizarre, embarrassing romps you couldn't tell if the reports -- one about how FIU coach Ron Turner asked for a running clock so his game with Louisville would end quicker and the other where the Miami and Savannah State coaches agreed to a 12-minute fourth quarter -- actually were lame Twitter jokes or really happening. (Both were in fact the case.) Maybe the best way to sum up the day is to point out that the thing that most resonated with me from the entire day was pulled off by a kicker.
It was the coolest onside kick I've ever seen. Rice's Chris Boswell wrapped his right leg around his left to smack the ball in the opposite direction, fooling the entire Houston receiving team, enabling the Owls to recover. Fittingly, given the tone of the day, Rice ended up not scoring and Houston won, but hats and shoes off to Boswell for his artistry. I happened to catch it live on TV (why I was watching Houston-Rice probably further underscores the vibe of the day) and tweeted incredulously about it. A few soccer fans later pointed out the move is called a rabona. If you haven't seen the video yet, you should watch it.
Beyond that, here are the next most memorable things that stuck out from Snoozer Saturday:
• I know it was only Louisiana-Monroe, a team Oklahoma thumped in the opener, but Baylor absolutely blew the Warhawks off the field, winning 70-7. Keep in mind that ULM returned the most experienced team in the country coming off a good 8-5 season. The Warhawks had just beaten an ACC team, Wake Forest, on the road the previous week. This wasn't Savannah State or FAMU that Baylor hammered.
Thus far, Bryce Petty's passing efficiency is 239.5. For a bit of perspective, Geno Smith's after WVU's Baylor game last September was 208.4.
Yeah, I'm feeling better and better about touting the Bears as my pick to win the Big 12 and as a BCS sleeper. They have some serious juice, and I'm thinking the words of strength coach Kaz Kazadi belong on a T-shirt or at least hash tag: #HandTimesAreForYourMomma
"I don't think we're that bad," said ULM coach Todd Berry Sunday morning via the phone. "We just couldn't keep up with their speed, and we've got some fast guys. We have a corner who ran a 10.5 100 (meter) in high school and he had an angle on (Lache) Seastrunk, and Seastrunk just ran away from him.

"It's a very unique scheme they have. Art (Briles) keeps re-inventing the wheel there. Their wide receivers are (lined up) wider this year. They'll put three wide receivers out by the numbers on the field side, and even if you try and go three-on-three, you've lost a support player (for the run game) and they really put you in a bind because they have this huge O-line with really tight splits and all their runs tend to be big 'bounce' runs where you get bunched in the middle and they have so much speed now to bounce outside. So, you end up overloading outside to try and deal with all the bubble screens, and then they run by you and throw it over the top or they hand it off to Seastrunk and he runs for 60. Plus, they go so fast and everything is off play-action, your linebackers and safeties are always in a quandary.
"They just stress you so much schematically. They are for real. I am going to be very curious to watch the rest of the season to see how people try and defend them."

Another reason for the Bears being more potent, Berry said, is because of Petty's ability to push the ball downfield better. "He really throws a nice deep ball."

Asked why more teams wouldn't adopt some of Baylor's ideas lining up receivers so wide, Berry reasoned that some coaches would be too concerned about blitz pressures, but pointed out most teams don't have an O-line like Baylor's or the speed the Bears have.

The other thing that impressed Berry was just how much better Baylor now is on defense. ULM generated just 295 yards in the game after rolling up 560 on the Bears last season in a 47-42 loss.
"They're definitely more athletic on that side of the ball too," said Berry, "and they understand the scheme better. We got them more out of position last year. That really didn't happen much (Saturday). They're also playing with a lot more confidence. There's a different swagger about 'em this season."
Briles' team is the first FBS unit since LSU in 1930 to open with at least 60 points in three consecutive games, according to STATS. Those Tigers had at least 70 points in each of those games -- Baylor scored 69 in its opener before 70 points in each of its past two games. Briles' team, which has had three different starting QBs in each of the past three seasons -- Robert Griffin III, Nick Florence and now Petty -- have had at least 400 yards of total offense in 30 straight games dating back to Dec. 29, 2011 -- the 30-game streak is the nation's longest active streak (next best is Texas A&M at 16.)

The Bears should be 7-0 heading into a Thursday night game on Nov. 7, when Oklahoma comes to Waco.
With all the talk about Mack Brown being on the hot seat, I wondered on Twitter on Saturday if Texas fans would want Briles as a head coach. The reaction I got was mostly positive that they would. Much of the negative feedback on Briles was that he was too old. (He is 57.) Thing is, Briles is only two years older than Nick Saban was when Alabama hired him. Some coaches seem younger than their age (Saban and Pete Carroll come to mind). Some seem older (Phil Fulmer and Mack Brown). I'd put Briles in the former group.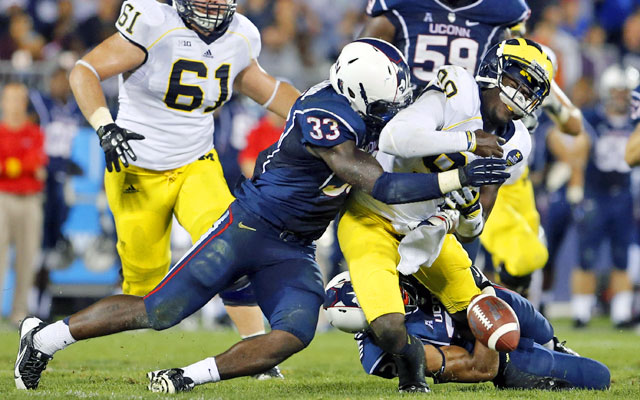 • Michigan looks really, really shaky. Or more specifically Michigan QB Devin Gardner looks really, really shaky. Three weeks ago, Gardner -- wearing the Wolverines' treasured No. 98 -- sliced up the Notre Dame defense with his running and passing. Since then, UM has played two dismal opponents -- Akron and UConn -- and Gardner's barely completed 50 percent of his passes (28 of 55) and thrown five picks. He's also been sacked five times. Only one team in FBS (Western Kentucky) has turned the ball over more than Michigan. If that keeps up, or even close to it, the Wolverines are going to start losing, because the schedule gets tougher. The bottom line is the Wolverines are 4-0 despite back-to-back scares, and Gardner and Michigan have a bye week to try and get things figured out.
• Nice job, Kevonte Martin-Manley. Iowa hadn't returned punt for a touchdown in five years before -- within a span of less than a minute of game time -- Martin-Manley took two back for TDs against Western Michigan.
• What a different a year makes: Last season at this time, the West Virginia offense was the talk of college football. The Mountaineers were in the Top 10 and about to have one of the wildest offensive displays in college football history against Baylor. On Saturday, upstart Maryland throttled WVU 37-0, notching the Terps' first shutout in five years while holding Dana Holgorsen's offense to only 175 yards and forcing six turnovers. Randy Edsall, who seemed jinxed in his first two seasons at Maryland, has the team off to its first 4-0 start since 2001.
• What a different two years makes: In 2011, FIU, then the defending Sun Belt champs and coached by Mario Cristobal, went to Louisville and beat the Cards in what hardly felt like a big upset. On Saturday, some 10 months after FIU AD Pete Garcia canned Cristobal as a result of the duo's toxic relationship, the Panthers went to Louisville and got slaughtered 72-0. FIU was outgained 464 yards to 30 yards. FIU is 0-4 and has been outscored 187-23..
• Greg Robinson has been a punch line in college football circles the past few years, dating back to his struggles as Michigan's DC, but give the guy credit. His Texas D did a nice job slowing down the K-State running game Saturday. The Wildcats managed only 115 yards on 38 carries for a modest 3.0 yards per carry. Coming into the game, the Longhorns had allowed almost a third of the opponents runs to go for at least 5 yards, according to ESPN. Against K-State that ratio was under one-fifth. UT also forced three turnovers.
• Every football fan on the West Coast knows about USC's Marqise Lee. Many now know about UCLA's Shaq Evans. But the most impressive wideout in the Pac-12 -- maybe the country -- has been Oregon State's Brandin Cooks, who is making a strong case for the Biletnikoff Award. Cooks had 14 catches in the Beavers' win at San Diego State on Saturday and has 43 catches for 639 yards and seven TDs for the season. That's 20 more catches and more than twice the yardage Lee has amassed.
• Stat of the Day: Wisconsin came into the weekend averaging a gaudy 8.9 yards per rush on first down. Against Purdue, the Badgers averaged a whopping 9.8 yards per carry on first down on their initial 12 first-down runs. At that point, the game was 31-10 in the third quarter and out of reach.
• Stat of the Day, Take II: Northwestern converted on 7 of 14 third-down attempts in its win over Maine. The Wildcats have now hit on 50 percent or better on the money down in six consecutive games.
• Stat of the Day, Take III: Miami of Ohio is 3 of 40 on third-down tries. That's like making FIU look like Oregon.
• Stat of the Day, Take IV: There are 11 receivers in the Pac-12 with more receiving yards than USC's Lee. Lee was banged up in training camp, but told reporters after Saturday's game that he's at about 98 percent. Lee has only two receptions longer than 19 yards all season. He had that many in the first eight minutes of the 2012 season. The mediocrity of the Trojans' 2013 offense is stunning. Nationally, the Trojans are No. 108 in passing and No. 106 in offense; they're last in the Pac-12 by a gap of more than 50 yards per game and in scoring by almost 10 points. As USCfootball.com's Dan Weber noted, the Trojans were 0 of 8 on third down in the second half in their 17-14 win over Utah State.
• Speaking of wideouts, Deontay Greenberry, the former five-star recruit who Houston snatched away from Notre Dame two years ago, is living up to the hype. He had six catches for 146 yards in the 31-26 win over Rice and is averaging nine catches for almost 130 yards a game.
• Tweet of the Day: From boxing champ Floyd Mayweather:
Congratulations @JManziel2 for putting on a fantastic show. He may not be able to make money off himself but I can.
Aaron was reportedly shot while trying to protect his girlfriend when a fight broke out at...

An assistant-by-assistant look at changes Saban made to the Tide's staff ahead of 2018

Find out when Nick Saban, Kirby Smart and the rest of the coaches will speak ahead of the...
It wasn't only the massive $75 million contract that got Fisher to depart for College Stat...

Weinke was injured when Florida State lost to Tennessee in the 1999 BCS title game

It was one of the busiest offseasons for the assistant coaching ranks