Big Picture: Ducks D ready for stretch run; best comeback story
Oregon keeps winning while Florida State keeps blowing teams out early as college football gets ready for what should be a wild stretch run.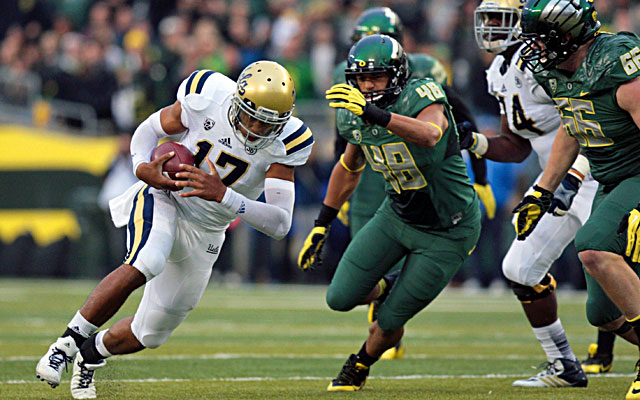 Oregon has a really different vibe from anywhere else in college football. The place always feels like it's about 6 a.m. But come to Autzen Stadium and you expect a show. From the crazy uniforms to the frenetic tempo to the game-breaking long TD plays. That's Oregon football. And yet after 30 minutes of action Saturday night, visiting UCLA -- starting five freshmen and four sophomores on offense and three freshmen and three sophomores on defense -- was even with the Ducks, 14-14.
And then, Oregon went Oregon and you looked up at the scoreboard and it was 42-14, and you're scratching your head. What exactly can we make of that as it relates to this weird journey to the BCS title game?
Scott Frost, the Ducks' outstanding young play-caller, probably summed it up best when he said, "That was the toughest easy game we've ever had around here."
Lord knows, as Frost pointed out, there's nothing easy about facing a UCLA defense, which probably has the best linebacking corps in the nation, led by likely top-five pick Anthony Barr and budding star Myles Jack. The Ducks still managed to put up 555 yards on UCLA with 325 coming on the ground.
Frost explained how because of the Bruins' talent and scheme which tries to prevent the big play, it prompted his offense to be more patient, and so they were. Byron Marshall was one of those guys that got introduced to the country if they thought given De'Anthony Thomas' gimpy ankle, the only star in the Ducks backfield was Marcus Mariota. The 200-pound sophomore now has had five 100-yard rushing games in Oregon's five Pac-12 games and 10 TDs.
Marshall torched the UCLA D for 133 yards on 19 carries and added a 23-yard reception. Ducks coaches say a key to Marshall's emergence has been him running with more of a sense of urgency. No more dancing in hopes of trying to score on every play. Now, it's one cut and he's hitting it. And defenses are reeling.
The Ducks D also did more than its share Saturday night against the inexperienced UCLA offense. Brett Hundley looked nothing like a QB who some NFL Draft analysts are touting as a top-15 pick next spring. Hundley had a few nice scrambles, but seemed like a really inexperienced quarterback in the pocket, completing 13 of 19 for just 64 yards with two interceptions. Aside from a Hundley 33-yard scamper in the first half, the Bruins' longest play was just 14 yards.
Things were toughest after Oregon went to the break tied. That's when the Ducks defense vowed to shut the Bruins out.
"I love when they talk dirty to me like that," veteran Oregon defensive coordinator Nick Aliotti said, after being asked about his players halftime talk.
In the second half: UCLA managed just 94 yards and zero points.
As it has often been the case around Oregon this time of year, the question always is, "Do the Ducks have a good enough D to win it all this time?"
We'll see. The group certainly isn't lacking for speed or talent in the secondary.
My biggest question about Oregon this season is, would there be some growing pains with first-year head coach Mark Helfrich? So far, the rookie is acing the test. His gutsy, fourth-and-14 fake punt call from the Ducks own 26 proved to be a stroke of genius. The Ducks picked up 66 yards on the play. The call was a gut punch to the young UCLA team. It was also a wink to the Ducks defense that their new head coach has total faith in them. Stuff like that can go a long way.
Next up for the Ducks: Stanford, the most physical team on the West Coast and the team with the best D. Marcus Mariota now has 34 total TDs since the last time he threw an interception. The Ducks are also 10-0 during that stretch. As the Beavers found out later Saturday night, Stanford's Derek Mason is pretty adept at slowing down prolific offenses. The Ducks and Mariota already know that from last season.
Random Stuff
•Hats off to Connor Shaw. Best relief effort you'll see this October.
•Florida State has outscored its last three opponents in the first half, 90-7. FSU hosts Miami this weekend. The Canes better get an early wake-up call or the Noles will give them one. UM has been outscored 48-40 in the first half of its last three games.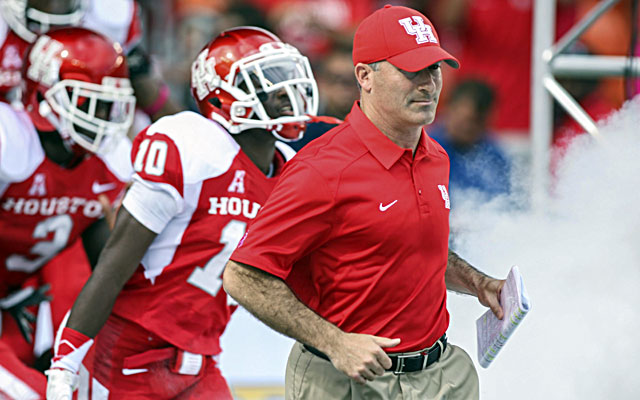 •After a nightmarish first season as Houston's head coach, Tony Levine has the program back nearing the Top 25 again. His Cougars are 6-1 and just went up to Rutgers and blasted RU 49-14. The Cougars lone loss was by one point last week, 47-46 to BYU. What's even more impressive is that UH has had this bounce-back season despite losing its best player, Charles Sims on the eve of the season when the star RB bailed for West Virginia. Then, the Cougars lost veteran QB David Piland in the first half of the second game of the season to concussions, which forced him to retire.
The secret to the Cougars' success isn't such a big secret. They're winning the turnover game. UH leads the nation (and by a wide margin) in turnover margin at +2.9. To put that number in context no FBS program has been near +2.0 in a decade, and you have to go back to the mighty Miami team of 2001 to find anyone that was even over 2.0. And, Miami was 2.36. The combined records of the past 11 teams that have led the nation in turnover margin is 127-26.
All coaches emphasize winning the turnover game. Levine tried to hammer that point home the best way he could during his first team meeting of fall camp. He did a power-point presentation on some stats regarding UH's 2012 season. The Cougars ranked No. 82 in the country in turnover margin. They forced 31 turnovers (not bad), but gave up the ball 35 times (really bad). Levine then showed the top 20 teams in turnovers forced. Then the top 20 in turnovers committed. And then the records of each to underscore the correlation.
"If you guys want to win football games," Levine told them, "we have to be in the Top 20 in turnover margin. Here's how you win. It's as clear as could be. Our offense has to take care of the football. Special teams, our punt returners and kick returners have to take care of the football. We have to."
Like many teams, the Cougars have a period in practice every day where they work on ball security and the defense works on forcing turnovers. The attitude has been contagious.
"Our defense takes pride in it and they know how many turnovers they've forced," Levine told me Sunday. "So when they're coming off the field and one of the guys has the ball, they're yelling 'That's No. 22! That's No. 22!'"
A couple of other big keys to UH's rise: Levine made some shrewd hires bolstering his staff with two new coordinators, Doug Meacham to run the offense and David Gibbs to take over the D. Better still, the Cougars struck gold in the recruiting pipeline when they offered a QB from Florida who wasn't even his team's starter. That kid, strong-armed 6-4 John O'Korn, blossomed in a hurry -- as Levine suspected. O'Korn in 2012, led powerful St. Thomas Aquinas to the Florida state title and picked up 25 offers in December and January, but the kid said no to Mississippi State, Louisville, Arkansas, Wisconsin, BC and others and stayed true to Houston. He never visited any place else.
This season, O'Korn, who also is a 4.6 kid, has a 19-3 TD-INT ratio. Against Rutgers, he was 24-30 for 363 yards and five TDs and no picks. The other QB UH is also rotating in, dual-threat guy, Greg Ward is also a true freshman.
"They don't act like true freshmen," Levine says, "and we don't coach them like true freshmen."
•The ground beneath Bo Pelini's feet in Lincoln seems a lot shakier after Nebraska was mauled by Minnesota. The Gophers ran for 271 yards on Pelini's defense to give Minnesota its first win over NU since 1960. NU was outscored 34-13 during the final stretch of the game. The Huskers are now No. 75 in run defense and they're No. 95 in penalties. Pelini's record in six seasons at NU is certainly not bad: He's 54-22 and he hasn't won less than nine games in a season there. Still, he has no signature wins and it just feels like he's treading water at this point.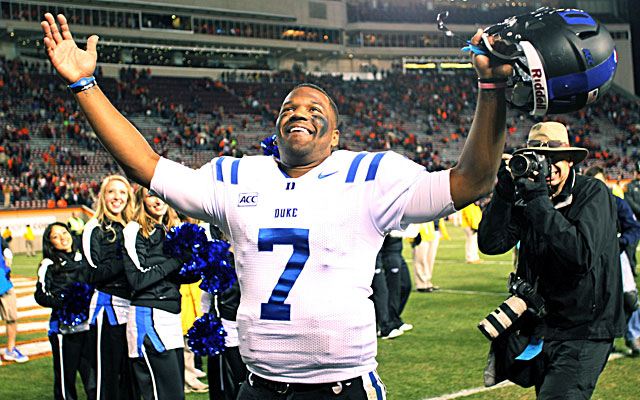 •Congrats to Duke. David Cutcliffe has the Blue Devils bowl eligible in back-to-back seasons for the first time in school history after beating Va. Tech. It also was Duke's first win over a ranked opponent on the road since 1971. With the slate of games Duke has remaining (NC State, Miami, Wake and UNC), nine wins is within reach. Cutcliffe, the noted QB groomer (who had three protégés start at QB in NFL games on Sunday, got a gritty defensive effort from his guys thanks to a secondary that was relying on three true freshmen, one redshirt freshman and a sophomore.
•The combination of a healthy, improved Braxton Miller and Carlos Hyde is simply too much for the middling Big Ten right now. In Hyde's last three games, he's averaging 155 rushing yards per game. It would be interesting to see how OSU does against Michigan State, the nation's No. 1 defense, in a potential Big Ten title game. The Spartans are the only team in the nation that has yet to allow a 100-yard rusher.
•Mizzou, man coverage on fourth-and-15? Seriously?
•The only bigger renaissance in the state of Texas than UT's has been the play of SMU QB Garrett Gilbert. The former Longhorn quarterback is staging the best comeback story in college football. On Saturday, Gilbert totaled 635 yards and 6 TDs in a 59-49 win over Temple. The Mustangs, who at one point trailed by 21, scored on the last eight drives of the game (7 TDs, 1 FG). In the month of October, Gilbert has averaged 448 passing yards and 53 yards rushing while accounting for 15 TDs and 1 INT.
The Mustangs, relying on an inexperience O-line and faced with a September full of good old SWC programs, struggled in September going 1-3, but since them SMU--and Gilbert have surged.
"June (Jones) and I are getting in a pretty good rhythm together," OC Hal Mumme said Sunday morning. "Our kids have picked up a lot of confidence. And Garrett's a great player.
"What I really like about him is he's a kid who never, ever complains. Never points a finger. Tries to pick his teammates up, always in a real respectable fashion. He's just been in so many different offenses in college. What he ran in that championship game (at Texas) wasn't what he ran the next season. And then last year, he didn't get in here till two-a-days and so he had to learn another new system in August and he didn't know his receivers--and it was the same deal where the schedule starts out really rough, but he's been great for us. Now that he's had a chance to get comfortable, he's really shining."
The Mustangs offense shifted again some this season too, though. With Mumme's Air Raid joining Jones' Run and Shoot, the hybrid has also been an adjustment for everyone there. The Mustangs scheme now, Mumme says, is about one-third Run and Shoot; one-third Air Raid and one thing hybrid of new stuff that the two older offensive guys have mashed up with routes and concepts from the two systems. SMU actually scored a couple of TDs from the new stuff Saturday. It also doesn't hurt that Gilbert actually ran some of the Air-Raid passing attack with its mesh and shallows in high school.
Mumme predicts someone in the NFL is going to get a bargain in Gilbert.
"Arm-wise, he's as good as (former Mumme QB-turned-first-overall-pick) Tim Couch. The rap on Garrett was that he wasn't accurate deep, but all season he's has been on the money on his deep throws and he hit three or four yesterday. He's also a really good athlete. He's faster than most of our wide receivers. He's not a shifty guy like a Manziel and a Marcus Mariota, but he's deceptively fast. And he's 6-5, 230."
•Ka'Deem Carey ran for 100 yards again. Yawn. Carey also scored four rushing touchdowns in Arizona's 44-20 win at Colorado on Saturday. He now has 10 consecutive 100-yard games.
•Quote of the Day: Tulane coach Curtis Johnson, after the Green Wave beat Tulsa, the preseason C-USA favorite to become bowl eligible for the first time in 11 seasons: "I won the Super Bowl, and this felt so much better."
At 4-0 in Conference USA, Tulane has assured itself of its first non-losing league record since going 4-4 in 2002. The Green Wave, 6-2, won again without starting QB Nick Montana and instead relied on freshman Devin Powell. "We were not going to chance (Nick) taking one hit today," Johnson explained to reporters why he didn't play the son of the NFL legend. "I got the evil eye from his dad earlier in the week, so I don't want to mess with Joe."
•As we reported on Tuesday, Johnny Manziel was going to play Saturday against Vandy. And he was superb, beginning the game 10 for 10 en route to a 15 of 17 for 175 yards passing and 3 TDs in the first quarter.
•Kansas got an up-close view of an offensive juggernaut Saturday when Baylor blew the Jayhawks off the field, out-gaining them 505-90 at halftime. In his last 21 games against FBS opponents, Charlie Weis is 1-20.
•Texas Tech lost the game at OU, but probably won over a few skeptics as Kliff Kingsbury's squad battled back from a two-TD hole and spiced things up with some clever trick plays.
Hey, you know who Kliff Kingsbury looks a lot like?
A big-time college football head coach who is going to win championships.
•Stat of the Day: Buffalo's first two opponents (Ohio State and Baylor) are a combined 15-0. The Bulls last six opponents: 8-40. Still, give some credit to Jeff Quinn's team for bouncing back from getting throttled the first two weeks of the season and building some momentum after a week three 5-OT win over an average FCS program, Stony Brook. Buffalo is 6-2. Buffalo was, after all, 9-27 the previous three seasons.
•Stat of the Day, Take II: Penn State's defense allowed 14.5 ppg in four non-conference games. The Nittany Lions are surrendering 49 ppg in three Big Ten games thus far.
•Stat of the Day, Take III: Oregon State's Sean Mannion came into the game against visiting Stanford averaging 427 passing yards per game. The Cardinal held him to 271 in a 20-12 win. Brandin Cooks, the nation's leading receiver, didn't have a reception for longer than 14 yards all night. The Beavers, who led the country in pass plays of 20 yards or more by a wide margin, did not have a single pass play longer than 20 yards Saturday night. Example No. 29 of why Derek Mason is one of the best defensive coaches in the game.
•Stat of the Day, Take IV: Octavius McKoy of Division III Western Connecticut rushed for 455 yards on 43 carries, breaking the single-game all-division NCAA record. He ran for more yards in one afternoon than 11 D3 teams have in two months of football this year.
•Coolest video of the weekend: Rice's 4-foot-9, 135-pound walk-on, Jayson Carter, made his debut and got the first carry of his college career after three years on the scout team. Watch.
"That young man is here every day busting his tail on the scout team. He deserves it," Rice coach David Bailiff said. "I'm thrilled we got Jayson into a Division I football game."
Many NFL-eligible juniors ignore advice provided by the league and risk going undrafted each...

Snyder died in Manhattan, Kansas, on Wednesday

Locksley joined Alabama's staff in 2016
Saban reportedly wants to hire Freeze, but there may be things keeping that from happening

Florida State-Miami will be on Oct. 6, and the Seminoles will play Clemson on Oct. 27

Weis Jr. was an offensive assistant for the Atlanta Falcons in 2017