Big Picture: Orgeron's 180 sparks USC's big win over No. 5 Stanford
USC upset No. 5 Stanford behind a stingy defense and gutty play from QB Cody Kessler and some gifted receivers. And thanks to its new leader and his improbable path.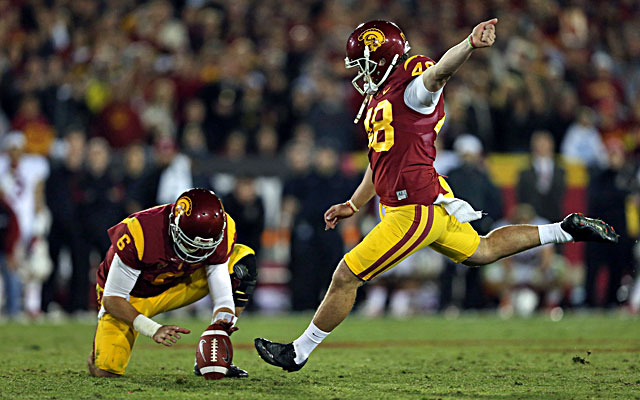 LOS ANGELES -- For the first time in 14 years, USC fans stormed the field after a Trojan win Saturday night, celebrating as if they'd just won a national title after their team's stunning upset of No. 5 Stanford, 20-17, on a last-minute field goal.
On this night, the Trojans didn't snap an eight-game losing streak against arch-rival UCLA. Saturday's victory over the Cardinal, though, may have felt even more significant. After all, it has only been six weeks since head coach Lane Kiffin was fired and a proud program was left in disarray. USC AD Pat Haden tabbed Ed Orgeron as the Trojans' interim head coach to handle the remaining eight games. No one outside of the USC locker room expected much. The team was 0-2 in Pac-12 play and Orgeron's previous history as a head coach -- three rough seasons in the SEC at Ole Miss, where he won three conference games combined -- left many, especially down south, snickering.
But a truly crazy thing is happening in Los Angeles. That team that was left for dead in late September, is now 5-0 in Pac-12 play since Orgeron took over and just notched its first win over a ranked team since 2011. On the field, as fans and families swarmed the field from a sellout crowd of 93,607, Trojan offensive assistants Clay Helton, Mike Summers and Tommie Robinson, three coaches with a combined 76 years of professional experience, celebrated in a group hug, jumping up and down.
"This is unbelievable," said the 50-year-old Robinson, as tears welled up in his eyes. "I am so proud of these guys and this team."
Robinson, the USC running backs coach, has grown close to Orgeron, and took the moment to campaign for the former defensive line coach to become the Trojans' permanent head coach.
"Ain't no doubt in my mind that Ed Orgeron should be named USC's head coach, and I don't care who hears me," said Robinson. "No man on this planet can make these kids play harder than he can. We got 50 kids on scholarship playing like they are and like they did tonight against that team? This guy is phenomenal."
The undermanned Trojans, who only subbed two defensive reserves into the game the entire night against the punishing Stanford attack (and one of those two subs, CB Torin Harris, only played one snap), held the Cardinal to a season-low 17 points, a week after David Shaw's team mauled No. 2 Oregon. Stanford, which came into the game converting third downs at 52 percent, managed just four-of-12 Saturday night.
Orgeron praised his team's "tremendous effort" this week in how it approached the Stanford game. "For some reason on Monday there was a belief that we were going to find a way to win this game.
"I'm awfully proud of our young men. This is something that we've wanted for the past Trojans and coaches. This is for the Trojan family."
It's a family that has been through a lot since Pete Carroll moved on to the NFL. There's been hefty NCAA sanctions that had gutted the program. There was the tumultuous Kiffin tenure and the cloud of uncertainty hanging over a program still coping with severe scholarship reductions.
That Orgeron, a 52-year-old gravelly voiced Louisiana native who predated Carroll in Los Angeles and has embraced the USC heritage probably as much as any Trojan grad, is the one leading this improbable story only seems to galvanize the program and its fans that much more and make it all seem that much more curious.
In his three tumultuous seasons in Oxford, his record was 10-25. (I had a front row seat for much of his time there while I worked on my recruiting book, "Meat Market.") Orgeron's Ole Miss teams played hard and were almost always competitive, but they couldn't seem to turn the proverbial corner. One particularly heartbreaking day came in October, 2007 when it seemed the Rebels were about to cap off a frenetic comeback to upset Nick Saban's Alabama team in Oxford, but instead there was a controversial call made by the officials, essentially ending the game. Ole Miss lost 27-24. A few hours after the game Orgeron's wife told me how some Ole Miss fans just kind of shrugged their shoulders, as if trying to console her by saying, "Maybe this all just wasn't meant to be."
Five weeks later, Orgeron was fired. The move came a day after his decision -- to go for it on fourth down, two touchdowns up against Mississippi State -- blew up in his face and the Bulldogs rallied for a 17-14 win. I suspected that deep down Orgeron believed if his team routed their arch-rival in Starkville, his bosses couldn't fire him.
Orgeron, like the Ole Miss coach he replaced and the one who replaced him, clashed with his AD, and that lack of trust helped create a toxic environment around the program. The first-time head coach had recruited some good young players, but never stayed around long enough to see them develop. Those players would later become the nucleus of back-to-back Cotton Bowl teams that his successor, Houston Nutt, got to coach.
Since then, Orgeron has bounced from a year in the NFL with the New Orleans Saints to another season at Tennessee and then back home to USC. And now, somehow, he's living out a fantasy of sorts. Getting a do-over at the program that means more to him than any other. Two weeks ago, he led USC to its first win at Oregon State in almost a decade. That was a nice win. Beating Stanford, for the first time in five seasons, though, is a big deal for USC folks.
Sure enough, there was a pivotal fourth down decision to make Saturday night. Just as there was in his final game at Ole Miss. This time it was a fourth-and-two from the Stanford 48 with 1:23 left. Coming up short likely would've meant giving Stanford a good chance to get in position for a game-winning field goal.

"I knew I was taking a chance," Orgeron said. "But I looked in these guys' eyes and knew they wanted to go for it. I wanted to give them the best shot to get what they wanted. It worked. It was a great call. It could have gone the other way. I understand that. It was a good throw."
How he's grown as a head coach is almost mind-boggling to me. He has proven to be radically different than he was in his time in Mississippi -- and just as importantly, radically different than his predecessor, Kiffin. Orgeron has done seemingly everything differently than he did in his first time as a head coach. The fact that he's been open to such change in his early 50s is noteworthy. Most folks at that stage are too stubborn or too set in their ways to re-think how they operate.
The joke in college football circles is that ever since being flipped the keys the gruff Cajun has adopted the George Costanza's bizarro "opposite" philosophy. On Monday, Orgeron admitted he's never seen Seinfeld but laughed and nodded when told about mirroring Constanza's 180.
Orgeron explained to me last month, a few days before his first game as USC's head man, that he's learned not to chase ghosts and instead keep the big picture in mind. Gone are the days when he worked everyone into the ground and instead he would remain relentlessly upbeat and enthusiastic. He would trust his assistants and his players, and they'd lean on each other. He'd treat them like he treats his own sons. He would be the guy recruits fall in love with -- the one whose presence dominates a room. Not the one who seemed so on edge.
A few days after Orgeron took over, he hired 72-year-old Pete Jenkins, his old college coach and mentor, to join the staff. A lifelong D-line coach from the NFL and the rigors of the SEC, Jenkins knows Orgeron better than anyone. A half-hour after the Stanford game had ended, Jenkins, too, had tears in his eyes while he spoke about USC's win and about his protégé.
"I think he learned so much from his time at Ole Miss," Jenkins said. "The thing is, he learned a lot about what to do, and what not to do. Those players we have, they love that guy. And that is a really powerful thing. That's a really good line we faced, and we played them without subbing out one guy on the line all night. They're giving us everything they have and they really are so focused.
"At this point in time, [Orgeron] is the best guy for this job. Everything is about timing. I'm not saying he'd be perfect for everywhere else. Some places are different, but I believe this: he's perfect for USC. He truly loves this place and these people."
"Coach O needs to be here next year . . . we want Coach O next year," standout safety Su'a Cravens told the Los Angeles Times. "Forget the hiring, forget all that. We got Coach O and that's all we need."
The Trojans still have two games remaining. Next week they play at Colorado before finishing up the regular season against cross-town rival UCLA. Whether Orgeron gets to coach the Trojans after this season is anybody's guess.
But one thing is certain: the guy who was the longest of long shots when he was first announced on a sunny Sunday in September, is a legit candidate now. According to sources, Orgeron has a lot of influential boosters in his corner and an increasing number of fans. But he knows his team still has a lot of work left.
"All I can do is work with [the team] every day," Orgeron said. "I think everything happens for a reason and that there's a greater plan. What that plan is I don't know, but we'll work together on a daily basis. That's all I know."
Random Stuff
•Speaking of former Ole Miss coaches ... hats off to David Cutcliffe and the Duke staff. After being No. 23 Miami 48-30 Saturday, the Blue Devils are ranked in the AP poll for the first time since Dec. 6, 1994.
Duke football.
In the Top 25.
Wow.
Duke has now won six straight, including victories against No. 14 Virginia Tech and No. 23 Miami. The most surprising part is how the Blue Devils are doing it. Cutcliffe, a noted QB guru, has seen his team throw only one touchdown pass in the past three games. Against Miami, Duke ran for 358 yards. The Blue Devils also held Miami to only one touchdown in the Canes four trips inside the red zone.
• Text from a friend about midway through the Auburn-Georgia game: How come no one talks about Nick Marshall for the Heisman. My response was the Auburn QB is too shaky a passer to even get an invite to New York. If anything, I figured Tre Mason was a bigger star for the Tigers. But with Alabama looming, time to give Marshall his credit. And some for his coach, too.
Gus Malzahn, who has made significant improvements in just about every QB he's worked with, has the onetime Georgia DB playing quite well. Marshall has thrown only one INT since September and over that stretch of games he's also averaging 113 yards rushing and has nine rushing TDs. In games in October and November, Marshall has 15 combined TDs combined and the one INT.
And of course Marshall helped pull off the play of the season so far.
For those trying to dismiss Malzahn's work. Don't forget what he did with his last QB, Ryan Aplin at Arkansas State. Aplin had a 19-16 TD-INT ratio the year before Malzahn started at Arkansas State. His ratio in 2012 with Malzahn: 24-4.
• So much for Jameis Winston and Florida State being distracted. The Noles' QB was 19 of 21 in the first half as FSU blew out Syracuse.
• Award season is coming. It is hard to pick offensive linemen, but not so hard to pick the D-linemen. One interior lineman is an easy call. Pitt DT Aaron Donald has to make All-American. On Saturday against North Carolina, the senior had another dominating performance: three more TFLs to go with one forced fumble, one pass breakup and five quarterback hurries. Donald leads nation in TFLs (2.3 per game) and is sixth in sacks. He's also the only DT among the nation's Top 10 sackers.
"That guy's a heck of a football player," UNC coach Larry Fedora said. "He is definitely an All-American. ... He plays so hard and it makes it really tough on you. We were very, very aware of where he was in every situation. The guy's got a bright future ahead of him."
• It won't get the buzz that you have for the Heisman Trophy but the race for the Doak Walker Award is heating up. Arizona's Ka'Deem Carey cranked out his 13th consecutive 100-game Saturday, but BC's Andre Williams is on a rampage the past month and just pounded NC State for 339 yards. He has now run for 972 yards in the Eagles' past four games and what makes Williams' production that much more impressive is that he's doing so in an offense that otherwise is completely average. Defenses are keying on Williams and the guy is still hammering people. Oh, and Williams also dented the outstanding FSU defense for 149 rushing yards and 5.3 yards per carry.
"He is a stud," said NC State D-line coach Ryan Nielsen on Sunday morning. "He just runs so hard. The guy has great feet and he's physical. He probably broke 15 tackles. He runs downhill and they have a really physical O-line."
• Baylor's first seven TD drives against Texas Tech: The longest one lasted 147 seconds. That's Fast Football.
• Congrats to Kansas and Charlie Weis for beating West Virginia and cracking the 20-point barrier against an FBS opponent for the first time in 364 days.
• Hello, Jeremy Langford. People can knock the Big Ten, but the conference is loaded with big-time RBs (the Badger duo; Carlos Hyde, Ameer Abdullah). Langford -- a guy who was a non-factor for his first three seasons at Michigan State -- is having a breakout season. At Nebraska, the 206-pound junior ran for a career-high 151 yards and now has six 100-yard games in a row.
• The Pac-12 North is considered the much stronger of the conference's two divisions, but you wouldn't know it if you looked at Stanford's season. David Shaw's team is 4-0 against Pac-12 North teams (3-0 vs. ranked opponents) and only 2-2 against the South. The Cardinal's two wins against South teams are over two ranked teams, then-No. 23 Arizona State and then-No. 9 UCLA and the losses were to unranked teams.
• AP voter Jon Wilner, one of the best CFB writers in the country, stirred up some Ohio State fans Sunday morning by turning in his Top 25 ballot and had the Buckeyes No. 7. Wilner's case: the Buckeyes four road wins are over teams -- Cal, Illinois, Northwestern and Purdue -- with a combined record of 0-26 in conference play. Ouch.
Then again, you can pick apart just about any Top 10 team's merits depending on either who some of the saps on their schedule are or how much they may struggle against a few mediocre opponents anecdotally.
I think the Buckeyes are a legit top-five team and, yeah, I realize they let Illinois hang around late, but I still feel like the combo of Braxton Miller (15-1 TD-INT ratio since returning from injury) and Carlos Hyde would be a big problem for almost any defense (Ohio State is averaging 60 points over its past three games) and they still have some athletes on D. And their head coach is about as good as there is prepping a team.
OSU's ability to jump on people early stands out. The Buckeyes lead the nation in first quarter points, averaging an eye-popping 19.2 points in the opening 15 minutes, as the Big Ten Network's Tom Dienhart notes. 
• Reason for optimism Boilermaker fans: True freshman QB Danny Etling. And you have a stud quarterback recruit coming from Texas in David Blough, who will push him.
• Stat of the Day: USC played the most physical offensive line in college football and did not have one D-lineman sub out for one single snap the entire night. The Trojans did give up 210 yards rushing, but held Stanford to a season-low 17 points and forced three turnovers and five three-and-outs.
• Stat of the Day, Take II: Vandy in November games before James Franklin took over in Nashville: 3-32. Vandy in November games with James Franklin: 8-2.
• Stat of the Day, Take III: Washington State hadn't won three conference games in a season since 2007, Brian Floyd points out. After the Cougars win at Arizona on Saturday, WSU is now 3-1 in Pac-12 road games this season. In the previous five season, WSU was 2-18 in conference road games.
• Stat of the Day, Take IV: Indiana came into the weekend averaging 43.1 points. Wisconsin's D held the Hoosiers to three points and snapped IU's 10-game stream of scoring at least 28 points.
• Stat of the Day, Take V: The combined 2013 record of fired former Ole Miss coaches is 13-3 between Cutcliffe and Orgeron.
• Tweet of the Day: From @HerdZone:
Marshall Football to Don `75' Helmets for Remainder of Season http://t.co/5YhjYO3lj8 #NeverForget

— Marshall Athletics (@HerdZone) November 16, 2013
BT Potter is about to be very popular in the Clemson locker room

McElwain will coach receivers and help coordinate the offense for the Wolverines

Nathaniel Watson Jr. was involved in a car accident that injured a passenger in early Febr...
The honorable Tom Fornelli presides over the ASU vs. UM case

Arkansas State is seeking $650,000 for a canceled home game last September due to Hurricane...

Friday Five is tackling the big questions this week