Big Picture: Sizing up Signing Day
Alabama piled up blue-chip talent, but LSU and Texas A&M reeled in the best players, according to our recruiting expert from Signing Day Live.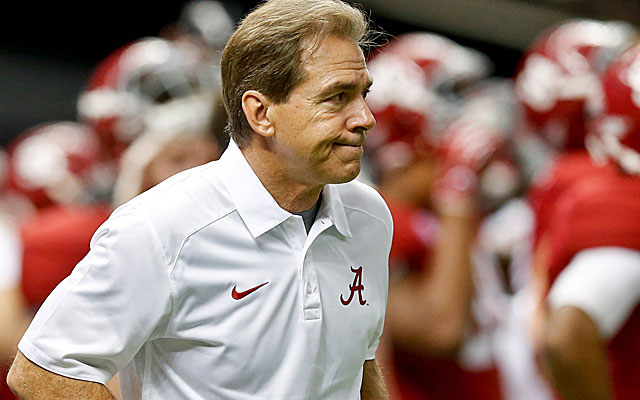 The biggest surprise of Signing Day was that there really were no major surprises or soap operas. The biggest curveball came from Rashaan Evans. The five-star LB, who lives right in Auburn's backyard, picked Alabama instead of the Tigers. Evans capped off a spectacular recruiting Tide class.
To kick off our Signing Day Live show we got some help from former USC coach Ed Orgeron who was a multiple time National Recruiter of the Year. Orgeron provided CBSSports.com with his analysis of the 2014 class and he, like everyone else, was wowed by the talent Nick Saban signed. The long-time D-line coach had several Crimson Tide recruits rated as his top overall prospect at their position, starting with his best O-lineman: Cam Robinson: "6-6, 320. He has great hips, great feet," said Orgeron. "He comes off the ball with a flat back and is a dominant drive blocker. I think he's gonna have to work on his pass protection but I know Alabama will get that done."
Orgeron also had Rashaan Evans as one of the top two linebackers; Marlon Humphrey as the No. 1 CB and Tony Brown as the No. 3 CB. He also ranked junior college O-lineman Dominick Jackson as the nation's No. 4 JC transfer. (The rest of his JC top five: 1. Claude Pelon, USC, DL; 2. D'haquille Williams, Auburn, WR; 3. Tyreek Hill, Oklahoma State, athlete; 5. Tui Talia, Oregon, DL.)
Orgeron called this is a terrific class for defensive ends and cornerbacks, but said it was a bad year for defensive tackles. His top five D-linemen: 1. Myles Garrett, Texas A&M; 2. Malik McDowell, Michigan State; 3. Lorenzo Carter, Georgia; 4. Chad Thomas, Miami; 5. Jalyn Holmes, Ohio State.
The former USC interim head coach ranked three of those defensive linemen among his top five prospects in the entire country behind No. 1 overall recruit RB Leonard Fournette (LSU), and his No. 3 rated player CB Marlon Humphrey with Garrett (No. 2), McDowell and Carter rounding out the top five.
We also asked Orgeron to look at all the recruiting rankings and ID a few "three-star" guys he felt were very underrated. His three picks: JC RB De'Chevon Hayes (ASU); CB Dominique Harrison (Oregon) and ATH Charles Nelson (Oregon).
Random Stuff
•Bob Stoops seemed to be a very good mood when we spoke to him Wednesday afternoon. Probably a big reason for that was Oklahoma reeled in two studs on Signing Day that got high marks from a couple of rival college coaches, WR-DB Miciah Quick and safety Steven Parker.
On Quick: "He's pretty long and has great quickness. I think he's the best 'athlete' in the country," said Orgeron.
On Parker: "He's just very smooth," said one recruiting coordinator. "He's about 6-2, 190 and he could probably play WR too, but we think he's as good a safety as there was in this class. He's a smart kid and has good length and change of direction."
•Orgeron and the recruiting coordinator were also in agreement that Auburn signee Braden Smith was the among the top three O-line prospects in the country. Both raved about Smith's strength. "Some people saw him as a guard, but we loved him as a tackle," said the recruiting coordinator. "He played guard in high school and they pulled him every snap, but he's got really good feet and great toughness."
Orgeron: "Braden is a great athlete, who does a tremendous job on the second level and you hardly ever see him on the ground."
*Cult Hero Alert: On the week, where video of former Kentucky QB Jared Lorenzen playing minor league football went viral, we might have the workings of another 300-pounder quarterback in the SEC. Ole Miss signed JC star Jeremy Liggins, who played in three games as a defensive end and four games as a quarterback during his freshman year at Northeast Mississippi Community College. Freeze told me that the 6-4 Liggins arrived in Oxford weighing 303 pounds.

"He's a tremendous athlete," said Freeze. "He's a tremendous competitor. He was 32-1 as a starter in high school. He can throw the ball 75 yards and has the smoothest release. In the last year and half he did get himself out of shape, but he's here working and fighting to get his weight down. He's already lost 12 pounds. We're really anxious to try him out both at tight end and quarterback this spring."

As a high school senior Liggins, who originally signed with LSU, threw for 16 TDs and ran for 18 more.
• Class that caught my eye on Wednesday: Washington. Chris Petersen has an impressive track record for evaluation and development, but he's never been known for landing  highly ranked recruits. This class, though, has them. Start with WR-DB Budda Baker, a dynamic playmaker who everyone in the country was after. U-Dub also got four-star QB K.J. Carta-Samuels and four-star OT Kaleb McGary, a towering in-state prospect, who sounded very set on going to college in a more rural place but instead is headed to Seattle. Petersen also had six former Boise State recruits follow him to U-Dub.
• A year ago, West Virginia head coach Dana Holgorsen made some big staff moves, pushing to bring on a few established recruiters with strong ties in a couple of keys areas for the Mountaineers. Those addictions paid off nicely on Signing Day. WVU signed blue-chip four-star safety Dravon Henry from the same area in Pittsburgh as RB Rushel Shell and the credit goes to Tony Gibson. They also snagged four-star RB Donte Thomas-Williams out of North Carolina, where WVU assistant Lonnie Galloway has plenty of pull.
• Hats off to Mike London and ace recruiter Chip West for signing a very strong class under some not-so-ideal circumstances. Virginia just went 2-10 in London's fourth season there and is a dreadful 6-18 the past two years. His seat is very hot, but UVA still managed to grab two of the country's top 11 prospects, safety Quin Blanding and DT Andrew Brown.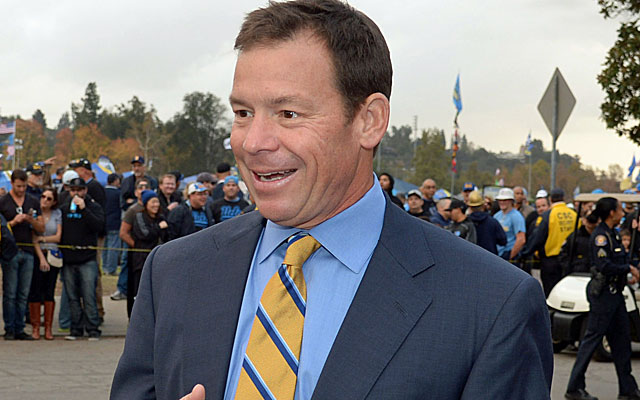 • Give credit to UCLA coach Jim Mora for not going into spin mode on a day when it's the norm. Despite having beaten arch-rival USC twice in a row, the Bruins still came up empty for three prime local prospects--OG Damian Mama, WR-DB Juju Smith and CB Adoree' Jackson--who all signed with the Trojans. I asked Mora about how well the momentum of winning on the field is translating on the local recruiting scene and he pointed out that for so many kids in Southern California they just grew up rooting for Reggie Bush and those USC teams so it's going to take more time (and more wins) to overcome a lot of that.
"We're still fighting the years and years of great teams that Southern Cal had," Mora said. "A lot of these kids in the area grew up watching Reggie Bush and the other greats. What we're trying to do is turn the tide as quickly as we can but sometimes it's a little slower than you want but it all starts with winning the game. I am so excited with the local kids that we signed."
The Bruins class is still pretty solid and UCLA did win some head-to-head battles with the Trojans (DB Jaleel Wadood was one). Another reason for optimism: Some recruiting analysts expect UCLA to get a commitment from Josh Rosen, a strong-armed, athletic junior who is the nation's No. 1 QB prospect in the 2015 class.
*Tennessee signed the No. 7 ranked recruiting class in the nation. I'm not surprised Butch Jones and his staff are recruiting well. Big WR Josh Malone, RB Jalen Hurd and JC OT Dontavius Blair are already enrolled and should make big impacts in 2014. Also keep an eye on big LB Jakob (pronounced Yah-kub) Johnson, a native of Germany, who Jones told me is the "Alpha Male of this class." There's also a bunch more studs on defense that'll arrive in the fall. More reasons why I'm convinced that Tennessee will win an SEC East title within the next three seasons. 
• Kentucky created a lot of buzz in the recruiting world this year and polished off an excellent class in Mark Stoops first full season there. In-state QB Drew Barker is a talented kid and will be a leader there for UK while five-star DT Matt Elam should be a force if he can keep his weight in control. UK beat Bama for Elam. Stoops deserves a lot of praise. It's one thing for a new staff to get commitments in the off-season. It's another to hang onto them once the games are played and losses start to mount.
• Wednesday was a bittersweet day for Va. Tech. The Hokies, who already had missed out on blue-chip DL Jalyn Holmes from the 757 area, got beat twice by FSU, for DT Derrick Nnadi and WR Javon Harrison, former Tech commit. VT also missed out on Isaiah McKenzie, who signed with Georgia. The Hokies, though, did have their share of good news too. Florida wideout Isaiah Ford signed with Tech despite Will Muschamp making a big push late and Richmond LB Raymon Minor opted to become a Hokie over offers from Ohio State and Miami.<strong></strong>
<strong>Most intriguing fit:</strong> Strong-armed Brandon Harris, who is already enrolled at LSU. Harris has a ton of ability and is being groomed by OC Cam Cameron who knows a ton about developing quarterbacks. With Zach Mettenberger moving on to the NFL, the job is open and Harris has a shot. I asked Les Miles about Harris Wednesday about what impresses him about Harris.
"He's an intuitively accurate quarterback," said Miles, who also praised Harris' quick arm and huge hands.
Second-most intriguing fit: dynamic dual-threat QB Treon Harris, a super-tough kid who Will Muschamp flipped from FSU now will get to work with new Gator OC Kurt Roper who is re-making UF's offense. Lots of football people I spoke to this week are very high on Harris and say he has the magic "It" quality.
• Houston which already has a young stud QB in freshman John O'Korn brought in a bunch of big, fast wideouts to join the gifted ground that includes former five-star Deontay Greenberry. Of the five wideouts UH signed, four are at least 6-3 (the other is 6-1). Keep an eye on 6-3, 200-pound Elton Dyer, who has run a 4.4 and high-jumped 6-11. He's also going to play hoops for the Cougars. Isaih Johnson, is another 6-3 wideout who is also a big-time track star.
• Nevada, which brings back almost every starter on both sides of the ball, may get some instant impact and pass-rushing help from Patrick Choudja, who the Pack beat Arizona State, Washington State, Boise and Fresno to get. The 6-3, 225-pounder had 18 sacks and 25 TFLs as a senior.
• Things seem even more bleak further north at Rutgers, where Kyle Flood enters 2014 on the hot seat and his program came up empty for most of the top prospects in his area. RU had a whopping 13 prospects de-commit since the summer including blue-chippers Adonis Jennings, Kiy, Hester, Saeed Blacknall, Tyler Wiegars, Jonathan Hillman and David Njoku. The good news: Flood did land a very good assistant in former Maryland head coach Ralph Friedgen.
Stat of the Day: Texas is no longer the "hot" school in its home state. Texas A&M, having won 20 games the past two seasons, playing in the toughest league in college football, snatched two key defensive recruits from new coach Charlie Strong's program. Strong comes from Louisville and looked out of state quite a bit this year, signing SEC six recruits from outside of Texas' borders. As Chuck Carlton notes, Mack Brown never signed more than four out-of-state recruits in any class.


Cristobal's first game at Oregon ended the same way Chip Kelly's did

Conner Manning and the Panthers dominated the Hilltoppers in the Cure Bowl

You can only go to the well so often before it dries up
The Trojans beat LSU earlier in the year and now have their first 11-win season as a FBS t...

Saban has never been a fan of the early signing period and made it clear that hasn't chang...

Paul Tyson is a three-star quarterback prospect for the 2019 recruiting class