Big Picture: Stanford proves it's a contender for national title
With an impressive win over Washington, Stanford erases any doubts that it could win a national title. Plus Baylor's Art Briles is building a juggernaut in Waco.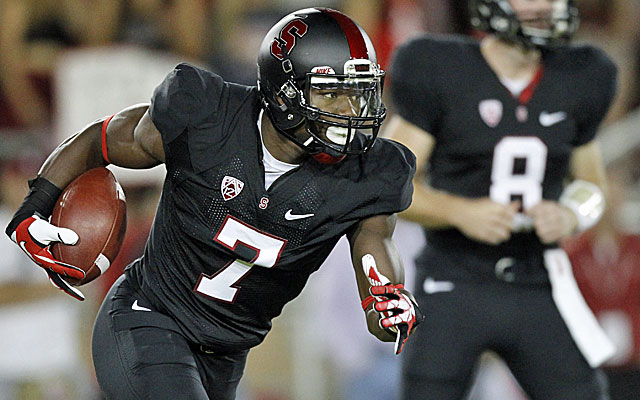 The one thing that had me skeptical that Stanford could be more than a top-five team and actually win the national title this year were questions about the team's skill talent. Did the 2013 Cardinal have a true difference-maker at receiver or running back? Well, now we know, Stanford definitely does. And, anyone who stayed up to watch the Cardinal beat Washington in a riveting game Saturday night knows it.

Ty Montgomery is a jacked-up 215-pound receiver-return man from Dallas who has blossomed into a star this season. He's averaging 17 yards per catch, 13 yards a carry and 34 yards per kick return. On Saturday night he torched the Huskies, overshadowing a fantastic performance by Washington QB Keith Price. Montgomery had 277 all-purpose yards before the third quarter was even over.


"I would say Ty was the difference in the ballgame," said Stanford coach David Shaw. "Just his presence, great reverse also.  The two great kickoff returns, great job blocking, great job being unselfish and doing whatever we needed him to do.  He's a special player that we think his future is extremely bright, and he's only going to get better.  He's just scratching the surface."

Montgomery's 99-yard kickoff return to open the game, put Washington into a hole it never could seem to escape. HIs home-run hitting ability provides a potent counter to Stanford's power-running game behind arguably the nation's top O-line. "He's a low 4.4 40 electronic(-timed) guy," said Cardinal assistant Mike Sanford early Sunday morning. "And he's a physical freak. He's been in the top two fastest players on our program the past two years."

And Montgomery, a former high school lacrosse standout, is no small dude. He's bigger than some SEC linebackers and a whole lot faster.

As for the Huskies, even in defeat they seemed to cement their rep as a legit top-15 team. Price, one of the great bounce-back stories of 2013, made plays all night even if his receivers dropped several on-target throws, including a sweet third-down pass downfield to touted tight end Austin Seferian-Jenkins that the All-American candidate dropped. The play set up a controversial fourth down reception that officials later reversed, ending the game. Price, by the way, played most of the second half with a banged up thumb, the senior QB later acknowledged.

"I can't say enough about Keith Price," said Shaw. "Athletic, smart, great kid, tough competitor. We probably should have had four to five more sacks tonight, but we couldn't bring him down.  He's that good."
 
"I thought our kids exuded enormous hearts," Steve Sarkisian said. "Thought they played hard, thought they showed the fight that is innate in this program.  It's not superficial.  I think the heart they displayed tonight to battle back against an excellent football team, I couldn't be more proud of to be their head coach and the way they played and the fight they showed.

"It's unfortunate the game had to come down to a judgment call like that.  That part was unfortunate because it was two good football teams battling and competing with one another, and I wish the game would have gotten won on the field and not in the booth upstairs with some guy that didn't get to feel the emotion and the hard fought football game that that game was."

Sarkisian's venting about the game ending via the replay official surely won't sit well in most places outside Washington state. His words read worse than they sounded when he was asked about the game's final moments and some questionable looking penalties. Truth is, his team had plenty of opportunities, like the dropped Seferian-Jenkins play or an evening of dreadful special teams that ensured a Huskies defeat. Still, I felt like Washington showed the Pac-12 has at least three very good teams in the North division, and the Huskies will get another chance to prove it when mighty Oregon comes to Seattle next week.


"There's no awards for losing," Sarkisian said. "We're a proud football team and we're proud of the way we played, but we came here to win the game, and unfortunately, we didn't do that.  So we have to show the ability to handle the adversity of a tough loss like this against a tough football team and learn from some of the mistakes we had.  Be proud of the way we played and have the ability to get back on the horse and go play another excellent football team next week.

"I think the thing that we proved to ourselves is we can beat anybody in the country.  That to the point of where you prepare really well and you have good game plans and execute, you can do that.  So now we have to try to get back on the horse, start preparing for Oregon, and get ready to play another excellent football team a week from today."

I have to admit I don't understand how some Washington fans out there aren't happy with Sarkisian. The Huskies were 0-12 the year before he arrived. They do need to cut down on the penalties, but he's built a dangerous offense and shrewdly upgraded his defensive staff, bringing in the great Justin Wilcox to run the defense. In fact, you could make a strong argument that two of college football two five DCs (Wilcox and Stanford's Derek Mason) were coaching in Palo Alto on Saturday night.

One more note on Shaw: The guy has done a brilliant job building on what Jim Harbaugh did. Stanford is now 7-1 in games decided by six points or less since 2012. Not bad in the post Andrew Luck Era.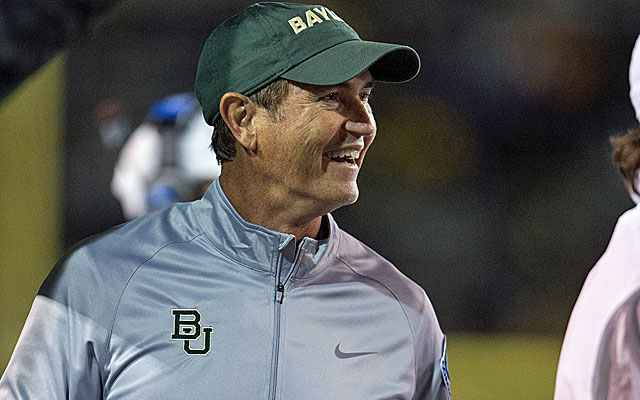 RANDOM STUFF
•I was in Morgantown for last year's wild Baylor-WVU game. I only got to see a little of the first half of this year's WVU-Baylor game before I had to head to Stanford, but am blown away by what Art Briles' program is doing. In last year's shootout, the Bears had 700 yards of offense. In less than a half Saturday, the Bears had 617 and 56 points. Beyond that, the Bears' D is much improved. Last year, WVU was 12 of 15 on third downs. Deep into the second half, Baylor had held the Mountaineers to 1 of 11.
•Another week, another round of Jameis Winston's wizardry. The Noles QB shredded the No. 25 Maryland Terps, 63-0, by throwing for a career-high 393 yards and five TDs. As dismal as Randy Edsall's first two seasons were at Maryland, his team was actually never thrashed like this in the first two meetings with the Noles till Winston took the field this year against the improved Terps.
"He's an outstanding football player," said Edsall. "We had him a couple of times; one of the things we worked on all week was to tackle him low, wrap his legs, and we didn't do that, we were up high. He made some really good plays and as he started to come out of there (the pocket) our eye discipline in the secondary wasn't very good. We looked back at the quarterback instead of plastering on the receivers and they got some big plays that way. And we didn't do a good job on third down. Third down we were very, very poor on third down. All around it was not a good day."
Winston's now thrown 17 TDs and just 2 INTs to go with a 73 percent completion percentage as a passing efficiency rating of 213.9. Again, for context, when Geno Smith was playing lights out last season and had the 20-0 TD-INT mark, his efficiency rating was 208.3. Winston was the trendy darkhorse Heisman pick many of us reached for when asked about who might be this year's Johnny Manziel. The FSU redshirt freshman has lived up to all of the hype, and that seldom happens.My Heisman top five after this weekend: 1) Manziel, 2) Winston, 3) Marcus Mariota, 4) Tajh Boyd and 5) Teddy Bridgewater.
•Props to Curtis Johnson, the old ace Miami recruiter, who has Tulane winning some games. The Green Wave beat North <span data-shortcode=" data-canon="Texas Longhorns" data-type="SPORTS_OBJECT_TEAM" id="shortcode0"> on a late field goal to move to 4-2 and 2-0 in Conference USA play. The 4-2 start is Tulane's best in 15 years since its 12-0 season with Shaun King. It's also the first time the program has won consecutive C-USA games in six years. The Green Wave, which hasn't won more than four games in a season since 2004, face a much tougher test when ECU visits next week.
•Tennessee has now lost 19 in a row against ranked opponents, but give credit to Butch Jones and the Vols. They gave a beleaguered Georgia team all it could handle in what was a riveting game in Knoxville. The Vols still have games against No. 13 South Carolina and No. 1 Alabama, but I suspect that losing streak isn't going to get much longer than 21.
•There are a quartet of high-profile standout QBs in the SEC: Manziel, AJ McCarron, Aaron Murray and Zach Mettenberger, but Mizzou's James Franklin shouldn't be lost in their wake. He threw four more TDs Saturday in the Tigers' 51-28 romp at Vandy. Franklin, who was banged up last year, reminded people how talented he is in the first month of the season. He has a 13-3 TD-INT ratio while completing 68 percent of his passes up from 59 percent last season. He's also averaging a career-high 5.2 yards per carry for the 5-0 Tigers. Mizzou is averaging 47 points per game, 21 points more than it did in 2012. The Tigers though will step up in class when they play an injury-ravaged Georgia team that is an 11-point favorite.
•Eighteen-and-oh for Urban Meyer. In any league that is impressive.
•For the first time in years, the best league in college football may not be the SEC. Of course, the SEC has seven titles in a row to counter any such claim, but this year might be different -- although, yeah, I know we've heard this before a time or two. Still, the Pac-12 has two top-five teams (Stanford and Oregon) and two more that look like top 15, if not better (UCLA and Washington). Meanwhile, Alabama is a strong No. 1, but all the other powerhouse teams in the West have shaky defenses, and with all of the injuries Georgia and Florida have suffered, the top of the SEC East looks very beatable.
I had this conversation with a couple of friends Saturday and we all agree there's something of a shift in the works this season. Is the Pac-12's middle and bottom as strong as the SEC? Not sure, but whenever people talk best conference they usually are focusing on the top teams, not the bottom.
•Syracuse's Scott Shafer is a really sharp defensive guy who had a lot of success containing some elite college QBs, most notably Geno Smith, but on Saturday Tajh Boyd ate up the Orange, throwing for a school-record 455 yards and a record-tying five TDs in just three quarters of action. Clemson piled up 439 yards in just the first half.
•Beware the Auburn Tigers. It's not just Gus Malzahn's offense that has the Tigers on the path back to the top 20, but his fierce D-line. Saturday, Auburn's defensive front swarmed Ole Miss and had a breakout game. Auburn, which had only four sacks in its first four games, had six with two apiece by Carl Lawson, Dee Ford and Gabe Wright. Of the 14 TFLs the Tigers rang up, 12 were produced by D-linemen and 3.5 came from the freshman Lawson, who will team with fellow rookie Montravius Adams to cause OC's nightmares for the next few years.
•Another strong showing by Pat Narduzzi's Michigan State defense. The Spartans shut down the Big Ten's No. 2 rusher Mark Weisman, who only managed nine yards on seven carries. The Hawkeyes' running backs had 12 carries for 13 yards on the day with a long of four.
•Congrats to Kevin Wilson, who led Indiana to its first win in 17 tries against Penn State. Wilson's built a potent offense and the IU defense was a pleasant surprise, bottling up PSU's ground game. The Nittany Lions were held under 2 yards per carry (70 yards on 38 attempts.) Bowl hopes are looking better in Bloomington.
•As awful as Southern Miss has been ever since Larry Fedora left town, USM hit a new low Saturday losing to the abysmal FIU Golden Panthers, 24-23. Southern Miss has now dropped 17 in a row. In its previous 17 games before Fedora left for UNC, the Golden Eagles were 13-4. How does a program plummet so far, so fast?
•Much of the reason why many had Notre Dame in the preseason top 10 was because of the Irish defensive front, but ND had a very shaky opening month, seemingly still in the funk of last winter's thrashing at the hands of Alabama in the BCS title game. In Dallas against ASU, Bob Diaco's D looked like it had some of its edge back, sacking Taylor Kelly six times -- as many times as he'd been sacked in the first four games. ND also limited ASU to just 2.6 yards per carry in the 37-34 win.
•Speaking of Notre Dame, things keep getting uglier for Charlie Weis. His KU team jumped out to a 10-0 home lead over Texas Tech, only to get outscored 54-6 in the final three quarters. In 2012, KU ran for 390 yards on Tech, but an improved Red Raiders D held the Jayhawks to just 53 yards on 37 carries.
•Stat of the Day: Prior to Pete Lembo taking over at Ball State, BSU was 1-23 against teams from AQ (automatic qualifier) conferences. After Saturday's 48-27 thumping of host Virginia, Lembo's program is 4-3 in such games. That is a remarkable turnaround job Lembo has done there. UVA's D had been very solid, only allowing 299 yards of total offense entering the weekend, but Ball State gashed the Cavaliers for 502 yards as Keith Wenning threw for 346 and was only sacked once by a team that came in averaging 3.3.
Wenning has been superb. This season, Lembo says his QB has gotten much better at throwing the deep ball. He's also only been sacked six times in five games -- not bad consider BSU only had one returning O-line starter back. It all starts with Lembo, the best-kept secret in coaching.
If you haven't heard of Pete Lembo, you will now. The 43-year-old former Georgetown Hoya has worked his way up from one small football program to another and won everywhere. He took over a Ball State program that was 6-18 the previous two seasons before he'd arrived. In his second season, BSU went 9-4, beating teams from the Big Ten and the Big East. Now they're 5-1 and have an ACC takedown too. He's also sparked Ball State to the highest APR in school history and was tied for first in the Mid-American Conference among football programs.
At Elon, his previous stop, the program had gone 14-42 he five seasons before he arrived and he led them to a 35-22 record, including winning seasons in his last four seasons there. His record at Lehigh before that: 44-14.
"The sum is greater than the parts," Lembo told me Saturday night when asked about how his program has risen up. "Our staff is very tight-knit and that trickles down to the players. They really believe in what we're doing. It's substance over style."
ADs across the country should believe in what Lembo's doing too. In fact, given the struggles Mike London is having at Virginia, it's no stretch to think Lembo could be coaching on the opposite sideline at Virginia a year from now.
Ball State is one of those programs where you're living in the margins of major college football. BSU has no indoor football complex. The coaching offices look like what you'd expect from a small high school program. The team's starting tailback, Jahwan Edwards, had only Division II offers and followed the staff from Elon to BSU. Against Virginia, he ran for 155 yards and three TDs in ACC country. In 2012, Edwards had 1410 yards. Many of the players starting for Lembo's team only had one FBS offer -- from Ball State. BSU also starts former walk-ons at center, middle linebacker and slot receiver. And they just beat a team that many coaches in the ACC say looks like one of the most imposing groups coming off the bus they eyeball all season.
•Stat of the Day, Take II: As bad as FIU and USF have been, it was a good weekend for both of them, and for the entire state of Florida. As the AP's Tim Reynolds points out, the state of Florida's FBS teams went 7-0, outscoring opponents, 249-123.
•Stat of the Day, Take III: Oregon is averaging a head-turning 630 yards per game, and that's still 149 yards less than Baylor. The Bears have an astounding 19 plays of 40 yards or longer in four games. No one else has more than 14 such plays and both of the teams that do (Oregon and Indiana) each have got those 14 playing one more game than the Bears. That's also almost half of the 40-plus yard plays Baylor had in 13 games last season.
McElwain will coach receivers and help coordinate the offense for the Wolverines

Nathaniel Watson Jr. was involved in a car accident that injured a passenger in early Febr...

The honorable Tom Fornelli presides over the ASU vs. UM case
Arkansas State is seeking $650,000 for a canceled home game last September due to Hurricane...

Friday Five is tackling the big questions this week

Two unnamed players are being investigated for an incident at an off-campus apartment