Big Picture: The brains behind Michigan State's top-ranked D
Michigan State's Pat Narduzzi orchestrated a dominant performance over arch-rival Michigan on Saturday. The details behind the devastation as well as a look at FSU and the Heisman race lead this week's Big Picture.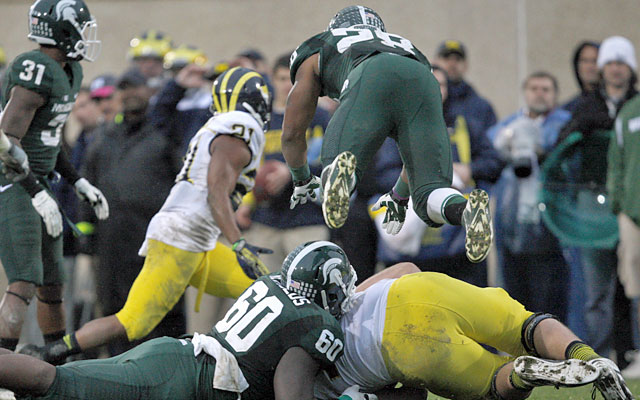 It was a good Sunday morning for Pat Narduzzi. His Michigan State defense had just dominated arch-rival Michigan, the No. 21 team in the country, 29-6. The Spartans held Michigan to MINUS 48 yards rushing, the worst output in the Wolverines storied history. For the day, UM, which had two weeks to prepare for the Spartans, produced just 168 total yards and 36 points below the Wolverines season average.
"We normally have 24 hours to enjoy it, but since we've got a bye week, we have 48 hours to enjoy it," Narduzzi told me. "Plus, since we gained an hour, we've actually got 49 hours, so that's nice."
Saturday's showdown against Michigan was Exhibit A why Narduzzi is the frontrunner for the Broyles Award, honoring the nation's top college football assistant coach.
The 47-year-old Narduzzi is the biggest reason why the Spartans have, once again, one of the nation's best defenses. MSU leads the nation by a stunningly big margin in run defense, holding opponents to just 1.6 yards per carry, more than a full yard better than the next stingiest defense. In fact, it's almost a full yard better than any defense has had in the past four seasons. The Spartans are limiting teams to 43 rushing yards per game, that's almost half the yardage of the next toughest D in the nation.
In its first seven games, the Wolverines had allowed 12 sacks. MSU had seven sacks on Saturday -- with four coming in the first quarter to set the ominous tone. Even taking out the sack yardage, the Wolverines managed just one yard on 22 carries.
"They ran a bunch of blitzes -- a lot of the same, exact blitzes [they ran] in 2011," Wolverines star LT Taylor Lewan told the Detroit News after the game. "We just, when it came down to it, didn't pick it up. That's our job."
Michigan State did, essentially, when it always does.
"There's no surprises," Narduzzi said Sunday morning. "Michigan knew how we're gonna line up. They knew we were gonna line up in our four-man front. They knew we were gonna play our quarters coverage. They knew we were gonna zone blitz and do unique zone pressures."
But it's also how the Spartans play it all that causes everyone so many headaches.
"Our kids are playing faster than ever," Narduzzi said. "They really know what they're doing so they can just react."
Michigan, which had hurt people with screen passes, often middle screens, figured out real fast that wasn't going to work Saturday. The Wolverines attempted a sprint-out, throwback screen, but sophomore Shilique Calhoun, a budding star, sacked Devin Gardner. If the speedy DE hadn't gotten to Gardner, MSU had three guys in position to snuff out the play anyhow.
The Wolverines also have had a lot of success with their receivers running double moves. Problem is, it's harder to run those against the press corners like MSU does it, and those routes take time to develop, something Gardner rarely had.
The Wolverines also couldn't rely on their power game Saturday either. A big chunk of Michigan's power-running attack comes from their two-back set, but Michigan lined up in their two-back set only once and ran it. The result: a minus-two yard run. Stuff like that has to be demoralizing for a program that wants to pride itself on being a power team.
Narduzzi's pressure packages suffocated the Wolverines passing attack, too. He blitzed on about half the plays Michigan ran. On the season his defense normally pressures about 30 percent of the time. The Spartans sent six men after Gardner some 30 times Saturday. Most defenses probably are willing to do that three or four times a game.
The biggest difference in cranking up the heat came on third downs. Normally, they pressure about 20 percent of the time. On Saturday, it was between 40 and 50 percent on the third downs. Michigan was just 2-of-14 converting on third downs.
Senior linebacker Denicos Allen earned National Defensive Player of the Week honors for having nine tackles, three TFLs and 2.5 sacks. He did so despite being banged up during the week and missing about half the week of practice. The Spartans also were missing their senior nose tackle Tyler Hoover for the game. Running back Fitz Toussaint, who made a "little brother" crack about the Spartans earlier in the week, was held to 20 yards rushing on eight carries. This was actually the fifth time in the past six years MSU has beaten Michigan since Wolverine standout Mike Hart made his own "little brother" dig at the Spartans.
MSU is off to its first 5-0 start in Big Ten play under head coach Mark Dantonio and the first since 1966.
The Spartans surging is the best thing that can happen to Ohio State, which despite winning like 50 in a row under Urban Meyer, the Buckeyes need another Big Ten team to have at least some credibility nationally.
OSU has beaten its last two opponents, a mediocre Penn State squad and epically bad Purdue team, by a combined 119-14. A potentially 11-1 MSU team, with the nation's No. 1 defense, would make for a very compelling Big Ten title game against the Buckeyes with the conference's most potent offense.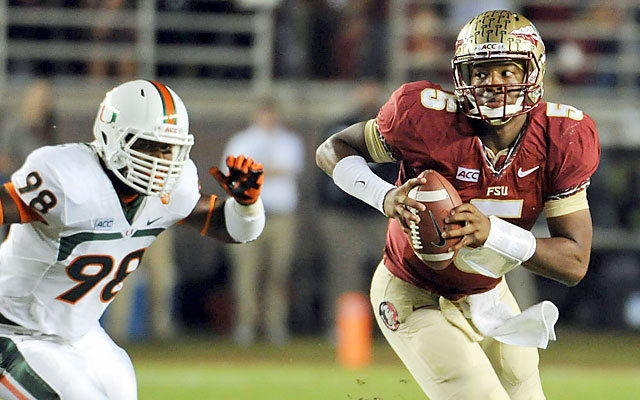 RANDOM STUFF

*Florida State thumped Miami, 41-14 as most people figured. As we said last week, for as dynamic as Jameis Winston is, his arrival has almost overshadowed how talented the Noles are every place else. Saturday night was a good example. Winston wasn't very sharp in the first half, throwing two INTs, but his teammates stepped up. If it wasn't for a couple of perfect passes on TD plays by UM's Stephen Morris, who knows if the Canes would've even scored.
Devonta Freeman, the Miami kid, who Randy Shannon and UM didn't want, stuck it to the Canes with 176 yards of total offense and scored three TDs while the Noles aced another test.
Is Miami a legit Top 10 team at this point? Chances are if you're an Oregon or Ohio State fan you're gonna say no.
What about if Stephen Morris is healthy? Maybe Miami is, but that still seems like a stretch given how average their defense still is. I do think they're a top 20 team at the very least. Although without star RB Duke Johnson (lost for the season with an ankle injury), UM doesn't feel like one now.
That said, does the Big Ten or Big 12 have two teams clearly better than the team FSU hammered Saturday night? I doubt it. I bet that the SEC and the Pac-12 do, but that's as far as I'd go.
*One last note on FSU: I figured Jameis Winston would emerge from Saturday night as most people's clear No. 1 in the Heisman race. I don't think he did though. He was shaky in the first half. Not bad, mind you. A team doesn't start 9-of-10 on third downs with its quarterback playing poorly, but those picks over the middle gave UM life.
Winston, Marcus Mariota and Johnny Manziel are all close on my ballot, and Bryce Petty has a chance to rise in the race this month now that Baylor's schedule gets interesting.
*Interim head coaches are hot this month. USC looks like a radically different team now than it did under Lane Kiffin. On Friday night, the Trojans dominated a potent Oregon State team, winning 31-14 to give USC its first victory in Corvallis since 2004. After the game, the Trojans, who brought a roster that included just 46 active recruited scholarship players up to OSU, carried interim head coach Ed Orgeron on their shoulders. With a patchwork secondary, USC bottled up the Beavers who managed just 2-for-12 on third downs.
Orgeron is now 3-0 in Pac-12 play. His story is even more stunning as he's shown he's evolved from the guy who won just three league games total in his three seasons at Ole Miss.
The Trojans haven't allowed a point in the second half of the last three games and they're getting hefty contributions from guys who were forgotten when Lane Kiffin ran the show. The biggest example of that is RB Buck Allen, who torched the Beaver defense on Friday. The 215-pound sophomore ran for 133 yards and three TDs and had 41 yards receiving. Allen, a favorite amongst his teammates, didn't even play in two of the games earlier this season before Orgeron took over.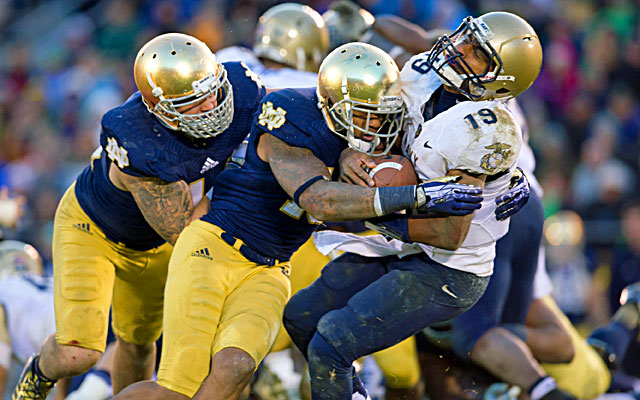 USC's resurgence is mirrored by that of Minnesota where the Gophers are also 3-1 under their interim, Tracy Claeys. Minnesota is 7-2 and won three in a row. The Gophers season seemed on the brink of a meltdown last month. They had dropped two in a row and faced a road trip to a Northwestern club that seemed a lot better then than it does now. It's doubtful any coach is beating out Urban Meyer for the Big Ten Coach of the Year honors this winter barring a Buckeye stumble, but Claeys is making a surprising run.
*He doesn't get the hype of Jadeveon Clowney or even Michael Sam or Stephon Tuitt, but no D-lineman is making more plays than Pitt's Aaron Donald and he deserves some national pub. In a loss to Ga. Tech in Atlanta, the senior defensive tackle had a jaw-dropping six TFLs to go with two forced fumbles. Donald leads the nation in TFLs with 19.5 (2.4 per game).
*Big road win for West Virginia, edging TCU in OT 30-27. The Mountaineers were led by UH transfer Charles Sims, who had a huge day back in Texas rushing for 154 yards, the most net rushing yards ever allowed by a Gary Patterson D at TCU.
It's been a tumultuous season for Dana Holgorsen, but now it looks like they have a very good chance of getting to a bowl. The Mountaineers, 4-5, have three games remaining: against 6-2 Texas, at 2-6 Kansas and against 1-7 Iowa State.
*I am perplexed by just how dreadful Southern Miss football is right now. On Saturday the Golden Eagles got crushed by Marshall, 61-13.
In 2011, USM went 12-2 and finished No. 20. Larry Fedora's team came within 11 points of going 14-0. Since then, they've lost 20 in a row by an average margin of 23 ppg. I can't think of a program that had been good go to abysmal so quickly. The best example I heard someone bring up on Twitter was Notre Dame under Charlie Weis, which went from No. 20 in the country one year to 3-9 the next. But the season after that at least the Irish were decent, going 7-6. USM is the worst team in FBS and seemingly getting worse.
*And, speaking of duds, Tulsa deserves a spot high on the list in the Most Disappointing category this season. TU got blasted at home by UTSA on Saturday. The Golden Hurricane, the preseason C-USA favorite, is now 2-6.
*Sore ankle? So what? Ameer Abdullah keeps piling up yards. He carried the Nebraska offense that had all sorts of issues at QB (four INTs) for most of Saturday, running 24 times for 127 yards. Abdullah often gets lost in the shadows of Wisconsin's Melvin Gordon and Ohio State's Carlos Hyde, but he's a terrific back. Abdullah gave Ron Kellogg III, the husky senior walk-on, and freshman Jordan Westerkamp a chance for their heroics and Husker legend status. The expressions of Kellogg and Bo Pelini in the moments afterward were priceless.
"I just broke down, man. I just broke down," NU OC Tim Beck told reporters. "I'm happy for them. It just wears on you, it just wears on you. Everything wears on you here. It's tough. All you can do is the best you can do."
*I know Jordan Lynch is outstanding, but it still made me do a double-take to see that he, a QB, leads the nation in runs of 30 yards or longer with eight.
*Stat of the Day: Last year FSU ranked No. 113 in the nation in most fumbles lost with 17. This year, the Noles lead the country in fewest fumbles lost with just one.
*Stat of the Day, Take II: Navy, a 17-point underdog, gave Notre Dame all it could handle in South Bend on Saturday, but the Irish survived, something Brian Kelly's teams have an uncanny way of doing if they can keep the game tight. ND now has won 10 straight decided by seven points or less under Kelly, which ties Knute Rockne for second place in Irish history. Only Elmer Layden's 12 such victories is more in the school's storied history. You have to go back to ND 18-14 loss to FSU in the 2011 Champs Sports Bowl to find a situation where Kelly's team didn't pull out a close game. Overall at ND, he's 15-5 in such games. At Cincy, Kelly was 10-3 in games decided by seven points or less.
*Stat of the Day, Take III: Against UTEP, Johnny Manziel accounted for six TDs (four throwing and two running). It marked the ninth time the sophomore has accounted for at least five TDs in a game. What's really amazing is that Manziel's only played 22 college games, meaning 41 percent of the games he's played, he's scored at least five TDs. Most college QBs don't even play as freshmen and don't really blossom till their junior seasons. The Aggies still have three regular-season games and a bowl remaining and Manziel's already tied his passing TD total of last season (26). His completion percentage is up from 68 percent to 73 and yards per attempt has gone from 8.5 to 10.4.
*Purdue has now been outscored in the last three games, 70-0 in the first half.
*Tajh Boyd against FSU on Oct. 19: 156 yards passing, 46 percent completion rate; 4.2 yards per attempt; 1 TDs, 2 INTs.
Boyd in Clemson's other eight games: 308 ypg; 69 percent completion rate; 9.7 yards per attempt; 19 TDs, 4 INTs.
*Florida's now lost three in a row after losing to Georgia on Saturday to drop to 4-4. With games at South Carolina and arch-rival FSU still remaining, if the Gators don't beat Vandy this week, it seems like a long shot that UF, which was preseason No. 10, would even make a bowl game.
In three seasons, Muschamp is now 22-12 at UF and won 59 percent of his games in SEC play at 13-9. When Ron Zook was fired by UF, his record at Florida was 20-13 and he'd won 67 percent of his SEC games at 14-7. Do I think UF should can Muschamp? No. It's too soon to dump a first-time head coach. Yes, there have been lots of growing pains, but the Gators have been decimated by injuries and by all accounts, he's recruiting very well.
*The Targeting rule stinks. It stinks even worse than it did a month ago.
LSU at Florida has been picked as the SEC on CBS Game of the Week

The Michigan coach had quite a few things to say on Monday after their visit to West Lafay...

Injuries are ravaging an LSU team that is searching for an identity
Jones started answering an injury question and then went off about 'fake news'

The full ranking of all 130 college football teams includes TCU up and a major drop for Florida...

The charges all stem from an investigation into improper debit card charges