Big Picture: What can a one-loss SEC champ hope for in this BCS?
Auburn's amazing win over Alabama kicked off a wild debate about whether the mighty SEC could produce a one-loss team worthy of overtaking an unbeaten FSU or Ohio State. That and more in this week's Big Picture column
We're all creatures of the moment and tend to get caught up in whatever we just witnessed. But, having said that, Auburn's last-second win over No. 1 Alabama is the craziest big-game finish I've ever seen.
Was Chris Davis' 109-yard return of a missed field goal even crazier than Cal's "The Band is on the field!" bizarre kickoff return to beat Stanford? No, but that game was between two .500 teams. This one had national-title implications. It's waaaay more significant. We've never had anything so wild and so momentous. The fact that the runback came in the same month as the Tigers' other jaw-dropping finish on the Immaculate Deflection to beat Georgia makes this all the more surreal.
Gus Malzahn will run away with national coach of the year honors after taking a 3-9 team that didn't win a conference game to the SEC title game. Even more improbable that this week's SEC title game match-up in Atlanta against Mizzou pits two programs that were 2-14 in league play last season. The Auburn Tigers were picked in the preseason by the SEC media to finish fifth in their division and didn't have a single player selected for the first-team All-SEC squad.
The Iron Bowl was far from the only compelling rivalry week game with major BCS implications though. Michigan, behind a creative effort by OC Al Borges and a gutsy effort from Devin Gardner, gave undefeated Ohio State all it could handle in Ann Arbor, but the Buckeyes still survived. Urban Meyer's now 24-0 at OSU. He's also got arguably the most potent 1-2 punch in college football right now with Braxton Miller and Carlos Hyde.
Ohio State's offense has broken its school single-season records for points scored (578), touchdowns (79) and touchdown passes (35). Against Michigan, the offense battered the Wolverines. The Buckeyes have now run for at least 300 yards seven times this season, equaling the number of 300-yards games that Ohio State had in previous 15 years. Maybe the most impressive stat about the Buckeyes is their RBs, led by the 235-pound Hyde, have had 337 carries this season and only have negative yardage on nine of them. They are a really dangerous offensive team.
Only hours after the games we already had bickering about how a one-loss SEC champ shouldn't be left out of the BCS National Title Game even if Ohio State and FSU remain unbeaten. Auburn AD went off the deep end with this talk, going on national TV Sunday morning, saying it would be "un-American" if a one-loss SEC champ was left out. That's a ridiculous statement, but get ready for a boatload of more politicking and lobbying.
As colleague Jerry Palm notes, it's never happened where a major-college undefeated team has been jumped by another major-college team with one loss in the final BCS standings, and I don't think it should happen in 2013 either. I know some have brought up Auburn getting screwed nine years ago when the Tigers were one of three big conference unbeatens and got left out to watch USC throttle Oklahoma in the Orange Bowl.
OK, this would not be like Auburn getting left out a decade ago because of USC and Oklahoma. A one-loss SEC champ wouldn't have the same record as an unbeaten Florida State and Ohio State if the latter two win next Saturday. No doubt the SEC's been the best conference in college football the past decade, it's not that much better than the other power leagues.
Auburn has the biggest win of the season, knocking off two-time defending BCS champ Alabama. They also have a win over No. 7 (at the time) Texas A&M on the road and No. 24 Ole Miss, and if the Tigers would beat Mizzou on Saturday that'd give them a third win over a Top 10 team and second over a top-five opponent. The bad news: they still have a two-TD loss to LSU. It wasn't very close. Auburn was down by three TDs in the fourth quarter.
People rip Ohio State's schedule, but it's not like the Buckeyes played a MAC or Sun Belt schedule. The Buckeyes have wins over No. 23 Wisconsin and No. 16 Northwestern, which of course promptly fell apart after that game and didn't even make a bowl much less stay in the Top 25. OSU's toughest game will be Saturday against a 11-1 Michigan State team.
Would the Buckeyes wins measure up to Auburn's? No. But the Buckeyes also haven't been beaten this year, and certainly not by two TDs.
Expect to hear a lot more grousing about the caliber of opponents Florida State beat this season. The Noles already have three wins over ranked teams: No. 25 Maryland (63-0); at No. 3 Clemson (51-14) and against No. 7 Miami (41-14). Combined score: 155-28. That's domination. People, especially in SEC country will be quick to dismiss the Terps as a ranked team and Miami as a Top 10 team. But if you do that, you don't also get to tout that Auburn's win at No. 7 Texas A&M or over a ranked Ole Miss team. The Rebels ended up 7-5 and the Aggies now have four losses (one more than Miami). The Aggies with their undermanned defense, didn't beat a ranked team all season. Florida State would end up with another win over a ranked opponent if the Noles beat 10-2 Duke in next weekend's ACC title game.
Mizzou's had an amazing season. The Tigers have beaten four ranked teams, although all but one of them have stumbled around since the day Mizzou played them: Georgia is a far from No. 7. UF, which was No. 22, went 4-8. Ole Miss was No. 24 and A&M, which was No. 21, now has four losses. Their lone defeat was the heart-breaking 27-24 game against No. 21 South Carolina.
Do I think that the Buckeyes and the Noles would make it through an SEC schedule without a loss? Probably not, although I wouldn't have bet against the Noles doing it. But we don't know that would play out. SEC fans feel like they have evidence because last year's Notre Dame team got routed by Alabama. That's not fair to Ohio state or Florida State. Notre Dame had nothing close to Carlos Hyde and the Noles' receivers are light years more dangerous than what Notre Dame threw at Bama.
Here's what I think most pollsters won't be able to get around: We do know OSU and FSU still found a way to beat every opponent they played. Auburn was beat soundly by a three-loss LSU team that just barely survived against a woeful Arkansas team.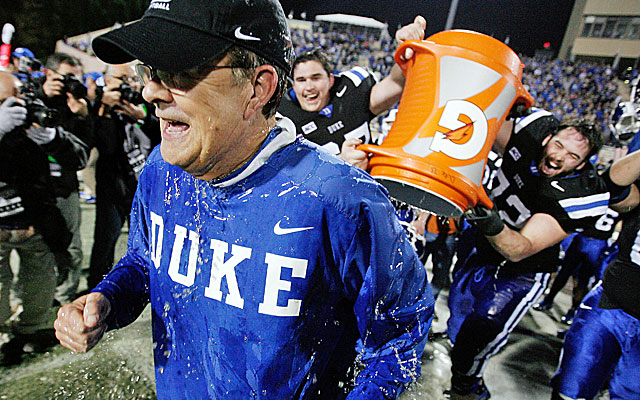 Random Stuff
• The amazing season Malzahn's Auburn team has had is the only thing standing in the way of David Cutcliffe winning national Coach of the Year honors. Duke is 10-2 and headed to the ACC Title Game. It's shocking, but not to Cutcliffe. In fact, he expected this. I remember speaking with him in 2010 when he told me that the Duke program would win an ACC title in the next five to six years.
"Absolutely. One-hundred percent guarantee it."
I thought he was nuts then. Duke had won only 15 games in the previous seven seasons when he made those comments to me. But no one is laughing now.
I'm not predicting Duke is going to upset Florida State, but given that he still has a few years left to make good on that prediction I wouldn't bet against him considering just how far he's taken this program.
Cutcliffe explained to me Sunday morning why he was so confident he could do the seemingly unthinkable at Duke.
"Because I know we have a good process and have great people in place," he said. "We just have a really good systematic approach to recruiting, to running our offense, to running our defense. Great organization comes with great communication. I've been in it a long time and this is as good a collection of people as I've ever been around."
Through diligent recruiting and evaluation, the Blue Devils have upgraded the program's speed and toughness, and now more so than at any point in Cutcliffe's time in Durham, they have good depth. And great leadership in the locker-room. He attributes that to a senior class with nine fifth-year seniors, who were part of his first recruiting class.
"That group turned into an incredible group of leaders," he said, adding that his staff teaches "winning as value, not a thing."
As for the meeting with the Noles, who have already been installed as a huge favorite, Cutcliffe said his team will play it smart.
"It's football. I think our squad will embrace the challenge. We can't do more than what we can do. We just gotta be true to ourselves."
• If anyone wondered which Pac-12 program runs Los Angeles right now, they only needed to be standing between the UCLA and USC locker rooms right after the Bruins beat the Trojans 35-14. There was UCLA coach Jim Mora standing in front of his fired up team, yelling for anyone (especially recruits) to hear "WE OWN THIS TOWN!"
The Bruins despite playing three freshmen on the O-line just looked like the much better team. They were led by the two best players on the field, linebacker Anthony Barr (three TFLs) and QB Brett Hundley who may have had his best game this season.
Hundley wrecked the Trojans with his legs. He also did a good job keeping the Bruins' offense humming with some savvy adjustments. He told me after the game that he checked at the line about 30-40 percent Saturday, which is about double what he usually does.
This looked like the Hundley many expect to become a future NFL first-rounder, not the shaky inexperienced-looking QB we saw at midseason. That guy, we're told, was rattled by playing behind an inexperienced O-line he didn't really trust.
• As we reported early Saturday afternoon, Kevin Sumlin, despite a lot of interest in him, is going to be staying at Texas A&M for a long time. He and the school agreed to a new six-year deal. Some of the key parts of the deal, I'm told, are structured which will keep him in College Station for at least the next three seasons, squashing speculation that he may be bolt when the NFL comes calling later this winter.
• Best matchup of coordinators this weekend: The Big Ten title game, which pits the two hottest coordinator/head coaching candidates in the country when the Buckeyes and Tom Herman meet Michigan State and its nasty D, led by Pat Narduzzi. Both of those should should be head coaches very soon.
• Speaking of the Big Ten title game, Urban Meyer announced that he was not going to suspend Dontra Wilson or Marcus Hall after they got booted from the Michigan game for throwing punches. Hall, also left the field, in full meltdown mode, flashing the double-bird to the crowd like he was some kind of WWF villain.
Meyer's rep when it comes to disciplining players from his Florida days has taken a pounding. And word of his comments Sunday only stirred all that up again. That said, I'm curious which FBS head coaches would've sat these players one more game? I'm guessing it's not many.
•One rumor circulating around the USC press box late Saturday night was that the Trojans were going to make a run at John Harbaugh, but a source tells me the Baltimore Ravens coach has a sizable contract and is settled in there. Later, a second source said he thought Jim Harbaugh would be the Harbaugh brother more likely to be wooed by a Texas or USC ... "if they threw $10 mil a year at him." The two guys I've heard the USC brass is most intrigued by are Chris Petersen and Steve Sarkisian.
• As I reported about a week ago, Will Muschamp would shake up his offensive staff, and he did so Sunday, canning OC Brent Pease and O-line coach Tim Davis. I heard from a source there was friction between the two, and now Muschamp has gotten rid of both as he looks to hire his third OC in four seasons.
• Hottest team in the country? Might be Arizona State. Since mid-October, Sun Devils have won seven in a row, including a solid road win over No. 14 UCLA. In that stretch ASU is averaging more than 44 points and winning by an average of more than 23 points. That's impressive when its all conference play.
• Stat of the Day: Braxton Miller has a QB rating of 177.4 (third best in the country) against teams with winning records and is completing 70 percent of his passes with a 13-2 TD-INT ratio.
• Stat of the Day, Take II: Against ranked opponents no one has allowed fewer rushing yards than Stanford, which has held opponents to 62 yards per game and 2.48 ypc this season. On Saturday, the Cardinal limited Notre Dame to 64 yards rushing and 2.7 yards a carry in a 27-20 win.
• Stat of the Day, Take III: So much for all the crazy QB rating numbers. As we get into December, only one QB remains above 190: FSU's Jameis Winston, who is 192.6. Baylor's Bryce Petty who was well above 200 for much of the year is now at 183.8. Petty's QB rating for November was 140.4.
• Stat of the Day, Take IV: Out of gas? This'll go counter to our Fast Football show, but it's worth noting that the five teams that have run the most plays in college football this season: Texas Tech, Cal, BYU, Virginia and Nevada were a combined 3-18 in November games.
Antonio Callaway and Jordan Scarlett are two of the nine players under investigation

The SEC released its 2018 schedule in full Tuesday afternoon, and it's dripping with intri...

The 2021 Chick-fil-A Kickoff Game will feature Louisville and Ole Miss
The Fornelli 50 ranks teams based on nothing but their performance in 2017

Penn State better have its eyes wide open with a trip to Iowa City on deck this weekend

Ohio safety Javon Hagan has a rather unique personal tradition during games