Big Picture: With precedent-setting win, Clemson, Boyd have arrived
Looking at Clemson and QB Tajh Boyd; Georgia's struggles, Ohio State's nemesis in Week 1 as well as Johnny Manziel, LSU and Nebraska.
There have been a bunch of entertaining games in Week 1, but Saturday night's Georgia-Clemson matchup was more than just that. It felt like a heavyweight title fight. Two Top 10 teams. Experienced quarterbacks. Dynamic skill talent. Multiple Heisman candidates. Speed everywhere.
Underdog Clemson won 38-35 to become the first non-SEC team in NCAA history to defeat two top-10 SEC opponents in back-to-back games. It's a hefty sounding stat, although how many teams have actually had the chance to do this?
Regardless, the victory follows up last winter's come-from-behind win over No. 8 LSU in the Chick-fil-A Bowl. The Tigers' performance proved they are dangerous team and can beat anyone. But talent almost has never been the issue for what has been a perpetually underachieving program. However, it sure seems like that has changed.
Before the game, Clemson coach Dabo Swinney told his players about their opportunity to pull off the unprecedented SEC heavyweight takedown double. He told them "to go out and shock the world."
The Tigers made history of sorts, but I'm not sure they shocked the (football) world by doing it. This program has blossomed in the past two years, and for anyone paying attention, it shouldn't have been such a surprise that the Tigers are a legit top 10 team. Not with the leadership Clemson has now, both on the sideline and in the locker room.
"It's time for a different storyline," Swinney told reporters after the game.
Swinney deserves a lot of credit. He's developed into a really good coach who has made some brilliant moves. The best of which was snagging Chad Morris to take over his offense.
Morris, an old Texas high school coach with a bachelor's degree in mathematics and a minor in statistics, brought a temperament and a sense of urgency to the program. In the two years before Morris arrived, Clemson averaged 64 plays a game. In Morris' first season with the Tigers, they averaged 72 snaps and the offense went from No. 88 to No. 26. Last season, they ran off 82 plays per game and jumped to No. 9 in total offense. Star QB Tajh Boyd told me this week with the experience and feel for the offense, they should be around 90 plays per game this season. They only ran 76 plays Saturday night, but their offense was crisp and dynamic -- easier said than done with such a hyped opener.
More than anything, though, they did what great teams do. They responded to the haymakers Georgia threw at them. Bulldog stud RB Todd Gurley breaks off a 75-yard TD run. Boyd comes back the next minute to connect with Sammy Watkins on a 77-yard TD strike.
Boyd piloted the attack masterfully. He accounted for five TDs. His offense had zero turnovers. He dodged sacks and negative plays and always seemed to be in control. The Tigers converted on 4 of 5 on third downs during fourth-quarter crunch time. This was Boyd's seventh career win over a top 25 opponent as the Tigers' starter.
Saturday night's win was fueled by the momentum the Tigers took from rallying to beat LSU last December, where it seems they proved more to themselves than they may have to the skeptics. That win was highlighted by a perfect pass Boyd made on a fourth-and-16 from near his own goal line in the game's final minute.
"I think it did a lot to help our prestige," Boyd told me a few weeks back. "I heard it all the time: 'Clemson pulled a Clemson.' And when you hear it, it almost becomes offensive. At some point or another, you don't want to be labeled or categorized for something that happened in the previous years.
"When coach Swinney decided to come here, when I decided to come play for him, we wanted to change the culture, change the history. I feel like in some form and fashion we've done that."
Of course, Boyd knows "pulling a Clemson" could be following up a huge win by stubbing their toe against some unranked opponent, and as great as Saturday night was, the Tigers are 1-0. Just 1-0.
"It was a very monumental win for this university, for this program, for the conference in general," Boyd said after the game. "I think we were the only nonconference team to beat two top 10 SEC teams in a row and all that good stuff is great, but we just have to continue to keep working and keep our eyes on the prize. This is only the opener. We have 11 more games left. We just have to continue to work."
Maybe Swinney said it best, right after the game to ABC. "It's only unthinkable if you don't think it."
Random stuff
•The biggest difference between Clemson and Georgia right now: Boyd is a great college quarterback. Aaron Murray is a very good one. That shouldn't be a knock on Murray.
Murray had a fumble and thew an interception in the second quarter, and his record is 1-9 against top 15 opponents. I do buy that the Dawgs have a real Heisman Trophy contender on this team, but it's Gurley, not Murray.
It's too soon to say Georgia's BCS title hopes are done. Not with the schedule they have. South Carolina is on deck. Murray needs a lot more help from his O-line, especially at tackle, where they were shaky and now have to deal with the loaded Gamecock D-line.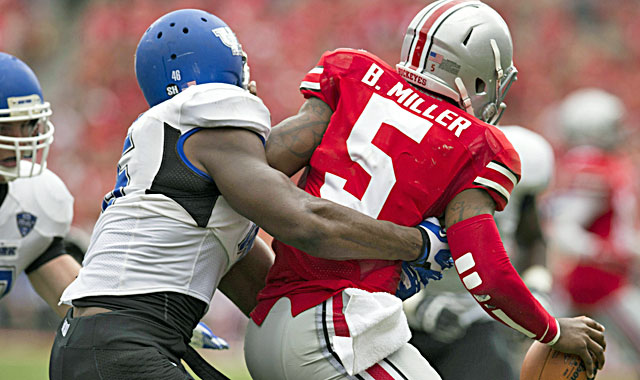 •Ohio State is in the preseason top five and QB Braxton Miller is a Heisman contender, but the best player on the field Saturday when the Buckeyes beat Buffalo, 40-20, was Bulls linebacker Khalil Mack. As Buckeyes great Chris Spielman said, Mack is a "beast."
Mack's day: 9.5 tackles, 2.5 sacks; one INT, which was a Pick-6.
Mack is the guy I wrote about in the blog on Tuesday, and he's someone NFL scouts I know have been buzzing about for awhile. The 6-foot-3, 250-pounder, who has run the 40 in the 4.6s for NFL scouts, has a chance to set the NCAA record for career tackles for loss this season (he has 58.5, needs 16.5 more for the record). So, if you're wondering (like I was) how exactly did the guy end up at Buffalo?
"It was good fortune for us," Danny Barrett, the man who recruited Mack for Buffalo out of Fort Pierce, Fla., told me over the phone Saturday night. "He didn't have any junior film for coaches to see. He had tore up his ACL. He also was a lot leaner at the time."
Barrett, now an assistant coach at UCF, said he'd been trying to recruit Mack's teammate, QB Isaac Virgin (who had committed to USF). So it wasn't like coaches hadn't been coming to Westwood High. Virgin was drawing plenty of interest. Teammate Luther Robinson, a four-star DT recruit, had too. But since Robinson had committed to Miami midway through his junior year, traffic to the school slowed down considerably.
Mack, Barrett said, was about 6-2, 215 and had been committed to FCS Liberty University.
"You knew he had a lot of potential, but he wasn't ready yet. He was very under the radar, but he came from a great family and was a great kid. Great student, too."
Buffalo got him on an official visit after Christmas of Mack's senior year and got him to commit. Barrett recalled how competitive Mack was, and remembers how upset the player was when told the coaches wanted him to redshirt his freshman year. Since then, the kid has really blossomed.
"They [a new Buffalo staff] came in and ran a 3-4 scheme, where he could rush the passer and drop back into coverage," Barrett said. "He's poured himself into weightlifting. He's a monster now. I'm really happy for him."
•Props to Mike Stoops and the Oklahoma D. The last time we saw the Sooners, Johnny Manziel and A&M were shredding them, but in the 2013 opener Oklahoma bottled up a very good QB (Kolton Browning) and the most experienced team in FBS, holding ULM (8-5 last season) to only 161 total yards.
"They did a great job of changing their schemes on both sides of the ball," ULM coach Todd Berry said. "Last year, they didn't use many coverages, they didn't use many different fronts. [On Saturday night] they did a lot of changing it up, going from odd to even fronts, from nickle to dime, and it was a much more complex scheme. They were also much more active up front [than OU's D-line had been on film]. They were getting much more penetration. In the past, they'd been more of a 'read' front.
"I was very impressed with their defensive scheme."
•Former No. 1 overall recruit Ronald Powell returned from injury for Florida and looked very explosive. Powell had a sack and three QB hurries as the Gators handled Toledo.
The Rockets are a good MAC team and have talent on offense, but Florida -- led by Powell and DT Dom Easley -- limited them to only 1 for 13 on third-down conversions. Bernard Reedy, the talented Toledo WR who called out the Gators, managed only 50 yards on seven catches. Next up for Florida is an explosive Miami offense featuring strong-armed Stephen Morris and the great Duke Johnson.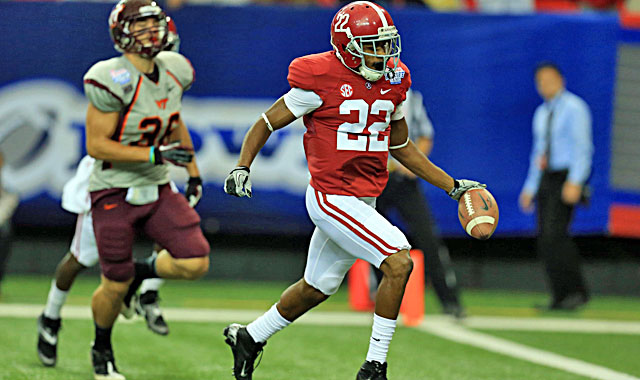 •Christion Jones returned a punt and a kickoff for a TD, something an Alabama player had never done before in a single game. He also caught a 38-yard TD pass. Jones masked a dismal showing by the Tide offense, which averaged only 3.3 yards per play. Give credit to a solid Virginia Tech defense, but it's clear new Bama O-line coach Mario Cristobal -- breaking in three new starters -- has a lot of work to do.
The Tide only managed two more first downs (11) than punts (9). Then again, the Bama offense looked like Don Coryell's Chargers compared to the Hokies. Good luck to Scot Loeffler, the Hokies' new OC. Logan Thomas seems to continue to regress. He was 5 of 26 for 59 yards with one INT. The 6-6, 250-pounder also managed only 2 yards rushing. His passer rating was 30.6, the lowest I can recall every seeing from a college quarterback.
•For those Nebraska fans still miffed at me for not having the Huskers in my preseason Top 25, I hope you noted just how much Nebraska struggled against Wyoming. Now, QB Brett Smith is a heckuva player (he's got a 17-1 TD-INT ratio in his past five games), but it had to make Huskers fans cringe seeing the Cowboys, ranked No. 77 in offense last season, roll up 602 yards of offense as Nebraska barely survived, 37-34. Smith's 475 total yards is the fourth-highest total ever surrendered by Nebraska.
•Hats off to FCS football. Everyone talks about how much the little guy is getting squeezed out of the picture. Yet the story of the opening week has been all the FCS wins over FBS programs. Fear the FCS? You bet. The upshot: It's just not worth the risk/reward to schedule them.
North Dakota State beat Kansas State and there was no fluke about it. Eastern Washington beat a Top 25 team, Oregon State; and EWU can play with a bunch of FBS teams. And they keep proving it.
•As I reported Saturday afternoon, Brian Kelly and Notre Dame have agreed to new, more robust deal through the 2017 season. Smart move by ND brass. Save the Charlie Weis jokes. Kelly's nothing like Weis. He got the Irish to the BCS Title Game in Year 3 and he'll keep the Irish in the Top 25 as long as he's in South Bend. Remember, the Irish hadn't finished in the Top 25 since 2006.
Speaking of the Irish, in the previous 24 hours: Carolina cut Jimmy Clausen, Seattle cut Brady Quinn and Baltimore cut Dayne Crist, noted friend of the blog Dino Demillo.
•Johnny Manziel ... never a dull moment. One half. Six completions. Three touchdown passes. Much fodder for talking-head shows. It is going to be a wild next five months in College Station.
•Prediction: Auburn true freshman DT Montravius Adams is going to be a massive problem for at least the next three years for offensive coordinators in the SEC. I know it was against a dreadful Washington State offensive line, but the nimble 305-pounder was mauling John Fullington, a three-year starter in the Pac-12.
•Louisville better hope Tommy Tuberville can keep Cincinnati on track. The Cards, who play Sunday, couldn't afford Cincy losing to a middling Big Ten team like Purdue. The league that Louisville's in, the AAC, is desperate for credibility, and having Connecticut lose to Towson in its opener certainly didn't help. Or Rutgers lose at Fresno State. Or South Florida get blown out by McNeese State. Or SMU lose by 18 to Texas Tech at home. But at least the Bearcats did their part thumping Purdue, 42-7.
•Nice start for LSU and Zach Mettenberger. The Tigers were an eye-catching 13 of 19 on third downs and 6 of 7 in the second half against the Big 12's best defense. I'll say it again. Most underrated coaching move of this off-season was Les Miles hiring his pal Cam Cameron to run the offense and work with the Tigers QBs.
•Stat of the Week: 42 percent of the Penn State players (31 of 74) who traveled to New Jersey for the win over Syracuse were either true or redshirt freshmen, including blue-chip frosh Christian Hackenberg, who started and went 22 of 31 for 278 yards with two TDs and two INTs. In the second half, Hackenberg threw TD passes of 54 and 51 yards.
•Stat of the Week, Take II: Oregon, playing against cupcake Nicholls State, ran 71 plays for 772 yards and 66 points Saturday with less than 20 minutes in time of possession, as pointed out by Matt Hinton. Not a bad start for play-caller Scott Frost.
•Stat of the Week, Take III: With Gators legend Tim Tebow getting cut Saturday, four of the past seven Heisman winning QBs (not including Johnny Manziel) are out of the NFL. Those others: Jason White, Matt Leinart, Troy Smith and Tebow.
•Ole Miss' nice road win in the SEC last Thursday night took a bad turn with the Rebels losing standout LB Denzel Nkemdiche for 4-6 weeks and their top returning lineman, guard Aaron Morris, for the season. I spoke to Hugh Freeze on Saturday morning. He is optimistic Nkemdiche will be back by early October, but there's a decent chance the team's top tackler could be sidelined for the bulk of what is a brutal first half schedule.
Two potential options for Freeze in replacing Morris are touted freshmen Laremy Tunsil and Austin Golson, who the coach said played very well in the opener. Freeze was delighted by what he's seen from the Rebels' ballyhooed signing class. "It's been great. The best part is that the Robert Nkemdiches, the Laremy Tunsils, the Laquon Treadwells, all these guys, have no egos."
•The five words you probably didn't hear enough this weekend: I know it was only.
•Washington showed off the Huskies' new digs in grand fashion. It's rare to see anyone blow out Boise State like U-Dub did Saturday night. With a sterling effort, Keith Price shut up skeptics who expected he might lose his starting job to talented youngster Cyler Miles. Price looked like he was playing with a ton of confidence against the Broncos. He looked a lot like he did in 2011, when he was one of the better young QBs in the country. In 2012, he was shaky and something of a mess. This summer, he told me that a lot of that had to do with not trusting his teammates. (The O-line had to be rebuilt.) But Price added that he and his teammates had developed that bond now and he expected to be better than ever. So far, so good. He carved up BSU, going 23 of 31 for 324 yards and two TDs even without star TE Austin Seferian-Jenkins who was sidelined for a suspension for an off-season DUI. The Huskies also ran off 85 plays, the most they have in six seasons.
"Keith did great tonight," coach Steve Sarkisian said. "I thought he was for sure efficient and he threw the ball well down the field, which is something we wanted to do. He played like a point guard tonight, and in this system I thought he was shooting the ball really well."
So let me go there. I know it was only... FIU, but I'm convinced if Maryland can keep QB C.J. Brown healthy, he'll put up big numbers this season and can lead the Terps to a bowl game and keep Randy Edsall employed there for another season. The Terps now have an explosive WR tandem in Stefon Diggs and JC transfer Deon Long, and that combo is going to do a lot of damage in 2013.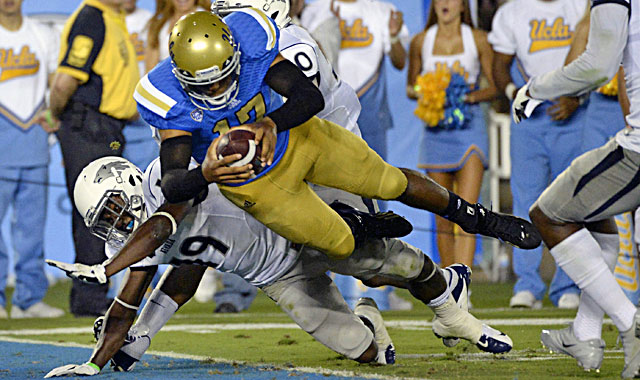 •Nevada's a decent team, but UCLA throttled the Pack, amassing 647 yards. The Bruins never punted. It's not going to be easy replacing Johnathan Franklin, but Jordon James has stepped up. Bruin OC Noel Mazzone told me how much James has matured and he could be a big surprise in 2013. James rushed for 155 yards and a touchdown.
Touted freshman DL Eddie Vanderdoes also had a nice debut against the Pistol, making six tackles with two TFLs.
•Northwestern-Cal was a fun game Saturday night, especially watching the exasperated expressions of Sonny Dykes as Wildcat players went down on the field. Oregon fans probably got a kick out of seeing Cal fans booing downed players.
Were the Wildcats going down to slow down the Bears' tempo? It reminded me of a comment Kirk Herbstreit made earlier in the week that several coaches told him that's something they were working on to combat the increased pace.
Pat Fitzgerald said Northwestern didn't fake injuries Saturday night. "If anybody were to question the integrity of myself, our program or our players, I question theirs," he said after the game. "When our guys get dinged up, they are instructed to go down, not hobble off to the sideline."
Dykes didn't buy that. "It seemed like every time we got a first down they had an injury. I hadn't seen that, wasn't expecting to see that, was disappointed that I saw that. But that's the way it goes sometimes."
•Hit of the Week: Washington State's Deone Bucannon:
The hit, BTW, was clean. Bucannon was flagged for unsportsmanlike for standing over the Auburn player he blasted.
•Quote of the Day: Bobby Petrino after his debut, leading Western Kentucky to a win over Kentucky: "I love winning."
CBS Sports HQ Daily Newsletter
Get the best highlights and stories - yeah, just the good stuff handpicked by our team to start your day.
Please check the opt-in box to acknowledge that you would like to subscribe.
Thanks for signing up!
Keep an eye on your inbox for the latest sports news.
Sorry!
There was an error processing your subscription.
The Bulldogs are expected to take control of the SEC East this week

Moore helped the Boilermakers knock off No. 2 Ohio State

Ohio State fell to No. 11 following a 49-20 loss at Purdue
Clemson is the new No. 2 to Alabama after Purdue beat Ohio State on Saturday night

Old Dominion got its first C-USA win in bizarre fashion

Purdue knocked Ohio State out of the College Football Playoff, and rival Michigan is happy...