Big Ten announces 2014 conference schedule
The Big Ten announced the 2014 league schedule, the first year with Maryland and Rutgers in the new East and West divisions.
• 3 min read
The Big Ten released the 2014 conference schedule on Thursday, giving fans a first look at the expanded 14-team membership with Maryland and Rutgers. 2014 will also be the first season of the new East and West divisions, ending the brief-but-memorable Legends and Leaders Era.
This will be the next-to-last season of eight-game conference schedules for the Big Ten, with a move to a nine-game model planned for the 2016 season. 
Click on the photo below to open up the team-by-team breakdown of the 2014 Big Ten schedule.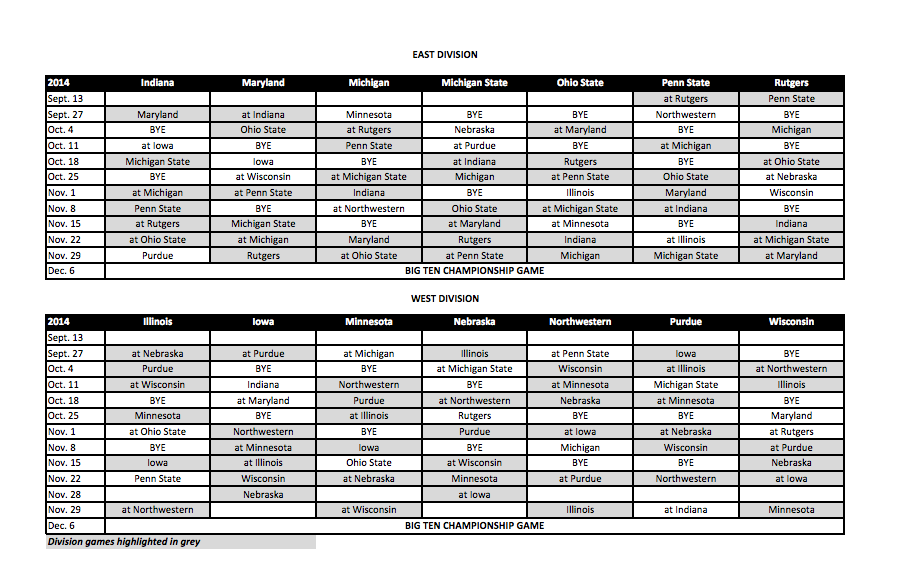 EAST DIVISION
Sept. 27 -- Maryland
Oct. 4 -- BYE
Oct. 11 -- at Iowa
Oct. 18 -- Michigan State
Oct. 25 -- BYE
Nov. 1 -- at Michigan 
Nov. 8 -- Penn State
Nov. 15 -- at Rutgers
Nov. 22 -- at Ohio State
Nov. 29 -- Purdue
Sept. 27 -- at Indiana
Oct. 4 -- Ohio State
Oct. 11 -- BYE
Oct. 18 -- Iowa
Oct. 25 -- at Wisconsin
Nov. 1 -- at Penn State
Nov. 8 -- BYE
Nov. 15 -- Michigan State
Nov. 22 -- at Michigan
Nov. 29 -- Rutgers
Sept. 27 --Minnesota
Oct. 4 -- at Rutgers
Oct. 11 -- Penn State
Oct. 18 -- BYE
Oct. 25 -- at Michigan State
Nov. 1 -- Indiana
Nov. 8 -- at Northwestern
Nov. 15 -- BYE
Nov. 22 -- Maryland
Nov. 29 -- at Ohio State
Sept. 27 -- BYE
Oct. 4 --  Nebraska
Oct. 11 -- at Purdue
Oct. 18 -- at Indiana
Oct. 25 --  Michigan
Nov. 1 --  BYE
Nov. 8 -- Ohio State
Nov. 15 --  at Maryland
Nov. 22 --  Rutgers
Nov. 29 -- at Penn State
Sept. 27 -- BYE
Oct. 4 -- at Maryland
Oct. 11 -- BYE
Oct. 18 -- Rutgers
Oct. 25 -- at Penn State
Nov. 1 -- Illinois
Nov. 8 -- at Michigan State
Nov. 15 --  at Minnesota
Nov. 22 --  Indiana
Nov. 29 -- Michigan
Sept. 13 -- at Rutgers
Sept. 27 -- Northwestern
Oct. 4 --  BYE
Oct. 11 -- at Michigan
Oct. 18 -- BYE
Oct. 25 --  Ohio State
Nov. 1 --  Maryland
Nov. 8 -- at Indiana
Nov. 15 --  BYE
Nov. 22 -- at Illinois
Nov. 29 -- Michigan State
Sept. 13 -- Penn State
Sept. 27 -- BYE
Oct. 4 -- Michigan
Oct. 11 -- BYE
Oct. 18 -- at Ohio State
Oct. 25 -- at Nebraska
Nov. 1 -- Wisconsin
Nov. 8 -- BYE
Nov. 15 -- Indiana
Nov. 22 -- at Michigan State
Nov. 29 -- at Maryland
WEST DIVISION
Sept. 27 -- at Nebraska
Oct. 4 -- Purdue
Oct. 11 -- at Wisconsin
Oct. 18 -- BYE
Oct. 25 -- Minnesota
Nov. 1 -- at Ohio State
Nov. 8 -- BYE
Nov. 15 -- Iowa
Nov. 22 -- Penn State
Nov. 29 -- at Northwestern
Sept. 27 -- at Purdue
Oct. 4 -- BYE
Oct. 11 -- Indiana
Oct. 18 -- at Maryland
Oct. 25 -- BYE
Nov. 1 -- Northwestern
Nov. 8 -- at Minnesota
Nov. 15 -- at Illinois
Nov. 22 -- Wisconsin
Nov. 28 -- Nebraska
Sept. 27 -- at Michigan
Oct. 4 -- BYE
Oct. 11 -- Northwestern
Oct. 18 -- Purdue
Oct. 25 -- at Illinois
Nov. 1 -- BYE
Nov. 8 -- Iowa 
Nov. 15 -- Ohio State
Nov. 22 -- at Nebraska
Nov. 29 -- at Wisconsin
Sept. 27 -- Illinois
Oct. 4 -- at Michigan State
Oct. 11 -- BYE
Oct. 18 -- at Northwestern
Oct. 25 -- Rutgers
Nov. 1 -- Purdue
Nov. 8 -- BYE
Nov. 15 -- at Wisconsin
Nov. 22 -- Minnesota
Nov. 28 -- at Iowa
Sept. 27 -- at Penn State
Oct. 4 -- Wisconsin
Oct. 11 -- at Minnesota
Oct. 18 -- Nebraska
Oct. 25 -- BYE
Nov. 1 -- at Iowa
Nov. 8 -- Michigan
Nov. 15 -- BYE
Nov. 22 -- at Purdue
Nov. 29 -- Illinois
Sept. 27 -- Iowa
Oct. 4 -- at Illinois
Oct. 11 -- Michigan State
Oct. 18 -- at Minnesota
Oct. 25 -- BYE
Nov. 1 -- at Nebraska
Nov. 8 -- Wisconsin
Nov. 15 -- BYE
Nov. 22 -- Northwestern
Nov. 29 -- at Indiana
Sept. 27 -- BYE
Oct. 4 -- at Northwestern
Oct. 11 -- Illinois
Oct. 18 -- BYE
Oct. 25 -- Maryland
Nov. 1 -- at Rutgers
Nov. 8 -- at Purdue
Nov. 15 -- Nebraska
Nov. 22 -- at Iowa
Nov. 29 -- Minnesota
Everything you need to know to watch and pick the Cure Bowl on Saturday

Everything you need to know to watch and pick the New Orleans Bowl on Dec. 16

Bowl games are unpredictable, which means teams need to be on upset alert
The award is becoming an afterthought and I want to change that

Barrett Sallee is 16-8 on best bets and has locked in his picks for these three bowls

Permanent coach Matt Luke got big news late Thursday night