Big Ten expansion could mean $120 million in next decade
Defining why Maryland and Rutgers to Big Ten makes sense is easy -- dollars.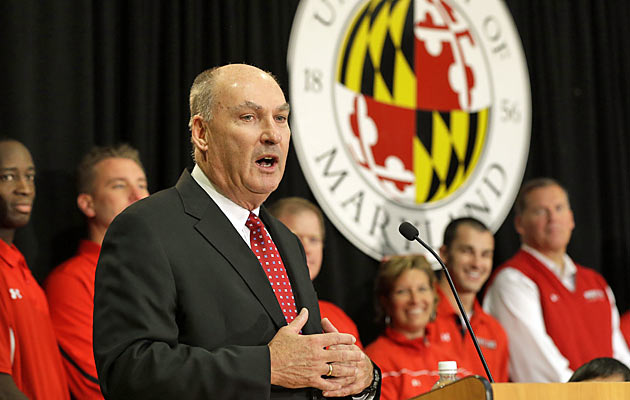 Big Ten Commissioner James Delany speaks at a news conference to announce Maryland's decision to Big Ten move. (AP)
The world of college athletics' high finance was still trying to make the math work on Monday.
Maryland and Rutgers to the Big Ten?
ESPN can't convince Texans to watch Texas on the Longhorn Network. Who is it going to pay extra for two to three Maryland football games shoved behind what is essentially a pay wall on the Big Ten Network? Rutgers is 35 miles from Manhattan. But in terms of interest in New York media market, the school might as well be 3,500 miles away.
And don't forget ESPN is essentially walking away from Big East negotiations in a package that would include Rutgers in that lucrative Northeast corridor. How does Rutgers add value to the Big Ten?
"This one frustrates the hell out of me," one industry source said. "I think (Big Ten commissioner) Jim Delany got out of the shower, dried off, looked in the mirror and figured Maryland and Rutgers were his version of ExtenZe."
Here's why this seismic move makes some sort of sense: No. 1, don't think of it as Big Ten expansion. The league is essentially bringing its network to the Washington, D.C., and New York metro areas more than adding schools.
"They're buying markets," said one person close to the negotiations.
When the Big Ten contract with ESPN runs out in  2016, this move all but affirms the league will be the richest in existence. Conservative estimate: Big Ten schools will be bringing more than $30 million per year in athletic revenue. At least.
Adding some portion of the New York and D.C. markets cannot be seen as a bad thing. For now, it's all about BTN. It is a profit center, printing found money -- $100 million for member schools per year. There has been much consternation about how the Big Ten Network is going to convince cable carriers in Connecticut to buy Rutgers, or northern Virginia viewers to buy Maryland.
Even with an incremental increase in subscription fees -- what cable companies pay per month to broadcast a channel -- expansion could produce a windfall. Let's take a conservative estimate of a nickel increase per month in what the BTN charges cable companies.
Now multiply that by 20 million subscribers -- another conservative estimate of cable homes in the New York and D.C. markets. Multiply that by 12 months. That's a revenue increase of $12 million per year. Over a decade, that's $120 million. Found money.
"By default, will they make more money? Yes, but will it be significantly more?" one industry source asked. "It's ego. It's all ego."
Delany has shown he is willing to fight long and hard to prove he's right. After being turned down by ESPN for increased rights' fees in the mid-2000s, he went to his presidents with permission to start BTN. It was a long, hard slog going from cable carrier to cable carrier within the Big Ten region to sell something that those carriers had never seen.
Within two years, the league was profitable. There were notable battles with Time-Warner to get the network seen in Los Angeles and Philadelphia. The league continues to push for the BTN to be on basic cable, although even that might be too ambitious.
BTN partner Fox is acquiring a minority share of YES Network. YES gets $3 per subscriber -- a huge number -- because it carries the Yankees. One thought is that Fox could force cable carriers to take BTN if they wanted YES (and the Yankees).
"That would assume that Rutgers and Maryland can bring a large audience from the YES market," said media consultant Neil Pilson. "We'll see."
It might be that critics are overthinking and underestimating. The Big Ten has built its brand on uniting major markets in the middle of the country. Its core fans reside in Minneapolis, Chicago, Detroit and Indianapolis. In going east, the Big Ten has purchased two fixer uppers.
"They couldn't have picked two schools that are in worse financial condition," one source said.
Maryland lost $4.5 million last year and had to cut sports. Rutgers is leveraged on facilities upgrades.
"No. 1, the Big Ten is well ahead of ACC in revenue. The ACC is maxed out," a source close to Maryland said. "The Big Ten has got a lot of upside to cash in because of the network and when they go out to bid. All the other conferences are locked up."
In the playoff era, a new subset of power conferences has emerged. The SEC and Big Ten partnered with the ACC in the Orange Bowl, giving those two leagues more berths than anyone.
Now the Big Ten is flexing its muscles on everyone else. The BTN is the only conference network that has worked. The Mountain West's network failed. The Longhorn Network is beyond struggling. The only conference with a chance to match the Big Ten's network clout is the SEC. The conference's super-secret network is expected to launch in approximately 16 months.
Ego? Delany and SEC commissioner Mike Slive are known business rivals.
And that's what college athletics has become, in case you haven't noticed. In this case, it might be both business and personal.
"We're all chasing money," one college sports consultant said. "It's purely a money chase, and it can't feel good. All the traditions and geography? It's become only the balance sheet. There is something wrong with that."
The Big Ten can swing for the fences because everyone else's main TV rights are tied up until the mid-2020s. That Maryland source said the Big Ten might split their rights between networks, which would push the bidding even higher. The Big Ten will be starting from scratch in 2016 as the last major conference to go out to bid.
Essentially, the league is gambling that it will look better in the long run trying to monetize two markets that have no history with the league.
"Nebraska rates better in New York than Rutgers," said one industry source.
That would be the Nebraska that made its money and reputation for decades in the Big Eight and Big 12 before joining the Big Ten two years ago. Now it is a "brand" that can be sold in some small way to cable carriers in the New York area -- along with Rutgers.
"They (the Big Ten) have a very astute commissioner, and I'm sure he has a plan," Pilson said. "Can Rutgers and Maryland bring more money to the Big Ten? I don't have the answer to that. I'm not quite sure how. (But) these things aren't done on a whim or prayer; there's some serious business judgment. At this point, I don't understand it. I'm sure there is a reason."
Saban has never been a fan of the early signing period and made it clear that hasn't chang...

Paul Tyson is a three-star quarterback prospect for the 2019 recruiting class

College football bowl games were all announced on Sunday, and you can check out the entire...
SportsLine simulated every bowl game 10,000 times for pick'em leagues and confidence pools

Everything you need to know to watch and pick the Las Vegas Bowl on Saturday

Everything you need to know to watch and pick the Camellia Bowl on Dec. 16