Big Ten, Pac-12 scuttle annual scheduling agreement before it begins
They'll always have the Rose Bowl. Except in the years it's a semifinal ...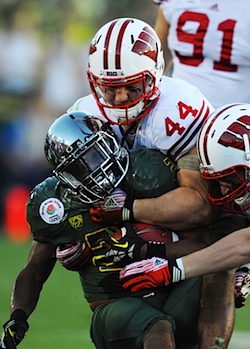 Last December, the Big Ten and Pac-12 agreed to a unique scheduling agreement that commissioners Jim Delany and Larry Scott vowed would "deepen the historic relationship" between the two conferences and guarantee fans in both leagues at least one interesting nonconference game per year. "It makes a lot of sense," Scott said then, "in terms of continuing to broaden our exposure and improving programming and improving the caliber of our schools' matchups."
Seven months and one dramatic postseason shift later, suddenly it doesn't make so much sense: The agreement is off, according to a joint statement from both commissioners released Friday morning, thus ending the nascent Big Ten/Pac-12 Challenge before it began. "A great effort was made by both conference staffs to create football schedules that would address the variety of complexities," Delany said, specifically citing the Pac-12's nine-game conference schedule, "but in the end, we were just not able to do so." On the bright side, Big Ten fans can look forward to another decade of hosting sacrificial lambs from the MAC.
A handful of intra-conference games have already been set and will presumably remain on future schedules. Whatever the logistical issues, though -- and certainly balancing years' worth of schedules for 24 schools across two conferences is no mere formality -- it's impossible not to read this as a reaction to the four-team playoff in the works to replace the not-so-dearly-departed Bowl Championship Series in 2014.
The Big Ten and Pac-12 have pushed hard for a selection process that a) Prioritizes conference champions over nonchamps, and b) Prioritizes strength of schedule, reducing the cost of a quality nonconference loss on both counts. But for the Pac-12, especially, the prospect of a nine-game conference season, a conference championship game and an unavoidable September date with the Big Ten is apparently taking the point too far. (That's not including any additional nonconference hazards, like USC and Stanford's annual series with Notre Dame.) As it is, the conference has only put one team in the BCS Championship Game since 2005 (undefeated Oregon in 2010) and has only twice placed another in the top four of the final BCS standings (one-loss Stanford in 2010 and 2011). Four times in that span, the eventual Pac-12 champion has finished with two conference losses. Cracking the playoff field is a high enough hurdle already.
On the other side, the end of the series may revive the Big Ten's long-running interest adding a ninth conference game to its own agenda, an idea it scuttled when it agreed to outsource that role to the Pac-12. If that deal is dead, replacing one of the annual MAC-rifices with a league rival makes a lot of sense, doesn't it?
Paul Tyson is a three-star quarterback prospect for the 2019 recruiting class

College football bowl games were all announced on Sunday, and you can check out the entire...

SportsLine simulated every bowl game 10,000 times for pick'em leagues and confidence pools
Everything you need to know to watch and pick the Las Vegas Bowl on Saturday

Everything you need to know to watch and pick the Camellia Bowl on Dec. 16

Everything you need to know to watch and pick the New Mexico Bowl on Dec. 16