Big Ten prefers status quo but Delany wants best four teams in playoff
The Big Ten wrapped up spring meetings in Chicago on Sunday and recapped a number of issues with the media on Monday. The big news -- and what everybody was breathlessly awaiting -- was what the leaders decided regarding the future of the BCS and college football postseason.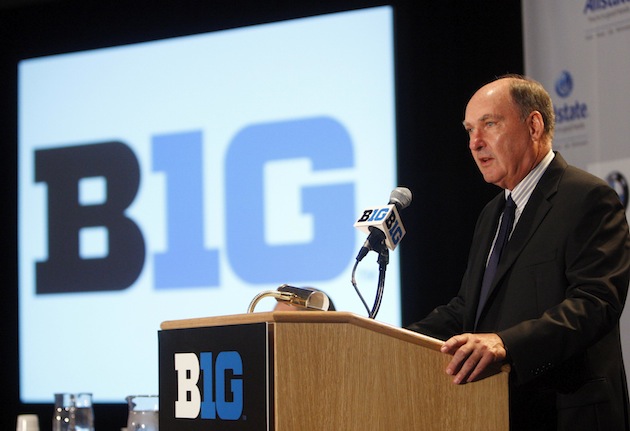 The
Big Ten
wrapped up spring meetings in Chicago on Sunday and recapped a number of issues with the media on Monday. While the conference did things like approve a budget, go over governance matters and hear updates about the Big Ten Network, the big news -- and what everybody was breathlessly awaiting -- was what the leaders decided regarding the future of the
BCS
and
college football
postseason.
And they sort of punted the issue. Out of bounds.
"I think if the Big Ten presidents were to vote today, we would vote for the status quo. We think it best serves college football,"
Nebraska
chancellor Harvey Perlman said. "I don't think any of us are anxious to ask our student-athletes to play a 15th game. We think, in many respects it is as good as you can do.
"But we're also realistic that that doesn't seem to be something that has gotten a lot of support and that some movement is necessary. Our second strong preference would be for a
plus-one
."
So there you have it, despite the optimistic talk out of the
ACC
,
Big 12
,
SEC
and
Pac-12
about a four-team playoff, the Big Ten wants to keep things the same. That's not going to happen, of course, so the presidents at least conceded to a more realistic option.
"It would not be our top two preferences but we would certainly be in position to consider a
four-team playoff
within the bowls that would preserve our connection to the Rose Bowl," Perlman added. "We are trying to be open to the conversations that are about to take place between the conference presidents. We've tried not to put a stake in the ground and (say), 'Over our dead bodies.'"
Even bigger news was that commissioner Jim Delany seemed to have budged off his stance that it should be conference champions only in the playoff, something that Pac-12 commissioner
Larry Scott
probably isn't too fond of hearing
. Just last month, Delany said that
he doesn't have a lot of regard for non-division winners
but it's clear he's backed off those comments.
"I think it should be the four best teams," Delany said. "The question is whether a computerized poll should manage, with what it is today, is an appropriate proxy for the four best teams. I totally agree we should have the four best teams."
That aligns the league with the Big 12 and SEC,
who announced last week that they support the top four teams in the country
getting into the playoff without any strings attached.
"I didn't really think that the conference champions-only (model) met the public's demand for elite teams playing each other," Delany said. "I thought the combination of champions and an elite at-large team regardless of status -- it could be a champion, could be an independent, could be a divisional runner-up or championship loser -- was probably the right formulation. But that was just to get the discussion going.
"I think that people understand now that our search right now is to find the best four football teams. However you do that, typically it's going to involve a lot of champions. I don't care whether it occurs in a committee but I do think the two key issues are honoring champions, honoring strength of schedule, honoring teams and coaches that try to play good schedule and recognizing teams that play an additional championship game versus one that doesn't."
How the four teams will be selected has been a topic of much debate but one that no conference has come out with strong feelings about yet. Perlman, speaking for the presidents, seemed to come the closest to making an outright declaration however.
"We would feel comfortable with a selection committee," Perlman said. "But even if you move to a selection committee, I think there are issues with what instructions they are under with regards to how they determine who the best four teams are. We haven't resolved that at this point."
The Big Ten also reaffirmed support for any playoff semifinal sites at current bowl games and for the title game to be bid out. As has been the case throughout the process, the conference was adamant about maintaining its connection to the
Rose Bowl
as well.
"We strongly prefer inside the bowls," Delany said. "We think outside the bowls is a slippery slope. We think inside the bowls can be accomplished and how that is accomplished is a detail under discussion and sort of to be determined. We looked at on-campus (semifinals) but thought there were some competitive advantages and some fairness advantages but thought from a variety of perspectives it was difficult to do."
While details about team selection and game sites likely won't come up until late June, the Big Ten's stance on maintaining the status quo contradicts what
Oregon State
president and Pac-12 CEO chair Ed Ray
said on Sunday
and makes it clear that if anybody wants to keep the BCS as it is, the Big Ten is on an island by itself with that stance.
"If you asked our athletic directors, our football coaches or our chancellors and presidents, we don't find the fault with the (current BCS) system that a lot of others do," Delany said. "We think it has served us well but, obviously over time, it's been battered and criticized."
What's interesting about the comments supporting the current BCS is that Delany completely railed against the system right after speaking highly about it. Perhaps he lost his talking points memo but the double-talk coming out of Chicago was noteworthy.
"Our coaches… asked why are we expanding, why are we doing this?" said Delany. "I said one of the reasons is that nobody has come to the defense of the BCS in the last 15 years -- it's been a piñata. You can't maintain a system without some support.
"I think everybody recognizes that the present poll system is not a good proxy because it's flawed, it's not transparent, it has people who have a stake in the outcome voting and it measures teams before they play a game. A computer doesn't have an eye so the eye test is missing if there's an injury that can't be taken into account."
To recap, the Big Ten hates the way the BCS selects teams but also loves the current BCS system. The Pac-12 says nobody is talking about the status quo while the Big Ten would definitely vote for it right now. The Big 12 and SEC want the top four teams in and now Jim Delany does too but Larry Scott is against it.
Incoming Big 12 commissioner
Bob Bowlsby
said the June 26th meeting in Washington, D.C. with the Presidential Oversight Committee
could result in some announcement
regarding the structure of the postseason but it seems as though he might be a little optimistic based on the talk coming out of the Big Ten and Pac-12 spring meetings.
"I tend not to be pessimistic or overly optimistic. From a realistic perspective I feel like we're moving in a good direction with the model," Delany said. "If you give me a date like a June 20 or June 26th, you kind of move toward those dates and work hard to get there but I wouldn't be surprised if we got something accomplished by June 26th and I wouldn't be surprised if it slopped over into July or August."
Buckle up folks, we've got a wild and bump road ahead.
Rhoads led Iowa State to three bowl games in seven years as head coach

The Georgia middle linebacker is one of the most valuable players in college football

Explaining my 2017 Heisman Trophy ballot and Jackson's tremendous season
Mayfield is the sixth Oklahoma player to win the Heisman since its inception

The Heisman Trophy will be presented to the best college football player this season

Army topped Navy for the second straight year in an absolute thriller in Philadelphia