Big Ten: Team-by-team preview
Tom Fornelli says Ohio State is the easy pick to win the Big Ten, but the race in the Legends Division is going to be very interesting between Nebraska, Michigan and even Northwestern.
Capsule looks at each Big Ten team, in predicted order of finish:

1. Ohio State: There's a reason each CBSSports.com writer chose the Buckeyes to win the Leaders Division, and that's because they're the clear-cut best team in the division and probably the entire Big Ten. There was supposed to be an adjustment period for Urban Meyer and his new team in 2012 but instead the Buckeyes went 12-0. That team returns 13 starters in 2013, including nine on offense. While running back Carlos Hyde will miss three games due to suspension, he's not going to miss any Big Ten games, and Ohio State has other weapons even if he does. There's a guy named Braxton Miller who just might end his season with a Heisman Trophy. There could be problems on defense as the Buckeyes basically replace their entire defensive line and will be young up front. In fact, the only returning starter in the front seven is linebacker Ryan Shazier, but that's a pretty good player to have back, and the other starters saw plenty of time on the field in 2012. In other words, while Ohio State may trip up somewhere along the way and cost itself a shot at the national title, it will still finish on top of the Leaders Division.
Big Ten All-Conference
Pos
Player
Yr
School
QB
Braxton Miller
Jr.
Ohio State
RB
Ameer Abdullah
Jr.
Nebraska
RB
Carlos Hyde
Sr.
Ohio State
WR
Kenny Bell
Jr.
Nebraska
WR
Devin Smith
Jr.
Ohio State
TE
C.J. Fiedorowicz
Sr.
Iowa
OT
Taylor Lewan
Sr.
Michigan
OT
Jack Mewhort
Sr.
Ohio State
OG
Spencer Long
Sr.
Nebraska
OG
Kyle Costigan
Jr.
Wisconsin
C
Brandon Vitabile
Jr.
Northwestern
DE
Marcus Rush
Jr.
Michigan State
DE
Adolphus Washington
Soph.
Ohio State
DT
Ra'Shede Hageman
Sr.
Minnesota
DT
Bruce Gaston
Sr.
Purdue
LB
Ryan Shazier
Jr.
Ohio State
LB
Chris Borland
Sr.
Wisconsin
LB
Denicos Allen
Sr.
Michigan State
CB
Bradley Roby
Jr.
Ohio State
CB
Ricardo Allen
Sr.
Purdue
S
Christian Bryant
Sr.
Ohio State
S
C.J. Barnett
Sr.
Ohio State
K
Jeff Budzien
Sr.
Northwestern
P
Mike Salder
Jr.
Michigan State
KR
Jordan Cotton
Sr.
Iowa
PR
Venric Mark
Sr.
Northwestern

2. Wisconsin: Even with a new coaching staff in Madison the Badgers are the most logical choice to finish in second in the division. They've gone to three straight Rose Bowls and have 14 returning starters. Sure, one of those starters is not Montee Ball, but just go ahead and ask Nebraska whether or not James White or Melvin Gordon (they combined for 1,427 yards and 15 touchdowns last year) should be suitable replacements. The defense returns most of its front seven, though things could get interesting in the secondary where the Badgers will have three new starters after the unit proved to be one of the better pass defenses in the Big Ten last season. And while the Badgers will have to travel to Columbus to face Ohio State this season the rest of the schedule makes another eight- or nine-win season possible, but that won't be enough to win this division.

3. Penn State: Penn State could go a few different directions this season. While the Nittany Lions were able to put together a successful 8-4 mark (and 6-2 in the Big Ten) last year, it remains to be seen the kind of impact NCAA sanctions will have in their second year. Also, while Bill O'Brien is quite the quarterback guru, he'll be dealing with either junior college transfer Tyler Ferguson or a true freshman Christian Hackenberg under center. On defense, there are questions as well with four of Penn State's five leading tacklers last season gone. Combine that with road games against both Ohio State and Wisconsin and it's really hard to see the Nittany Lions climbing higher than third. There's still enough talent on the roster that this team should finish above Indiana, Illinois and Purdue barring numerous injuries.

4. Indiana: The Hoosiers are a bit of a dark horse in the Big Ten this year, and they could surprise a lot of people. The offense had its best season since 2007, and with 10 returning starters, Kevin Wilson's offense should truly take off in 2013. What will determine how high Indiana climbs and whether or not it gets to a bowl game will be a porous defense. The Hoosiers allowed 35.3 points per game, and it wasn't just keeping opponents off the scoreboard that proved problematic. Essentially, if it was a major defensive statistic, Indiana finished last in the Big Ten last year. There are nine returning starters on that side of the ball, so improvement is possible, but it's not guaranteed. Further complicating matters is that the Hoosiers' four conference road games are against Michigan State, Michigan, Wisconsin and Ohio State. In other words, they better play well at home.

5. Illinois: The Illini are coming off a terrible 2012 and there really isn't a whole lot of reason to be optimistic in 2013. What should help is a new offensive coordinator in Bill Cubit, who will try to bring more consistency to an offense that scored a meager 16.7 points per game last year (that number dropped to an embarrassing 11.8 points per game in conference play). Still, improving the offense alone will not be enough, as the defense needs to make major strides as well. With only four returning starters, odds are the improvement won't be as great as the Illini need. However, if the Illini can take better care of the football (they tied for a Big Ten-worst with a minus-12 turnover margin last season) they should be more competitive in 2013 than they were in 2012. Of course, there's a big difference between being competitive and being good.

6. Purdue: Purdue went to a bowl game last year, but it was a bit misleading. It needed three straight wins against Big Ten dregs Iowa, Illinois and Indiana to get there, and even that wasn't enough to save Danny Hope's job. And while I really like the Darrell Hazell hire and believe he's going to turn things around in West Lafayette, I don't believe he'll be able to do it this season. This is a team that lost most of its offensive production from last season, and while there is experience on the defensive side of the ball this is still a unit that allowed nearly 32 points per game last season, and Kawann Short is no longer anchoring the defensive line. Now, this team could easily finish as high as fourth in the division if things break right -- or wrong for others -- but that's going to be the ceiling in 2013.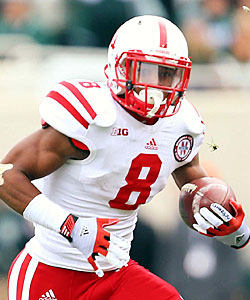 1. Nebraska: The Legends Division race is going to be very interesting. I believe when the dust settles, it will be the Cornhuskers heading to Indianapolis. This is a team with a lot of playmakers on offense, including the best quarterback in the Big Ten not named Braxton Miller in Taylor Martinez. He's surrounded by Ameer Abdullah and Kenny Bell at running back and receiver. This offense was incredibly potent last season in spite of the fact it led the Big Ten in turnovers with 35. Odds are that number will improve in 2013, which means this offense could be even better. The problem will be on defense, as this unit has gotten incrementally worse in each season since 2009. However, I believe a lot of last season's problems had something to do with those 35 turnovers. Though the fact that Nebraska's five leading tacklers from 2012 are all gone could easily be what keeps this team from a second straight division title.

2. Michigan: It's Devin Gardner's show on offense now, and he'll play a large role in whether the Wolverines can finally get to their first Big Ten Championship Game in 2013. Michigan certainly has a good chance to do that despite some significant losses. While OT Taylor Lewan surprised a lot of people by returning, the Wolverines are still replacing the entire interior of their offensive line, and we could see two redshirt freshmen up front. Given Brady Hoke's offensive style of play, the offensive line is key and should the new starters struggle things could derail quickly. It's also possible that true freshman Derrick Green could serve as the team's lead running back, though the return of a healthy Fitzgerald Toussaint would certainly help in that area as well. There's even a slight chance that Jake Ryan, who tore his ACL this spring, could return to the field this fall. That would certainly be a boost for the defense. Another thing working in Michigan's favor is that it gets Nebraska in Ann Arbor this year, though it's unfortunate that the game comes the week after the Wolverines travel to East Lansing to take on rival Michigan State.

3. Northwestern: Northwestern was one of the better stories in the Big Ten last season as the Wildcats finished with 10 wins and a bowl victory over Mississippi State. Repeating that feat probably won't be easy in 2013. While you can point out how Northwestern had a chance to win each of the three games it lost in 2012, you can also say that it if you remove the 50-14 shellacking of Illinois, the Wildcats won their conference games by an average of 9.25 points. There's also the fact that the Wildcats had the best turnover margin in the Big Ten at plus-14, and that will be hard to repeat considering how unpredictable turnovers are. Now, none of this changes the fact that the Wildcats are still a good, talented team. And getting Ohio State, Michigan and Michigan State all in Evanston this season is certainly a plus. It's just that 10 wins is probably a bit unrealistic this season, though given the parity in the Legends Division, a division title isn't unrealistic either. No matter how things go, what we do know is that this will be one of the most exciting teams to watch in the conference.

4. Michigan State: Speaking of teams that had a lot of close losses last year, we now look at Michigan State. The Spartans lost six games by an average of five points last year. But that's pretty typical when you have a sturdy defense and a terrible offense, and make no mistake, Michigan State's offense was terrible last season. Take out its 41-point outburst against Central Michigan and this team averaged 18.25 points per game last year. Making matters worse is the fact that the guy who was basically the entire offense, running back Le'Veon Bell, is gone. Returning are Andrew Maxwell, the quarterback who had one of the worst seasons in the Big Ten, and a set of receivers that had a hard time catching the ball, let alone making plays in 2012. Once again the Michigan State defense is going to be good enough to keep the Spartans in just about every game, but with serious reservations about the offense I just can't put this team higher than fourth in the division.

5. Iowa: From one terrible offense to another, we look at Iowa. I'm of the opinion that last season was not just a nightmare in Iowa City, but also an outlier. I mean, surely not every player who touches the ball can get injured again this season, right? Right!? Well, even if last year was an aberration, I also don't think there's enough here to justify picking the Hawkeyes higher than fifth in the division. The biggest question will be at quarterback, where Cody Sokol, Jake Rudock and C.J. Beathard are all competing to replace James Vandenberg. While we don't know who will win the competition, it would be hard to have a worse season than Vandenberg did in 2012. Iowa does catch a bit of a break in that division foes like Michigan State, Michigan and Northwestern are all coming to Kinnick Stadium this season, but it's balanced out a bit by road games against Ohio State and Nebraska. At the end of the day I wouldn't be surprised to see Iowa get to six wins and get back to a bowl game, it's just I don't believe the ceiling for this team to be much higher than that.

6. Minnesota: Earlier I mentioned that a lot of people consider Indiana to be a Big Ten dark horse in 2013. Well, my dark horse is Minnesota, so obviously I picked them to finish last in the division, but that's more a reflection of my belief in myself than it is the Gophers. Throughout his coaching career Jerry Kill's teams have taken a big step forward in his third season, and with 10 starters returning on offense, that could certainly be the case with this Gophers team. I'm a big fan of quarterback Philip Nelson, who got a lot of experience as a freshman last season, and I think Donnell Kirkwood is a bit underrated as a running back. This is a team that should score between 24 and 27 points per game, and the defense, while not spectacular, wasn't horrible last season. What keeps me from picking the Gophers higher, though, is the schedule. Three of their five division games are on the road, against Michigan, Northwestern and Michigan State. The Gophers also draw Penn State and Wisconsin -- along with Indiana -- from the Leaders Division. So while I definitely think this team will be better in 2013 than it was in 2012, the win-loss record might not show it.
Trust the Process as Tom Fornelli leads you toward his best bets for Week 13 of the season

This edition of the sport's greatest rivalry will go down in history as one of the most im...

Dennis Dodd makes his prognostications for the last and most important week of the regular...
Kelly is presently deciding whether to start anew with the Gators or Bruins

There are a handful of conference championship games still to be determined

SportsLine's top college football expert, on a 30-18 run, locks in his top picks for a loaded...