Big Ten train wreck mixes up bowl projections
A dismal week for the Big Ten and some other upsets have caused some upheaval in the bowl projections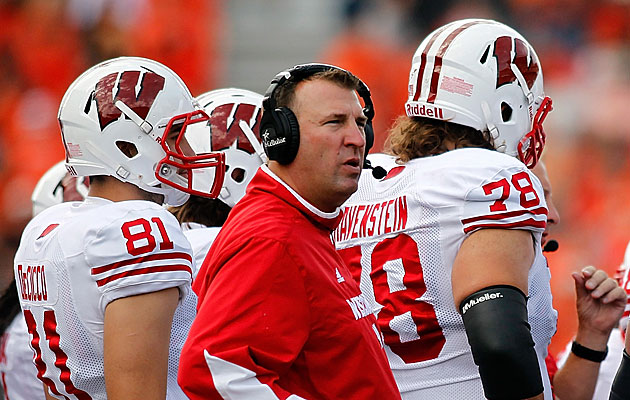 Train wreck.  That's the only way to describe what happened to the Big Ten last week.  Half the league went down in non-conference play.
Maybe nobody expected Purdue to win at Notre Dame or Penn State to take down Virginia, but both teams had chances late and blew them. 
Iowa lost to Iowa State at home for the first time in ten years and the Hawkeyes have only scored one offensive touchdown in two games.
Illinois was never in its game at Arizona State.  Nebraska and Wisconsin were upset by UCLA and Oregon State respectively, making the league 0-3 vs the Pac 12 this week.
Wisconsin's situation is so dire, the Badgers fired their offensive line coach.  Maybe that needed to happen, but I doubt he's the guy who thought it would be a good idea to have Davey O'Brien throw 38 passes, and only give former Heisman candidate Montee Ball the rock 15 times.
Things haven't even been good in victories.  There were a few close calls last week, and this week, Michigan barely scraped by Air Force.  Indiana won big at UMass, but lost QB Tre Roberson for the season to a broken leg.
The only two teams that played well both weeks were Michigan State and Ohio State, and the Buckeyes are ineligible for the postseason.  It looks like the conference may not have two eligible teams for BCS games, and that is reflected in this week's bowl projections.
Michigan State is now projected as the league champion.  Michigan and Wisconsin are now projected out of the BCS picture.
Clemson takes the final at-large spot, replacing Wisconsin.  It's possible a Big 12 team could also get picked.  If one emerges from West Virginia, Kansas State, Texas and Oklahoma State to challenge the Sooners.
Boise State is still in the mix as an automatic qualifier, and Oregon and Alabama are the other at-large teams.
Find out which of your favorite team's players are among the nation's best entering the 2017...

Rosen, a junior, will be eligible for the upcoming NFL draft

Texas A&M has to be better defensively to stand a chance in the SEC West
A letter indicated that there is a growing awareness of the persistent problem in college...

The series will follow the Navy football program throughout the 2017 season

Should college football players still be tested and punished for using marijuana?