Big Ten won't halt national-title drought by adding Rutgers, Maryland
The Big Ten, a powerhouse starved for titles, adds Maryland and Rutgers this season. Why is Jim Delaney realigning to 14 teams? It has little to do with football.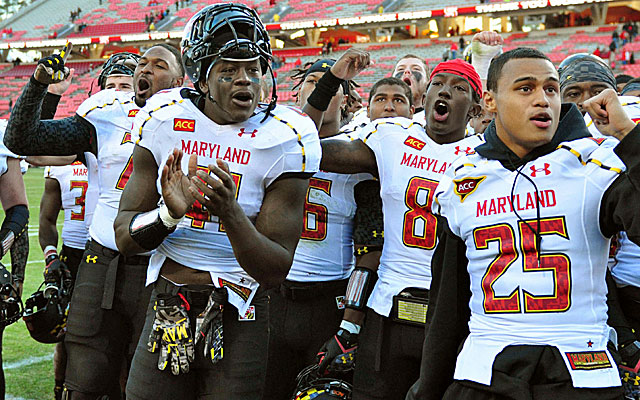 More college football: Jon Solomon | Dennis Dodd | Jeremy Fowler | Latest news
CHICAGO -- Jim Delany is on deck. It's the Big Ten commissioner's turn to spin the world of college athletics beginning Monday at Big Ten media days.
That whole world (of college athletics) will be watching.
So far we've seen Bob Bowlsby drop more napalm on the NCAA. Larry Scott struck a quieter tone last week at the Pac-12 preview.
But Delany -- last up among the Power Five in the preseason -- will set his own tone. He always does. Count the money (currently) and Delany's league is the richest in college sports. Given a new media rights deal coming after the 2016-17 school year it's probably going to stay that way.
Figures obtained by CBSSports.com show that the Big Ten Network alone is expected to produce $102 million in net revenue in 2014. (That's $4 million less than the Pac-12 posted in overall expenses). That's also an average of $7.4 million per school just from the league's cable network.
All of it before Maryland and Rutgers were added.
Simple logic tells you the conference reaping the most should win the most. But that's the beauty of college sports. Money doesn't necessarily buy happiness. Boise State once beat Oklahoma with a football budget that was in the same orbit as Bob Stoops' salary. Missouri has been within one victory of the BCS title game twice in seven years. Hawaii got to a Sugar Bowl.
Those programs don't spend extravagantly. And, yes, they may be isolated examples. College football remains an athletic monopoly. There's a reason they're talking about a Division IV. There are only about 15 to 25 schools that chase the football high like it was heroin. You know their names.
Only 15 teams played for the national championship in the BCS era. Ohio State -- the 2002 champ -- was the only Big Ten participant. The Buckeyes occupied three of the 32 spots in those 16 championship games.
Someone tell me how adding Maryland and Rutgers halts that dry title streak, now entering its 12th season.
I get adding Nebraska in 2011. Made perfect sense. The Huskers are one of those 15 to 25. Their culture, weather and football fit the Big Ten perfectly.
It's easy to reconcile just about anything in the realignment merry-go-round that finally slowed down about 18 months ago. I just don't get Maryland and Rutgers in the Big Ten.
Oh, I get it from the warm-bodies-needed angle. The ACC beat Delany to the punch by getting Notre Dame, Syracuse and perhaps even Pittsburgh. A rumored move by the Big Ten to poach some combination of North Carolina/Virginia/Georgia Tech fell through when the ACC added a grant of rights.
Delany couldn't afford -- for the lot of reasons -- the ACC and SEC growing to 14 while his league stayed at 12. So Maryland and Rutgers, it was.
I get adding the Scarlet Knights and Terrapins for the stark, programming-starved reason of adding inventory for the BTN. Remember, these are 24-7 networks. The less they have to show cross-fit infomercials at 3 a.m. (or even 3 p.m.), the better.
What I don't get, in any way, is this having much to do with football. Rutgers hasn't done much since a brief run to BCS contention in 2006. Maryland's athletic department is awash in so much red ink that the balance sheet looks like tomato soup was spilled on it.
At least Maryland president Wallace Loh was being honest. He needed the Big Ten to pay off those debts. In that sense, this whole affair is not unlike a corporate merger.
It's all so sterile, so crass. At best, Maryland and Rutgers are being admitted on the come. Rutgers might turn on TV sets down the road in New York. Maryland might capture interest in D.C. if folks are forced to get the Big Ten Network to see the Terps.
If that's the case, this isn't realignment, it's speculating in the investment market. Past performance is not necessarily an indication of future earnings.
Try to name the top reasons for realignment. Then try to keep a straight face. Geography? The Big 12 (and, ahem, its TV partners) picked West Virginia over Louisville. Academics? Please. After being admitted into the Big Ten, Nebraska became the first institution voted out of the prestigious Association of American Universities. The welfare of student-athlete? Had his raid of the Big 12 gone through, Scott would have had players from the Pacific Northwest traveling to the state of Texas on a regular basis.
Now, suddenly, Maryland and Rutgers are slumming in the Big Ten. The conference reaches from Lincoln to the Jersey shore. And not much has changed. The SEC still has the best football. The Big Ten still has the biggest budget. And 2002 seems sooo long ago.
Delany expects a financial windfall because his league now has a beachhead on the East Coast and Mid-Atlantic. There are Big Ten satellite offices in New York and DC to be closer to the power brokers and advertisers.
No one asked Nebraska how it felt having about having to travel 1,200 miles (to College Park) and 1,300 miles (to Piscataway). Why? Schools like Nebraska and Michigan will fill the stadiums at those two venues, not the home teams.
The Big Ten is big on its culture. As mentioned, Nebraska fit. This is awkward. Penn State gets a couple of travel partners but that's propaganda. If Texas had taken Delany's calls, we would be seeing its games on the Big Ten and Longhorn networks.
For a league starved for championships, maybe the best outlook is on the field. Maryland and Rutgers are going to be playing up a class. As long as realignment logic is being twisted, look at this way: The rest of the Big Ten is going to be staring at a couple of easy wins each season.
Just don't tell me it has anything further to do with football.
Saban isn't going to win Alabama's special election, but the Crimson Tide coach got some l...

The Tigers are going worldwide for their next punter

Led by Heisman Trophy winner Baker Mayfield, the Big 12 finished with seven first-team sel...
Schiano would have made $4.4 million in Year 1 with annual raises as part of a six-year de...

Dykes spent this season as an offensive analyst at TCU

The 'Wyoming Wild Man' notched six tackles for loss as a junior in 2017