Big Ten's Delany: Let pros start minor leagues if athletes want pay
Big Ten commissioner offers vision for NCAA reform. Says NFL and NBA ought to start minor leagues for high school athletes who want to pursue the pros.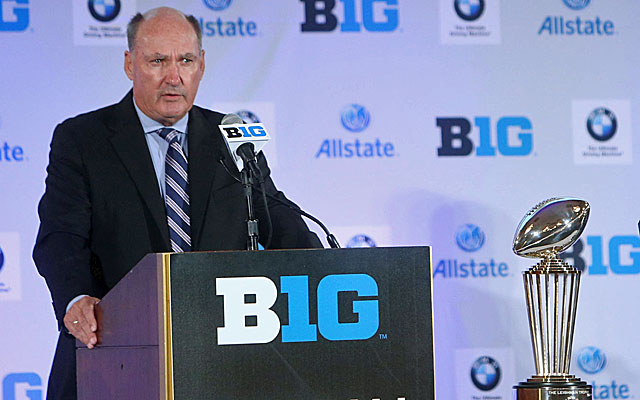 ROSEMONT, Ill. – Big Ten commissioner Jim Delany laid out a sweeping vision for NCAA restructuring Wednesday night that included a strong message for pro leagues who rely on college athletics as a breeding ground for talent.
"I can't tell you the NBA and NFL are going to start minor leagues," Delany told a small group of reporters.  "I think they should. I think it takes more pressure off us. It lets us be who we are … Why is it our job to be minor leagues for professional sports?"
Delany's comments came at the end of an otherwise uneventful day of BCS meetings at the new Big Ten conference office. The main message: Forget about paying athletes, either they must decide to attend college and play under the current NCAA rules or turn pro out of high school.
While the idea of a pro football and basketball minor leagues are not new for NCAA reformers, Delany's comments indicate a national undercurrent that has developed among administrators. There is going to be little rollback on the amateurism model as the NCAA seeks to reform itself.
They will be student-athletes.
"Maybe, just maybe it would work better in football and basketball it would be better if more kids had the opportunity to go directly to the professional ranks," Delany said. "Let the minor leagues flourish, or let them go to IMG [academies]. Let agents invest in their body, let agents invest in their likeness but don't come here [and say], 'We want to be paid $25,000 or $50,000.' "
Delany is basically calling the bluff of those pro leagues whose lure has caused many of the major scandals. Three SEC schools (Tennessee, Mississippi State and Alabama) are currently being scrutinized for their players' improper agent dealings. Miami is awaiting sentence in the Nevin Shapiro case. There has been a national outcry among critics to pay players in the wake of scandals involving Johnny Manziel, Oklahoma State and others. Delany wants a clear line drawn between those who want to be paid for their services.
The NBA and NFL rely heavily on amateur talent that develops in college. While the NBA has its D-League, it is filled predominantly with former college players not deemed good enough to make it to the NBA as yet.
"Would you rather be in the D-League in the Dakotas or would you rather play here?" Delany said. "I would say that some kids would rather be in the D-League. We'd be better off in a lot of cases if that were the case."
But in the current structure those athletes have access to the best college coaches and facilities to develop their games. Those IMG academies have sprung up for just such purposes – developing high-school age players in a pro environment before they get to college.
Both the NFL and NBA have strictures on when those athletes can turn pro (three years for football players, one year for basketball). Delany argued that the rules ought to be the same as hockey, tennis and golf. Players can turn pro at anytime. Until 2006, college players were able to jump directly from high school to the pros until the NBA Players Association put in an age restriction. (Players must be at least 19 and a year removed from high school.)
Pac-12 commissioner Larry Scott made the NBA age restriction the foundation of his comments in July at the Pac-12 football media day.
"Let's be honest about what's going on," said Delany, nearing his 25th year as commissioner. "We've been training kids for professional sports … These [college] brands have been built over 100 years. It's not about any 17- or 18-year old who is going to demand, 'I want to be paid for play.' ''
Delany's comments may have been the strongest yet since BCS commissioners began speaking out for NCAA reform in July. The commissioners all agree that change has to come to an NCAA bogged down by governance issues and lack of faith in president Mark Emmert. Athletic directors in general want more say in NCAA policy. The commissioners want similar freedoms. They are already the de facto administrators of college football, having restructured the sport's postseason twice since 1998. The lucrative College Football Playoff begins in 2014.
While NCAA reform is expected to be a collaborative effort, Delany's stand is significant. He is considered one of the most powerful persons in college sports.
"Right now we can say we don't have control over our legislative destiny," he said.
One of solutions discussed is a so-called "federation" of major-college football that would be controlled by the stakeholders. Those are the defined as the BCS conferences -- Pac-12, Big 12, ACC, Big Ten and SEC. In theory, those schools (plus perhaps an additional few) could control legislation that is friendly to their interests.
As currently structured, schools can't agree on how a player stipend would be handled. If that can't happen, certainly paying players is virtually impossible. Delany reiterated the concerns over Title IX and anti-trust claims if only athletes from revenue-producing sports are paid.
Currently, those power conferences are subjected to the voting whims of the remainder of Division I whose schools have diverse budgets, educational missions and resources. Big 12 commissioner Bob Bowlsby articulated that stance in July when he said, "Northern Iowa and Texas aren't much alike."
The main message being delivered by the so-called Big 5 (SEC, ACC, Big Ten, Big 12, Pac-12): We control most of the resources, we should have a more autonomous say in how the NCAA is run.
"Everything should be on the table," Delany said. "We should try and work and make the NCAA work. But the NCAA and the others should try to help us meet our challenges."
Under Emmert, the NCAA has admitted there is a competitive imbalance between such schools. Reform has to do with how those diverse institutions could co-exist. As stated in NCAA documents obtained by CBSSports.com over the summer, Delany said he expects restructuring of the NCAA to be completed by spring. An NCAA special convention could be called to finalize the new structure.
"I want to start putting it on the table, if an athlete wants to professionalize themselves, professionalize themselves," he said, "except that some people want to be and some won't. I think we ought to work awful hard with the NFL and NBA to create that opportunity.
"I don't view it as a labor force. I view them as athletes, as students."
CFP news: As reported by CBSSports.com last week, BCS/CFP executive director Bill Hancock said on Wednesday the playoff selection committee is close to being finalized. How that committee will operate is the next step. A group of five BCS commissioners who had served on the NCAA basketball committee in the past met to hash out logistics of the football selection committee.
It looks like Jennings is slowly making his way back to the Vols after being dismissed last...

Offensive coordinator Brian Daboll's departure to the NFL has left a void at Alabama

Wilkins was considered a potential first-round pick in the NFL Draft
Brown will have two years of eligibility remaining

Chip Kelly has added some talent to his quarterback room from within the Pac-12

The 2017 season is in the books, and several big-name stars are jumping early to the NFL