Big Ten's Jim Delany talks Ed O'Bannon vs. NCAA, Johnny Manziel
Big Ten commissioner Jim Delany believes the Ed O'Bannon likeness case against the NCAA could go 'all the way,' without a settlement and discusses Johnny Manziel's worth to Texas A&M to prove a point about 'pay for play.'
• 1 min read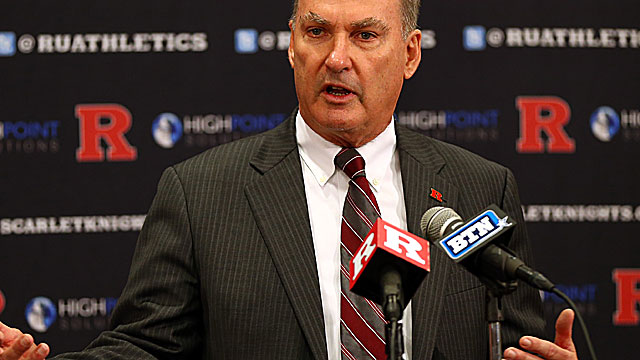 Big Ten commissioner Jim Delany is preparing for a fight in the Ed O'Bannon antitrust lawsuit that could alter the college athletics amateurism model.
Delany told reporters on Wednesday that he's not expecting a settlement in the case, which began in 2009 over the NCAA's profits from the likeness of former athletes. Delany believes the case -- which could cut into the conference's multibillion-dollar television revenue streams -- will likely "go all the way."  
"There should be no compromise on it," Delany said.
A class certification hearing is scheduled for June 20. Last week, NCAA chief legal officer Donald Remy called the plaintiff's reply brief supporting a motion for class certification "baseless theories supported only by inaccurate speculation aimed at destroying amateurism in college athletics."
In a federal court declaration in support of the NCAA, Delany famously threatened to move the Big Ten into a Division III, Ivy League model -- without athletic scholarships.
Delany on Wednesday reiterated he was making the same point that he first discussed in 1996, that the Big Ten will simply look for another way if the plaintiffs prevail.
"We don't want to go Division III; we want to go Division I," Delany said. "We want a broad bucket of opportunities for men and women."
Delany cites the Big Ten's dedication to "special assistance of the cost of education," including more than $120 million in direct financial aid from membership.
But he believes no player is bigger than one school.
When asked his response to high-profile athletes such as Texas A&M's Johnny Manziel producing more jersey sales and revenue for their schools because of their play, Delany cited A&M's storied history (founded in 1876).
"If Johnny Manziel was playing arena football tomorrow, what is his uniform worth?" Delany said.
Delany also addressed the playoff selection committee, which he said should require football people with "impeccable reputations" willing to watch all the important games from each weekend. The committee is also a place for administrators and public members.
Last week, commissioners met in Pasadena, Calif., and reiterated their comfort level with a committee of 14-20 members.
Cristobal's first game at Oregon ended the same way Chip Kelly's did

Conner Manning and the Panthers dominated the Hilltoppers in the Cure Bowl

You can only go to the well so often before it dries up
The Trojans beat LSU earlier in the year and now have their first 11-win season as a FBS t...

Saban has never been a fan of the early signing period and made it clear that hasn't chang...

Paul Tyson is a three-star quarterback prospect for the 2019 recruiting class