Big week in Mississippi a milestone for coaches Freeze, Mullen
Hugh Freeze and Dan Mullen have been working hard for this moment. Now Ole Miss and Mississippi State just have to come through vs. Alabama and Texas A&M.
OXFORD, Miss. -- Hugh Freeze will not venture far from his office/bunker this week of weeks at Ole Miss.
"I will eat in here," Mississippi's coach said from his Manning Center workspace, big enough to stage a scrimmage. "I'll go get a haircut at some point."
No surprise that it's home/desk/film/repeat during Alabama Week. But if he did step out into the sweet Magnolia air, Freeze would encounter a campus and a state about to spontaneously combust. With anticipation, hype and pride.
"One of our biggest donors stuck his head in," Freeze recalled, "[Saying], 'Biggest game in my lifetime.'"
No pressure, then, for a coach born in Oxford, raised on an Independence, Miss., dairy farm, educated at Southern Miss and aware of Saturday's national -- never mind statewide -- implications.
They can talk all they want in this state about Archie and Eli and John Vaught and StarkVegas and Egg Bowls past. This is, arguably, the most significant week in this state's glorious football history.
"I think it's probably the biggest," said Rick Cleveland, 49 years a sportswriter in the state, now executive director of the Mississippi Sports Hall of Fame.
Four teams ranked in the top 12 are playing within 90 miles of each other and kicking off 2½ hours apart. At the end of the day No. 11 Ole Miss (at home against No. 3 Alabama) and No. 12 Mississippi State (hosting No. 6 Texas A&M) will know more about themselves.
Will the rest of the nation care by Sunday? Ole Miss has never beaten a No. 1 (Bama is top ranked in the coaches poll). Mississippi State hasn't finished higher than third in the SEC West since 2008.
This is the football closeup the Rebels, Bulldogs -- this state -- have craved. Ole Miss is 4-0 for the first time since 1970. Mississippi State is two weeks removed from a program-defining win at LSU.
The state that gave us both Faulkner and Favre is in for a football blast that -- for starters -- even the famous Grove can't entirely drink in.
"You're sitting in class trying to pay attention," Ole Miss quarterback Bo Wallace said, "but you know where your mind's at."
The country's 31st most-populous state has produced, per capita, the most Pro Football Hall of Famers. It has been the home to the NFL's career leading passer (Brett Favre), leading receiver (Jerry Rice) second-leading rusher (Walter Payton) and the FCS career total offense leader (Steve McNair).
Mississippi is also the home of the current patriarch of American football, Archie Manning. They all stayed at home for their college careers.
The state's two flagship schools are now keeping more of that talent at home. They have to start delivering -- at once, on the national stage.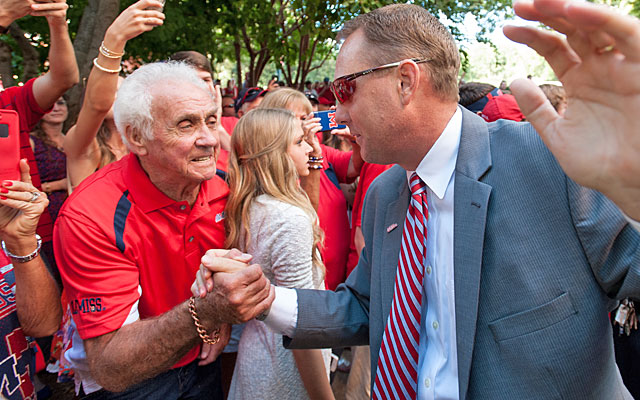 Part of the buildup is pent up in Freeze's bunker, in the moment.
"How was it in there?" Mississippi's coach asked in passing to Wallace.
Freeze is referring to his quarterback's Monday media availability.
"Fine," Wallace said. "I'm really watching myself."
Elsewhere, at least one Rebel hasn't held his tongue. Safety Cody Prewitt told reporters after Saturday's victory over Memphis, "We don't really think Bama is as good as they have been. And we're better than we have been."
Once again, time to deliver. Last year before facing Alabama, Wallace said innocently enough, "We think we can put points on them. We think we can put points on anybody."
Bama won 25-0.
"I was just showing confidence in our players," Wallace said. "They just turned it around as much as they could. Their media is like fans of Bama."
Wallace is the active SEC leader in passing yards, touchdown passes and, perhaps, trepidation. Twenty-one months ago he had surgery on his throwing shoulder. Seven months ago he visited celebrated guru Tom House at Southern California to work in his mechanics. Something was off.
"I was getting no hip and shoulder separation," Wallace said. "No torque, no velocity on the ball. Being out there five days and learning how to throw again was huge."
Four games in, beating Alabama hinges on Good Bo once again emerging. Against Boise in the opener, he played inconsistently for three quarters. Against Louisiana-Lafayette, Wallace completed 14 in a row. Memphis picked him off twice. Wallace leads the SEC in interceptions with six.
During the West Coast visit, Wallace took a personality test. House presented him with a list of 300 adjectives. The quarterback was asked to circle all those that applied to him.
"You read your score and it's exactly like you," Wallace said. "Task management, that was my big thing. Growing up in school if I didn't finish something the teacher would let me [have time] to finish it. I've never had to finish something on time."
He will have 60 precious minutes against Alabama. Ole Miss hasn't beaten the Tide in 11 years and only three times in the past 38.
"I've been here two years. I've played against top-10 teams," Wallace said. "Never with the opportunity we have now -- undefeated."
They say Eli Manning's last home game here against LSU in 2003 was a big deal. The Rebels and Bulldogs haven't been ranked at the same time in 15 years. They haven't been ranked together this high since 1958. The legendary Vaught had a fine run at Ole Miss from 1947-70. The schools battled for the SEC title in 1941.
Mississippi State's Dan Mullen has won at least eight twice in five seasons. He has also lost at least four each of those years.
It has been a journey on both sides. Five years ago Freeze -- Michael Oher's Blindside high school coach -- was coaching at an NAIA school that folded (Lambuth).
Both coaches have delivered lately where it counts -- recruiting. Mississippi State was able to win at LSU with a couple of native Louisianans -- QB Dak Prescott and tailback Josh Robinson. Ole Miss has come out of nowhere to jump to the top of recruiting lists.
"I think validation is in two years and four games we're ranked in the top 20 and College GameDay is here," Freeze said. "Whether all that is deserved I don't know.
"I need a win to validate in my mind we're doing the right things on this journey."
A relationship developed with super agent Jimmy Sexton, who attached himself to a rising star. Freeze, a former Ole Miss assistant under Ed Orgeron, got the Arkansas State job in 2011. A year later he was back in Oxford replacing Houston Nutt.
Freeze did everything he could last week to keep his players focused on Memphis. The sort-of-rival Tigers are from an inferior conference with an inferior history. The Rebels struggled at times, winning 24-3.
"Last week, to be perfectly candid with you, I was miserable," Freeze said. "I'm not like that. I want to enjoy the heck out of this week."
Even coaching hermits aren't immune. The state's biggest week of football in maybe forever seems to be touching everyone.
The hyper-competitive SEC West will be fleshed, at least a bit. The games portend an Egg Bowl that could decide the division. To top it off, Sexton -- the star maker himself -- will have a client on both sidelines.
"I think he should root for me," Freeze said, "because how much more can Nick make him?"
>> Who's going to win Saturday? Week 6 Expert Picks
The 21-year-old quarterback was expected to start for the Cougars in 2018

The Fighting Irish will be without some playmakers in 2018

It may have been impossible for Sumlin to meet the expectations set for him in College Sta...
Some players are more easily replaced than others

The 2017 season is in the books, and several big-name stars are jumping early to the NFL

Love was second in the nation in rushing with 2,118 yards in 2017