Bill O'Brien: Leaving Ohio State out of title game 'makes no sense to me'
Penn State coach Bill O'Brien is stumping for the Ohio State Buckeyes to get into the national title game. He doesn't understand why they'd be left out.
• 1 min read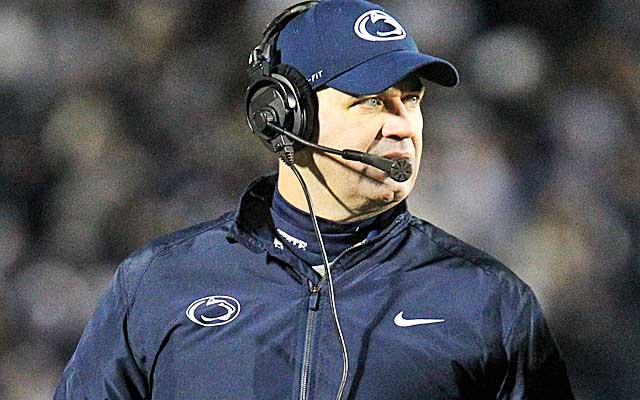 Count Penn State's Bill O'Brien among those pointing the Big Ten's laser at the BCS death star over Ohio State's potential title-game ouster.
O'Brien saw the Buckeyes smother his team 63-14 last month. He's a little confused why they might be limited to the Rose Bowl.
"How can we not allow Ohio State, if they win out, how can they not compete for a national championship? It makes no sense to me," O'Brien said. "The perception is the Big Ten is down, and until we start winning on the field against the SEC, it's going to be the SEC on the top of the hill. But we've got great coaches in this league, great players, and this conference will be back."
The Buckeyes have the No. 3 BCS ranking and probably won't be jumped by a one-loss SEC team, but Alabama and FSU are clear-cut championship contenders unless they drop a game.
O'Brien has experience with a 12-team playoff from his NFL days. He's about to get a four-game college playoff next season.
The way the Penn State coach sees it, how about a little middle ground on that?
Eight teams. That would help Ohio State and others.
"Even in the final four, the fifth or sixth team might have one loss or be undefeated and won't have a shot -- I don't understand that," O'Brien said. "I would prefer a final eight. If you go more than that, it's too much. If it's a final eight, it's more along lines of crowning a true champion."
The folks at College Football Playoff -- complete with a selection committee starting in 2014 -- have been adamant there won't be eight teams. The playoff will be under a 12-year contract.
Greg Huegel suffered a knee injury during Wednesday's practice

The Wildcats and Utes open conference play on Friday night

Eichorst's firing on Thursday sets Riley's seat ablaze, even if a decision won't be made i...
Eichorst had been at Nebraska since 2012

Three straight titles makes it seem like 'Alabama and everybody else' in the SEC

Some early-season Big Ten games could shake up the national standings