Bo Pelini receives contract extension through 2018
CBSSports.com's Gregg Doyel reports from his meeting with Bo Pelini that the Nebraska coach has received a contract extension.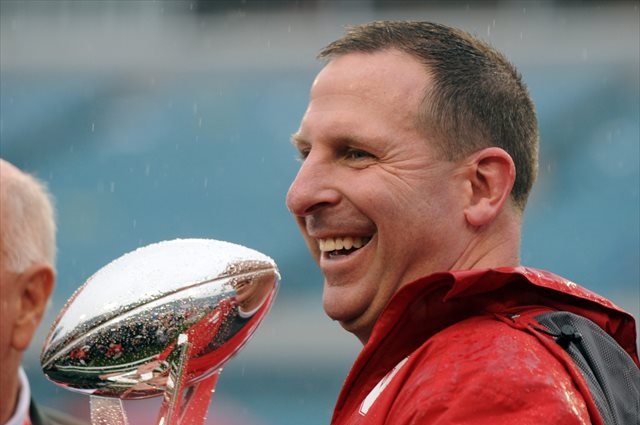 Nebraska athletic director Shawn Eichorst said in November -- even before the Huskers' upset over Georgia in the Gator Bowl -- that Bo Pelini was the man who would "lead our program in the future."
Eichorst has apparently put the program's money where his mouth was then. CBSSports.com's Gregg Doyel spent Friday with Pelini himself in Lincoln, and had this to report: 
That much-discussed contract extension Nebraska hasn't given Bo Pelini? He got it last week. Signed it Wednesday. Five years left.

— Gregg Doyel (@GreggDoyelCBS) March 7, 2014
The extension would keep Pelini at Nebraska through the 2018 season. 
Eichorst offered a no comment earlier this week when asked if Pelini had signed his usual one-year extension of his contract. Pelini told Doyel that the contract had been on his desk for a week, but that he had simply not yet had time to make his signature on it official.
Also: Pelini told Doyel that he had just learned what ... well, take a look for yourself:
"I just learned what 'selfie' means." - Bo Pelini. pic.twitter.com/k48opEB3VJ

— Gregg Doyel (@GreggDoyelCBS) March 7, 2014
Saban isn't going to win Alabama's special election, but the Crimson Tide coach got some l...

The Tigers are going worldwide for their next punter

Led by Heisman Trophy winner Baker Mayfield, the Big 12 finished with seven first-team sel...
Schiano would have made $4.4 million in Year 1 with annual raises as part of a six-year de...

Dykes spent this season as an offensive analyst at TCU

The 'Wyoming Wild Man' notched six tackles for loss as a junior in 2017