Bo Pelini says he has 'an idea' who leaked profane recording
Bo Pelini spoke to radio host Bill King about the ongoing fallout from the Deadspin-published recording.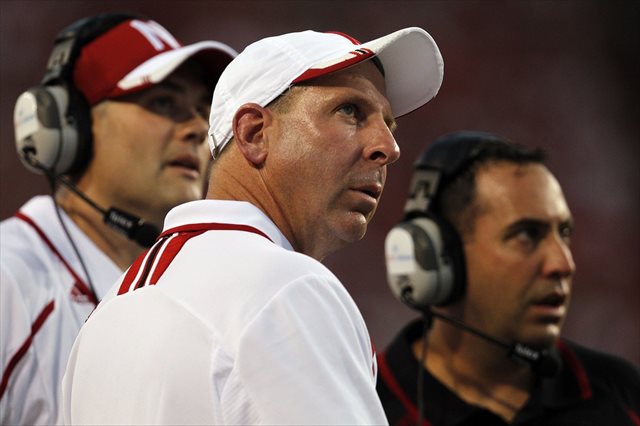 Under-fire Nebraska coach Bo Pelini spoke with SiriusXM radio host Bill King Wednesday morning, and said he has "an idea" of who was responsible for the leaked audio recording of Pelini's profane postgame rant against media members and Huskers fans in 2011.
"I think we're a lot closer to [knowing], if it hasn't been completely determined already," Pelini said, per a transcript of his appearance from CoachingSearch.com. "I have an idea [of who it is]." 
Pelini said he would "get into more specifics later on today" regarding the nature of the tape, though he later backed away from setting any timetable on such an announcement, saying he needed to be "on the same page as far as what's going on as far as my athletic director, our chancellor, and the administration."
What was already a difficult week for Pelini after Nebraska's 41-21 home loss to UCLA and a public spat with Husker legend Tommie Frazier grew exponentially more difficult Monday afternoon, when Deadspin published a recording taken without Pelini's knowledge in the immediate wake of the Huskers' win over Ohio State. In the recording, Pelini profanely excoriates the Huskers' "fair-weather" fans and drops a series of f-bombs.
Pelini quickly apologized, and Nebraska chancellor Harvey Perlman and athletic director Shawn Eichorst issued statements saying they were "disappointed." Pelini said Tuesday he believed the Husker faithful "would understand" the emotional, off-the-record nature of the comments and not hold them against him.
Pelini again emphasized with King -- not surprisingly -- that he doesn't expect this episode to endanger his position at Nebraska.
"Am I confident about my future?" Pelini said, per CoachingSearch.com. "Yes. I have confidence in the support I get with the people around me.  I've said this is where I want to be.  This is where I want to be ...
"The facts have to be brought out. People have to do their jobs.  That takes time.  I think everybody on our team is doing just that, so we can get on the same page."
South Florida and UCF played the most entertaining game of the 2017 season

Bielema completed his fifth season with the Razorbacks on Friday

Friday's upset to Pittsburgh was bad, but it's not a season-ender for Miami
Pittsburgh pulled the upset of the weekend with a 24-14 win on Friday afternoon

Lock beat out some big-time names with 41 touchdown passes (and counting)

You can remove Patterson's name from your coaching wish lists