Bob Bowlsby: O'Bannon ruling 'strikes a middle ground'
Reactions from around college sports about the decision that the NCAA violates antitrust laws by not paying players for use of their names, images and likenesses.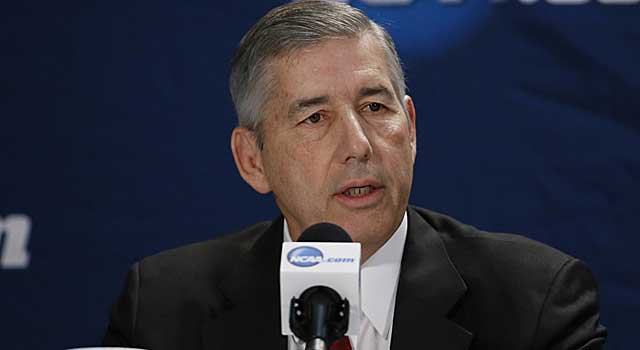 More: O'Bannon news | On CFB: Dennis Dodd | Jeremy Fowler | Jon Solomon
A federal judge's injunction in the Ed O'Bannon case "strikes a middle ground" by keeping payments to players within the college sports model, Big 12 commissioner Bob Bowlsby told CBSSports.com on Monday.
"I'm not tremendously comfortable with any of it," Bowlsby said. "I think it was a very nuanced and thoughtful decision and one that probably resides a lot closer to my philosophy of a student-athlete than what some of the other plaintiffs and others might view. I think there is reason for hope."
On Friday, U.S. District Judge Claudia Wilken issued an injunction that will prevent the NCAA "from enforcing any rules or bylaws that would prohibit its member schools and conferences from offering their FBS football or Division I basketball recruits a limited share of the revenues generated from the use of their names, images, and likenesses in addition to a full grant-in-aid." The NCAA said it plans to appeal the ruling, which struck down many of the association's defenses often used in court, including amateurism. It's also quite possible the O'Bannon plaintiffs will appeal the ruling or past decisions by Wilken in the case.
Conferences and schools "are unnamed co-conspirators in this case," Bowlsby said. "We're not defendants in this case. The NCAA is so that's their decision to make [about appealing]. I just think there are issues that go beyond the current outcome."
Bowlsby said the ruling did not move to anything that would be perceived as professional sports and that the "collegiate model" remains largely intact.
"This operates inside the higher education environment, and the fact that the payments for name, image and likeness can't be manipulated prior to departure from school, I think is a pretty significant distinction," Bowlsby said. "I don't think it's anybody's perfect solution, but I think it falls short of having an open marketplace where the individuals are differentially compensated."
A free market for players is what sports attorney Jeffrey Kessler wants to bring to college sports in his Martin Jenkins lawsuit. The NCAA and conferences are scheduled to respond to the Jenkins and other scholarship lawsuits by Aug. 20.
Wilken's injunction allows the NCAA to set a cap on the amount of licensing money that may be held in trust, but it prohibits that cap from being less than $5,000 for every year the athlete remains academically eligible.
"I think that's the likely maximum and the first step will be getting the membership to put in place a description of what the limit will be," said Bowlsby, who wants to know what impact participation in this trust fund will have on Title IX. "Beyond that, schools will have the opportunity to opt in or do something on their own basis or opt out altogether. Knowing the scope of the programs that are involved in our conference, I would be very surprised if all of our schools didn't participate."
For every answer to a question from Wilken's ruling, there seems to be a new question. For instance: Who will decide on what the NCAA's cap is on licensing revenue? Will it be all of the Division I membership, or just the Power 5 conferences now that they gained autonomy last week?
"That is a very good question, and I think it's another one that will have to be answered because presumably the judge's ruling covers all of Division I, and maybe even Division II and III, although I don't know it would be particularly applicable," Bowlsby said. "The autonomy, not anticipating how this might come out [on appeal], doesn't address this. I guess it's a question that's going to have to be posed collectively to the five of us and the board and the rest of the membership. Let's just say it's something less than crystal clear at this point."
Throughout college sports on Monday, there were as many questions as there were answers after administrators and lawyers spent the weekend reading the 99-page O'Bannon ruling. Bowlsby said he read the ruling four times.
In a statement released Monday, SEC commissioner Mike Slive expressed pleasure "that the judge recognized the educational component of college athletics, and the importance of integrating academics and athletics in this decision. There are a number of legal questions of some significance that must be answered to fully understand the ultimate consequence of this decision, and how to comply with it."
Slive said, "It is incumbent upon all of us to be thoughtful and deliberate in building a better future for our institutions and our student-athletes."
North Carolina State athletic director Debbie Yow ran off a list of questions she has:
* What's the impact on Title IX?
* Does $5,000 per player become the trust-fund cap number?
* How will the trust operate?
* How does Wilken's ruling impact the Power 5's interest in closing the gap in cost of attendance?
* When does the injunction actually go into effect? (The NCAA has asked Wilken to clarify that issue.)
"Our hearts have always been turned to our players, so whatever is legal for us to provide, we plan to do that," Yow said. 
Yow said she was not surprised by the ruling because, "I've been following the testimony. Based on the day to day interaction, we weren't surprised."
Ken Feinberg, a prominent mediator, said Wilken's ruling puts into play the possibility of the Former College Athletes Association (FCAA) becoming the mechanism that operates NIL money in the trust fund. The FCAA was created three years ago, with Feinberg on the board, in case the O'Bannon plaintiffs won or settled.
Under the FCAA plan, if the FCAA becomes a reality, the money would be distributed by Nashville-based SESAC, one of the nation's largest performers-rights companies. SESAC would also be in charge of registering the athletes. O'Bannon attorney Michael Hausfeld could potentially become counsel for the FCAA.
"I think the ruling provides a sea change in the way college athletes will be treated financially," Feinberg said. "I think it clearly sends a signal to the FCAA go forward, find out who's interested, and how it will work."
Feinberg cautioned there are many unanswered questions, such as whether Wilken's opinion applies to all college athletes or is limited to Division I basketball and FBS football players.
Under the O'Bannon plaintiffs' proposal with the FCAA, female athletes could register for post-graduation licensing revenue. Feinberg's plan calls for former players in high-profile sports to receive more money than those in non-revenue sports, although the payouts would be the same on each team. Feinberg said clarification is needed on whether Wilken's opinion of "equal" trust-fund money means equal based on team, sport or everyone.
"I'm not sure that under this opinion we ought to just start calling athletes in the Big Ten or ACC or SEC to see if they want to join the FCAA," Feinberg said. "We have to be very, very careful here we don't do anything prematurely that would jeopardize the amateur status of current athletes or do anything to jeopardize the litigation. I think there will be more clarification from both sides in the coming weeks. The big $64,000 question is what is the NCAA going to do about this opinion? The entire structure of the NCAA has now been called into question."
Mountain West commissioner Craig Thompson said the O'Bannon ruling is "onimous" on its surface.
"Is that going to be the final (ruling)? Hell no," Thompson said. "It's not unanticipated, it's not unexpected. The NCAA was even prepping on the appeal. ... We're all trying to digest what it means, where it's going. One thing's for sure, the cost of running an FBS football program has gone up."
Colonial Athletic Association commissioner Tom Yeager described the O'Bannon decision as "really complex," especially as it relates to what can or can't be used regarding players' names, images and likenesses.
"How is it different when Sports Illustrated or a newspaper puts up a big picture on the cover that causes people to buy their magazine, just like a school puts up a picture on a billboard, or ABC or ESPN has a flash of an upcoming game?" Yeager asked. "It's really complex. I'm sure it's a long way from being resolved."
Yeager said college sports will probably change "somewhat" due to the O'Bannon decision.
"It changed when the Olympics changed the definition of amateurism," Yeager said. "The whole amateur idea has evolved over the last couple of decades considerably. The SEC used to have a rule if you were pro in one sport, you were pro in all sports. … There's a natural evolution."
CBSSports.com reporter Dennis Dodd contributed to this article.
The Alabama QB has a new look after the Tide claimed another national title

Young was injured during Miami's Orange Bowl loss to Wisconsin

The movie will zero in on former Penn State coach Joe Paterno during the Jerry Sandusky sc...
Bidding for Salaam's trophy, which the auction house says was obtained legally, ends Satur...

Locksley has been the offensive coordinator at Illinois and Maryland during his coaching c...

Many NFL-eligible juniors ignore advice provided by the league and risk going undrafted each...