Bob Stoops denies reports, says no QB decision yet
Has Bob Stoops settled on a starting quarterback? Copntrary to TV reports, he says he hasn't.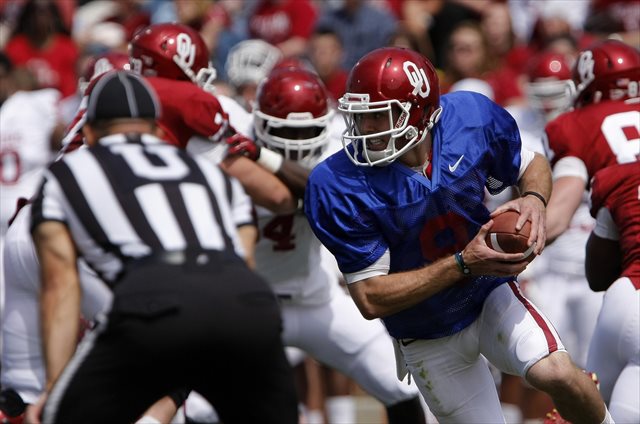 Does Oklahoma have a starting quarterback -- and a eyebrow-raising one, at that? Reports have said yes. But Bob Stoops insists the answer is no.
"I haven't," Stoops said after the Sooners' Tuesday practice, when asked if he had picked a quarterback. "Who reported that? Of course it isn't true."
Two different area TV stations reported that, in fact, and further reported that it was redshirt freshman Trevor Knight who had gotten the call from the Sooner staff.
Junior Blake Bell -- the star of the highly effective "Belldozer" goal-line package for two seasons running -- had been widely assumed to take over for Landry Jones, but Knight and Bell have been locked in a tight battle for the starting job throughout the year. The Oklahoman reported Tuesday that "entering the evening practice" Stoops had not yet made his decision.
Asked if he might platoon the two quarterbacks, Stoops stopped just short of saying it wasn't an option.
"What do they say? Never say never and there's always a chance," Stoops said. "Even what's his name in Dumb and Dumber, he had a chance. It was one in a million, but he did have a chance."
The character's name was "Lloyd Christmas," for what it's worth. And whether he was dumb or dumber, even Christmas could likely tell you that if Stoops hasn't named his quarterback yet -- and even that looks like a substantial "if" -- it's not the biggest vote of confidence in making the Belldozer the full-time option. Stay tuned.  
The former Oregon coach is one of the hottest commodities on the coaching market

The CFP Selection Committee got Miami right, but there are some decisions that make you go...

The newest college football rankings are out, but did your favorite team make it in?
Sumlin is 51-25 overall and 25-22 in the SEC over six seasons in College Station

This is precisely what you'd think would happen between Kiffin and Saban

Anybody can rank the best 25 teams, only the Bottom 25 ranks the worst