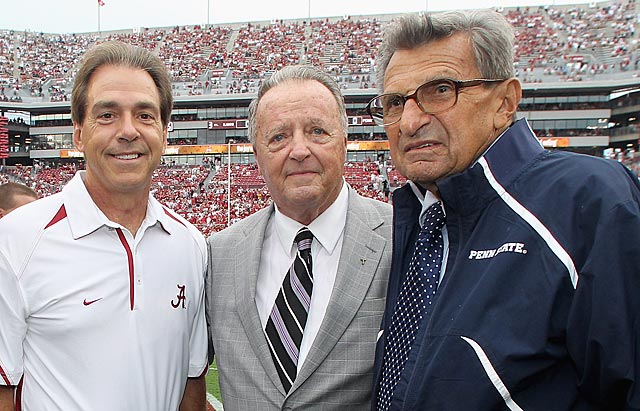 Legendary coach Bobby Bowden appeared on the David Glenn Show, in North Carolina, this week to promote his new book, The Wisdom of Faith, and chat a little college football. Bowden talked about his family and experiences in coaching, but also had some thoughts on the NCAA vacating wins. 
Florida State vacated wins as a result of an academic scandal during the end of Bowden's tenure, and to this day the Hall of Fame coach says he had "nothing to do" with players receiving extra help. He told David Glenn that the NCAA should give back the wins, and do the same thing for former Penn State coach Joe Paterno. 
"If I had my choice, I'd like for them to give my 12 games back, and give Joe his 100 games back," Bowden said. 
"I hate it they took 12 games away from me, on something academic that I had nothing to do with! Now look...Notre Dame, aren't they going through the same thing now with four or five players? I want to see what the NCAA does there. I bet they won't do nothing. But anyway, anyway, I'm over that now and ready to go on with my life." 
The sneaky shot at Notre Dame comes fast from Bowden, as you can hear in the interview below. The full interview is worth your listen, but the NCAA-related comments start around 15:00.