Boise State committed to the Big East, says president
Despite the Big East losing out again in the latest round of conference realignment, Boise State president Bob Kustra says the Broncos have no intention of returning to the Mountain West.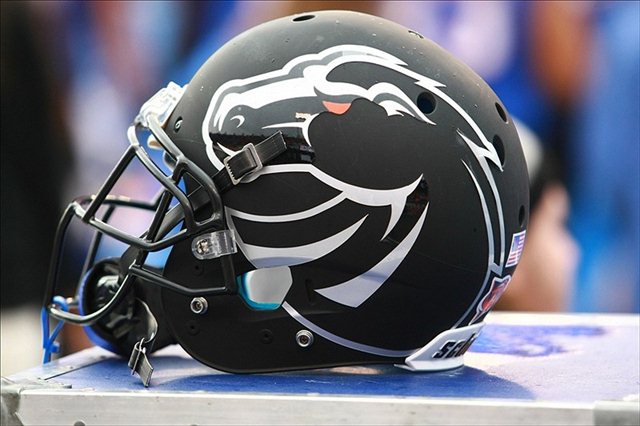 Boise's bronco won't stare down opponents anywhere but the Big East in coming seasons, its president says. (US Presswire)
When Boise State first accepted the Big East's invitation to join as a football-only member, in December 2011, the conference was a full-fledged BCS member set to unveil a 12-team league. With name-brand programs like Louisville and the Broncos, it was poised to capitalize on media markets like Rutgers' and Louisville's to cash in on a lucrative new television contract.
Fast forward 12 months, and the Big East is officially a "have-not" in the forthcoming college football playoff. Louisville and Rutgers are gone,. The low-profile likes of Tulane and East Carolina have been added to preserve the two-division setup. The league might not be able to sign a TV deal worth even as much as the $1.4 billion contract that they turned down in 2011. So after the Broncos dragged their feet when it came to officially leaving the Mountain West for the Big East this past summer, it's no surprise that rumors have sprung up claiming Boise has been looking to return to its  more geographically friendly digs in the MWC.
But per the Idaho Statesman, Boise State president Bob Kustra has made it clear his school has no intention of backing out of its Big East plans.
"[B]ecause of a report that Boise State has been talking with the Mountain West, I want to make it clear that Boise State has had no discussions with the Mountain West Conference in the past couple of weeks," Kustra said in a recent statement. "We are in constant communication with presidents and athletic directors of the Big East, and we intend to strengthen our conference by adding members who can contribute to a strong conference."

"Boise State welcomes East Carolina and Tulane to the conference as the Big East solidifies its membership with these additions," Kustra said Tuesday. "The Big East is proactively responding to the national changes in conference affiliations, and Boise State remains committed to building and competing in a strong Big East future."
Of course, the amount of double-talk and broken promises in the conference realignment Tilt-a-Whirl means that little short of Boise actually traveling to SMU or Temple next season will quiet the rumors. At a glance, it's true that the new Big East -- whose strongest non-Broncos members shape up as Cincinnati, South Florida and San Diego State -- isn't that much more to look at on the field than a Mountain West with Fresno State, Nevada and Air Force. (The Aztecs would no doubt switch gears as well if the Broncos bailed.) The latter would also offer the Broncos a chance to bring their football, hoops and Olympic programs all under the same conference umbrella as well as limiting travel costs.
But for all of that, as always in conference alignment, it's still the television money that speaks loudest. Even in its diluted state, the Big East promises to offer the Broncos more money and more exposure than the MWC can. So while the rumor mill will no doubt continue to churn, it's hard to see Kustra and Boise actually reversing field anytime soon.
Schiano would have made $4.4 million in Year 1 with annual raises as part of a six-year de...

Dykes spent this season as an offensive analyst at TCU

The 'Wyoming Wild Man' notched six tackles for loss as a junior in 2017
Zaycoven Henderson was charged with aggravated assault with a deadly weapon

Patterson is a former No. 1 recruit in the country

Baker Mayfield and two Sooner teammates made the first team