Boise State president blasts NCAA reform in letter to media
Boise State president Bob Kustra, in a scathing criticism of NCAA reform, accuses large-resource schools of drifting away from the traditional amateur model. Kustra expressed his feelings in a statement sent to media outlets Wednesday night.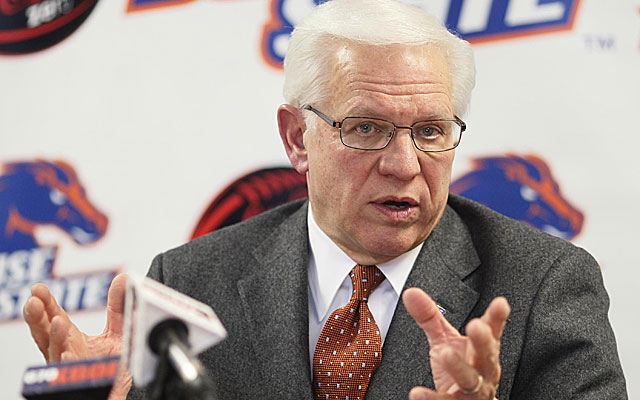 More college football: Jon Solomon | Dennis Dodd | Jeremy Fowler | Latest news
Boise State's president issued a scathing criticism of NCAA reforms Wednesday night, seemingly accusing the commissioners of the SEC and Big Ten of  "calling the shots."
Bob Kustra spent more than three pages ripping Big Five conferences in an email sent to media outlets. The correspondence came less than 24 hours after Pac-12 presidents called upon their Big Five peers to quickly pass NCAA reforms. 
Saying the NCAA has "ranged far afield" from the traditional amateur model, Kustra attacked what he perceives the Big Five conferences' hijacking of the system. He called reform "subterfuge for fueling the arms race."
"The NCAA cannot fall prey to phony arguments about student welfare when the real goal of some of these so-called reformers is create a plutocracy," Kustra wrote, "that serves no useful purpose in American higher education."
He laid out a case for large-school voting autonomy being a guise for those institutions to consolidate money and power. The NCAA board of directors is close to granting autonomy to high-resource schools that would allow them to pass more specific legislation tailored for their budgets.
Kustra accused those five leagues (Big Ten, Pac-12, Big 12, ACC, SEC) of pulling the strings "with two of the conferences taking the lead in calling the shots for the others."
There is little doubt Kustra is referring to SEC commissioner Mike Slive and Big Ten commissioner Jim Delany. Both men have largely been considered among the most powerful in college sports. However, if there is a reform agenda, it is largely supported by all 10 FBS (Division I-A) conferences at the moment.
Everyone just wants to know what restructuring and reform is going to mean. While Texas, Michigan and Alabama can afford an extra $1 million for an unlimited training table, it may mean the difference for a smaller school in cutting, say, tennis.
Cost of attendance is a good idea in concept, but even the commissioners say there is a long way to go. Those commissioners want to provide a calculated stipend for athletes above room, books and tuition.
Among the issues is calculating the cost of attendance on a per-school basis to avoid anti-trust concerns.
That is part of Kustra's concern. All of this takes more money for schools whose budgets are already stretched thin. It is estimated that only 25 athletic departments nationwide actually turn a profit.
"It's time," Kustra wrote, "for the NCAA to take a stand for fiscal responsibility and the rightful place of intercollegiate athletics in American higher education …"
Kustra draws a well-known line between the Big Five and the so-called Group of Five. Kustra's school is in one of those so-called "lower resource" conferences -- Mountain West -- that also includes the MAC, American, Conference USA and Sun Belt.
"I have no doubt why the power conferences are working to separate themselves from some Division I universities who still see the value of equity and fairness in athletic funding," Kustra wrote.
Boise's CEO is a former member of that NCAA board. The 71-year old former two-time lieutenant governor of Illinois has spent a decade in his current position as Boise president.
Not too long ago such concepts as cost of attendance and increased training table would have been considered competitive advantages. But in recent years, the NCAA has moved away from that concept embracing such changes in the name of student-athlete welfare.
That change in philosophy, though, has further separated the powerful from the not-so-powerful.
In the correspondence, Kustra points out the Boise's $37 million athletic budget pales in comparison to Alabama ($124 million), Illinois ($77 million), Nebraska ($83 million) and Missouri ($64 million.)
Even more dramatic: Idaho's football budget ($4 million) doesn't equal 60 percent of Nick Saban's salary. Both schools are FBS.
"You would think," Kustra wrote, "the long-held principles of amateur athletics would trump the drive toward commercialism and professionalism in the athletic department."
Clearly battle lines are being drawn beyond Boise, Idaho. The NCAA Governance Steering Committee shaping those reforms want the Big Five conferences to have a super-majority of votes (two-thirds) to pass legislation. The Big Ten has suggested a lower threshold. 
In making his case for "bloated athletic budgets" Kustra did not mention a naming-rights sponsorship deal for his football team's stadium announced on Wednesday. Albertson's grocery store chain is paying $12.5 million over the next 15 years to have its name on the Broncos' stadium.
Kustra also didn't mention he had been out front on a flirtation with the restructured Big East in 2012. In the space of six months, his school played both ends against the middle, committing to the Big East without ever officially leaving the Mountain West. Boise State was able to get a MWC TV deal that put a premium on televised Boise home games. 
So who, exactly, is chasing money? Everyone it seems. 
Kustra has been a staunch critic of the BCS and high-resource school spending in the past. On Wednesday he accused most of the reforms of being a guise for those large schools "to outspend their Division I colleagues."
He said "absurd specialization in staffing and coaching accounts" is a problem.
"How embarrassing to spend all that money and then have someone with half the budget or less beat you on Saturday," Kustra wrote.
He made sure to point out his support for three NCAA reforms.
• Improved medical monitoring for concussions.
• Lifetime access to a degree at a school's expense if a player exhausts his eligibility before graduating.
• Allowing an athlete to keep his/her scholarship in the event of a career-ending injury.
Jim McElwain won't rule out Luke Del Rio, Feleipe Franks or Malik Zaire as the starter

The three rule changes for 2017 are focused on player safety

There are new names to learn every season, and here are five to keep an eye on from the Big...
Can the Big Ten produce a champion capable of scoring points in the College Football Playoff...

Taking a close, detailed and opinionated look at the Big Ten a week before the start of the...

Jarrett Stidham leads a slew of transfer quarterbacks who will make an impact in 2017