Boise State, Troy announce home-and-home in 2017, 2018
Broncos will make the long trip to southern Alabama to open 2018 season.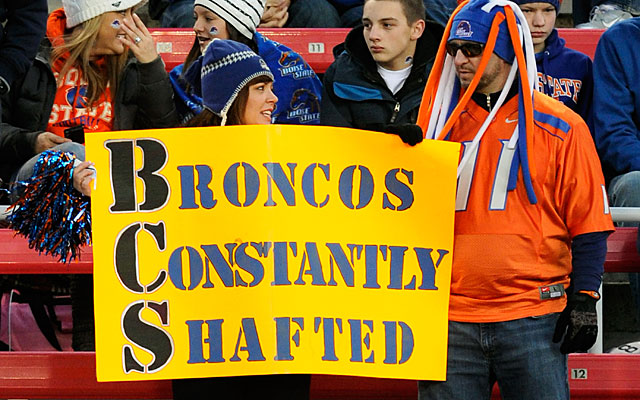 The last time Boise State made headlines with a scheduling announcement, it was something of a blockbuster: a home-and-home with Florida State that would make the Seminoles arguably the biggest program* to ever visit the Smurf Turf (assuming the agreement is still intact in six years).
There was more to come from the Broncos Tuesday, but this time on a much lower scale, nationally speaking. Boise and Troy each announced the schools' future home-and-home series, with the Trojans set to visit the Smurf Turf in 2017 and the Broncos scheduled to play at Troy's Veterans Memorial Stadium in 2018.
Both games are currently scheduled as the teams' season openers.
"This is another marquee matchup that is exciting for both our fans and our football program," Troy athletic director John Hartwell said in a statement. "Boise State has been one of the most successful teams in the country recently and this series will further enhance Troy's image in the national football spotlight."
The Trojans are no strangers to hosting bigger teams, with Missouri, Oklahoma State and Navy all visiting Troy in the past, Mississippi State playing there this past fall, and Duke coming in 2014. But Boise will be the biggest name to make the trip yet -- and could be the biggest home scalp for the Trojans yet, despite winning over boht the Tigers and Cowboys.
As for the Broncos, scheduling never comes easy given other programs' (understandable) reluctance to make the long, difficult trip to Boise. But by 2017, schedule strength may be of critical importance for Boise's arguments for inclusion in the four-team playoff. And the Trojans -- now without a postseason berth for back-to-back seasons after a long run near the top of the Sun Belt -- may not do a lot for that schedule strength at that future point.
Boise could do worse, and it's hard to say for certain they could do much better, particularly given how much uncertainty remains over any scheduling agreement for seasons four and five years in the future. But after the success with Florida State and with the increased need for marquee opponents in the post-BCS era, Boise fans have to wonder how good Tuesday's news really is for their team. 
* Oregon fans will disagree, of course.
Expectations are high for Charlie Strong at South Florida, and Houston looks to take the next...

There are new names to learn every season, and here are five to keep an eye on from the AA...

Taking a close, detailed and opinionated look at the AAC a week before the start of the 2017...
These Jayhawks got a tremendous surprise they weren't expecting

Jovon Durante announced on Twitter he's headed to FAU

From Week 1 through the title game, everything runs through Atlanta this season