Boston College reintroduces live eagle mascot
Game day at Chestnut Hill just got more interesting.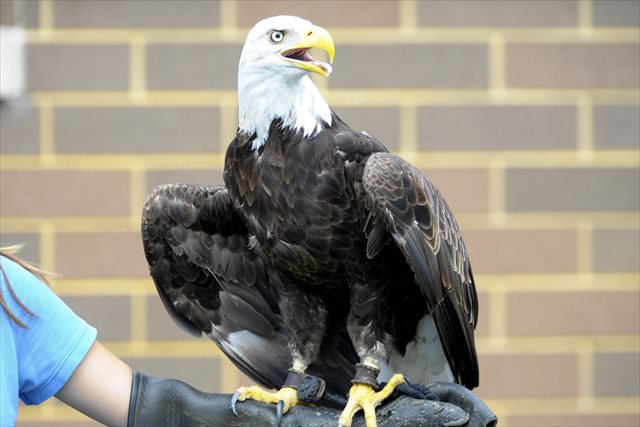 It remains to be seen how much improvement Steve Addazio can make in the win column in his first year at Boston College, but at least there's going to be one major improvement to the Alumni Stadium game day experience: a new live eagle mascot.
The school announced last week that it was partnering with Zoo New England to bring a live bald eagle to the stadium for the first time in 47 years. B.C. enlisted a bald eagle named "Margo" (named for the school colors of maroon and gold) from 1961 to 1966.
"It is time that we bring back some of our old traditions and create new ones," athletic director Brad Bates said. "We are fortunate to have a majestic and imposing mascot and showcasing an eagle in ways that are inspiring and educational will provide an exceptional opportunity for our fans while connecting with our history."
Fans can snap their picture with the nine-year-old male bald eagle before home games in a mascot "meet-and-greet." But one Eagle fan will have much more of an interaction with the bird than that; through social media, the school is asking for suggestions on what the mascot should be called.
Have you submitted your suggestion for the name of our live eagle? Use #NameBCsEagle or email bcsocial@bc.edu

— BC Athletics (@BCSportsNews) September 1, 2013
The chosen name will be unveiled at the Sept. 28 home game against Florida State.
We'd go with "Glenn Foleygle," but whatever's selected, a stadium with an eagle is always more exciting than one without. Kudos, B.C.
A concert is a nice way to break up preseason camp

Mills was arguably Georgia Tech's most important player coming into the season

Hugh Freeze's phone records reportedly show another troubling pattern for Ole Miss
They aren't necessarily great teams, but they're teams I'm really interested in following this...

The Irish will wear them on Nov. 18 against Navy

The fourth-year coach of the Nittany Lions led the program to the 2016 Big Ten Championshi...