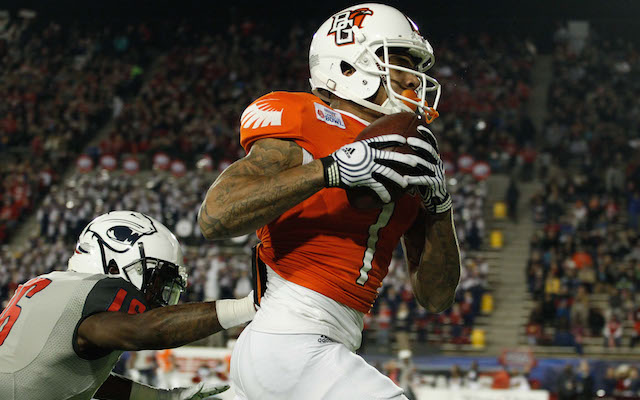 The final game of the first day of bowl season proved to be the most exciting, as Bowling Green and South Alabama exchanged the lead a couple of times in the final minutes before the Falcons pulled off a 33-28 victory. 
Story of the game: The majority of the game wasn't all that intense, as South Alabama got off to a slow start and Bowling Green took a 20-7 lead into halftime. The Jaguars would cut the lead to one score in the third quarter and then immediately give up another touchdown to go down two scores. It was a theme that would unfortunately continue for the Jaguars. After a fourth-quarter comeback, the Jaguars managed to take a 28-27 lead with 1:20 remaining in the game. One play and 16 seconds later, Bowling Green's James Knapke hit Roger Lewis for a 78-yard touchdown pass to give the Falcons the lead right back. They wouldn't give it up again.
Players of the game: Those honors belong to the aforementioned James Knapke and Roger Lewis. Knapke finished the day with with 368 yards passing and two touchdowns, and both of those touchdowns would go to Lewis (one from 44 yards and the game-winner from 78). Lewis finished with four catches for 137 yards.
Highlight of the game: There were a few, actually. First, we'll start with South Alabama coach Joey Jones getting kicked in the face by his own player...
...and we'll finish with the game-winning touchdown pass.
Just like that! On 1st play of next drive, Roger Lewis hauls in 78 yd TD & Bowling Green back up 33-28 http://t.co/pKqyM9Gr1j #CamelliaBowl

— ESPN CollegeFootball (@ESPNCFB) December 21, 2014
Tweet of the game: This one needs a bit of context, as during the third quarter the side judge working the game was hit in the leg by something thrown by a spectator in the stands. A bit later, South Alabama would fumble inside the Bowling Green 20-yard line, which led to this beauty from Cecil Hurt.
South Alabama is either shooting themselves in the foot or a thrown object from the stands is hitting them there.

— Cecil Hurt (@CecilHurt) December 21, 2014
Grade: B+ -- If this game was only the last few minutes of the fourth quarter it would have been an easy A, but alas, the first 55 minutes of action count as well. An exciting finish is always appreciated, but if you're going to get an A from me, you need to excel the whole way through.