Bowl Bits: Georgia 37, Louisville 14 (Belk Bowl)
Nick Chubb ran all over Louisville's defense as Georgia coasted to an easy 37-14 win in the Belk Bowl.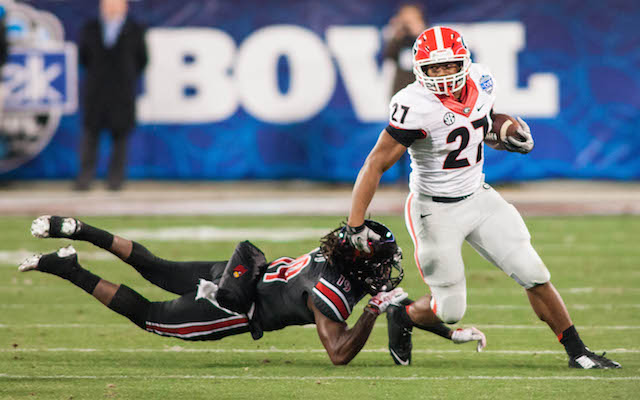 Even though Georgia lost quarterback Hutson Mason in the first half of this contest, it didn't matter, as the Bulldogs ground game proved to be too much for Louisville with UGA winning 37-14.
Story of the game: It was somewhat surprising that Georgia was able to run the ball as effectively as it did. Not because we aren't used to seeing the Bulldogs run the ball but because this Louisville defense entered the game allowing only 93.7 rushing yards per game and 2.9 yards per carry. Of course, Louisville never had to play a team with Nick Chubb and Sony Michel during the regular season.
Those two led the way for the Georgia offense, which lost Mason to what was called "vision issues" in the first half. 
As for Louisville, it's not clear whether the Cardinals would have performed better in this game with Will Gardner, but Kyle Bolin and Reggie Bonnafon clearly weren't the answer. While DeVante Parker can work his way to 120 yards with you playing quarterback if he has to, there just weren't any other threats on Louisville's offense in this game, and it's hard to play one-on-eleven.
Player of the game: The one and only Chubb. You watch this kid play and you forget that he's a true freshman because he just looks so much better than everybody else on the field. Chubb set both a Georgia record and a Belk Bowl record for rushing yards, finishing the day with 269 yards and two touchdowns. That gives him 1,550 yards on the season, which is the fourth-highest single season total in Georgia history.
The top three totals all belong to Herschel Walker, and any time you're being included in the same sentence as Walker, it's a good thing. In fact, the only time it'd be a bad thing is if somebody was asking, "You gave up how many draft picks for Herschel Walker!?"
Highlight of the game: Nick Chubb Nick Chubb Nick Chubb Nick Chubb.
Nick Chubb has found the end zone! The Freshman RB goes 31 yards for the TD to stretch Georgia lead to 17-7 http://t.co/T9D7oGXhrc #BelkBowl

— ESPN CollegeFootball (@ESPNCFB) December 31, 2014
Tweet of the game:
I only include this tweet because my mother bought me a Kohl's gift certificate for Christmas. We don't have Belk in Chicago. Anyway, thanks mom!
Still amazed that we don't have a Kohl's Bowl. (Halftime music by Dave Grohl.)

— Ryan Nanni (@celebrityhottub) December 31, 2014
Grade: C-. As far as this game being competitive, the grade was more of a "D" than anything, but the performance of Chubb alone was worth the "C." I had hoped a game between two ranked teams would have been more competitive, but as I said earlier, Louisville just didn't have the offense to compete with Georgia in Charlotte. 
Locksley joined Alabama's staff in 2016

Saban reportedly wants to hire Freeze, but there may be things keeping that from happening

Florida State-Miami will be on Oct. 6, and the Seminoles will play Clemson on Oct. 27
Weis Jr. was an offensive assistant for the Atlanta Falcons in 2017

Lott is joined by three current athletic directors and will serve a three-year term

These are the top guys every school is still chasing