Bowl loss doesn't stop Taylor Martinez from talking SEC smack
45-31 defeat to Georgia hasn't convinced Taylor Martinez the Big Ten isn't the better conference.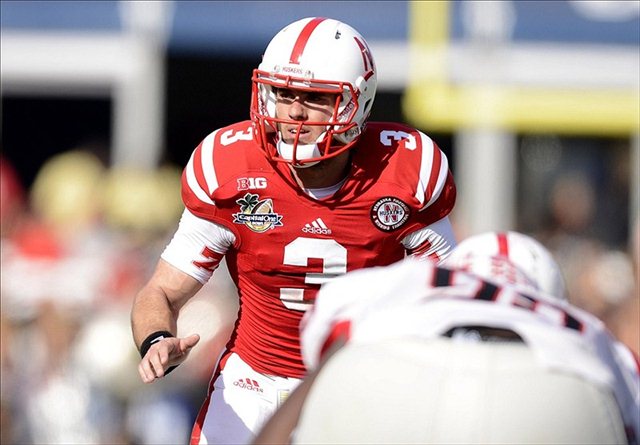 Taylor Martinez wasn't done talking about Georgia's defense. (US Presswire)
Nebraska quarterback Taylor Martinez's comments about the Georgia defense before the Capital One Bowl -- that the Bulldogs were "just another typical Big Ten defense" -- weren't quite in the same neighborhood as Jordan Lynch's about Florida State, but they also weren't exactly complimentary. Did the Huskers' 45-31 loss to the Bulldogs (and Martinez's offense being shut out for the game's final, decisive 24 minutes) change his tune?
Not in the slightest. Per the Lincoln Journal Star, the defeat only served to make Martinez even more insistent that Georgia -- and the entire SEC -- isn't anything special.
"I think the Big Ten, talent-wise, is a lot better, and the defenses in the Big Ten are better than SEC defenses," Martinez said. "This was supposed to be one of the top defenses in the SEC, and we pretty much did anything we wanted against them."
Even putting aside the question of why "anything we wanted" didn't include the Huskers scoring a single point in the game's final quarter-and-a-half, Nebraska's Capital One Bowl performance simply doesn't warrant Martinez's boasts on behalf of his conference.
The 5.6 yards gained per-play by the Huskers was their fourth-worst mark of the season, and two of the three lower numbers were in blowouts vs. offense-deficient opponents (Minnesota and a Michigan team playing third-stringer Russell Bellomy at quarterback) where Nebraska took its proverbial foot off the pedal.
In fact, Nebraska's performance actually suggested the opposite of what Martinez does, in terms of the SEC-Big Ten comparison. Despite its lofty preseason expectations, Georgia was a middle-of-the pack SEC defense in 2012, finishing a clear sixth in total defense behind No. 5 Vanderbilt. But against the Huskers, in yards-per-play, the Bulldogs outperformed the Big Ten's No. 1 (Michigan State), No. 3 (Wisconsin, twice), No. 4 (Penn State) and, yes, No. 6 (Ohio State) defenses.
It's a small sample size. But the Capital One Bowl results, at least, argue that the average SEC defense would, in fact, rank among the Big Ten's best ... and that Martinez is flatly wrong.
It's not just Martinez among the Huskers showing a little less respect for their conquerors than normal. This is what running back Ameer Abdullah told the Omaha World-Herald:
"I don't care if it's 'Bama, I don't care if it's Notre Dame. Georgia was nothing special. We came out, we had 'em tied. We just didn't finish. I feel like we're a better ballclub than those guys. You saw that early. We just didn't finish. ...

"We knew they were gonna come out lively and talking. But if you hit 'em in the mouth a couple good times, they were gonna lay down. And that's what we did. We just didn't finish."

Feel free to feel whatever you'd like to feel, Mr. Abdullah. But who has the "better ballclub" is typically measured by who has more points at the end of the game.
And as for Mr. Martinez, his willingness to vouch for his adopted much-maligned league is admirable; he's not wrong that the Big Ten does in fact have many good defenses and many good defenders. But it's hard to think his description of his offense's output as "pretty much ... anything we wanted" in a two-touchdown loss is anything other than sour grapes.
HT: Brian Towle, via TeamSpeedKills
For more college football news, rumors and analysis, follow @EyeOnCFB on Twitter, subscribe to our RSS Feed, college football newsletter, and get the Eye On College Football Podcast from iTunes. You can follow Jerry Hinnen on Twitter here: @JerryHinnen.
Olson has a lot of the tools offensive coordinators want in a quarterback

The Tigers have a wealth of talent at their biggest position

Pineiro received the award for stopping an attack the morning of Oct. 15, 2017
The first opening weekend lines for college football in 2018 have been posted

A year-end wrap-up of college football statistics you need to know from 2017

Stanford produces apps and Super Bowl participants