Bowl/playoff projections: Impact of Oklahoma State loss
The Cowboys were upset at West Virginia, but still project to win the Big 12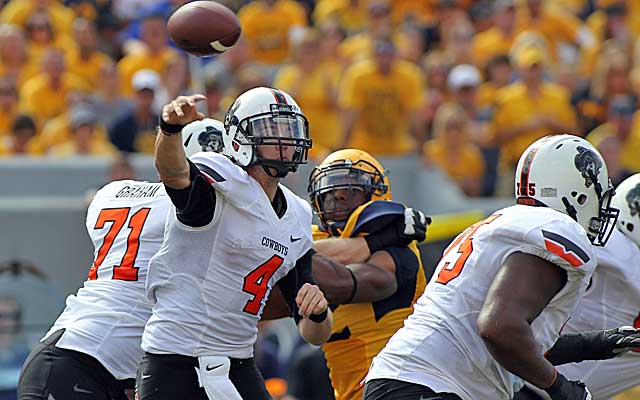 Oklahoma Sooners State was stunned at West Virginia on Saturday, throwing open the Big 12 race.  However, I am still projecting the Cowboys to win the Big 12 because they still have the most favorable schedule among the contenders.  OSU will host TCU Horned Frogs , Baylor Bears and Oklahoma.  I think the league race will come down to that Bedlam game, and for now, I'm still sticking with the Cowboys at home.
The Sooners looked good though at Notre Dame Fighting Irish .  The offense seems to be functioning better with Blake Bell taking the snaps at QB.   The loss likely eliminated any margin for error for the Irish.  Winning out would make them 10-2, and put them in the BCS.   They might qualify at 9-3, but they might not.  They still have Arizona State in Dallas this week, plus a game at Stanford Cardinal .
Ohio State Buckeyes won the Big Ten Leaders division championship game over Wisconsin Badgers this weekend.  The Badgers now need the Buckeyes to lose twice to have a chance to play for the Big Ten title and make their fourth straight Rose Bowl.  They could be selected as a replacement for Ohio State, but probably only if there is no other choice.
LSU Tigers took its first conference loss at Georgia Bulldogs , but unlike Texas Longhorns A&M, the Tigers still control their own destiny in the SEC race because that was not a division game.
If we had a playoff this year:
This section of the blog describes what things might look like if the new playoff system were in effect this year.  It's different than the regular bowl projections in that it is based on current data.  Beginning next year, a selection committee will not only select and seed a playoff, but also put together matchups for the other four bowls in the playoff rotation.  The five major conference champions are all automatically placed in one of those six bowls.  The American conference is not part of that group.  The highest rated team from outside those leagues is also guaranteed a spot.
If a playoff started today, it would probably look like this:
Sugar Bowl: No. 1 Alabama Crimson Tide vs No. 4 Clemson Tigers
Rose Bowl: No. 2 Oregon Ducks vs No. 3 Ohio State
Cotton Bowl: Texas A&M vs Oklahoma
Orange Bowl: Florida State vs South Carolina Gamecocks
Fiesta Bowl: Stanford vs LSU
Chick-Fil-A Bowl: Georgia vs Louisville Cardinals
The Michigan coach had quite a few things to say on Monday after their visit to West Lafay...

Injuries are ravaging an LSU team that is searching for an identity

Jones started answering an injury question and then went off about 'fake news'
The full ranking of all 130 college football teams includes TCU up and a major drop for Florida...

The charges all stem from an investigation into improper debit card charges

LSU at Florida has been picked as the SEC on CBS Game of the Week