Bowl projections: Changes abound in the bowl landscape
The College Football Playoff isn't the only change to the postseason as we enter 2014.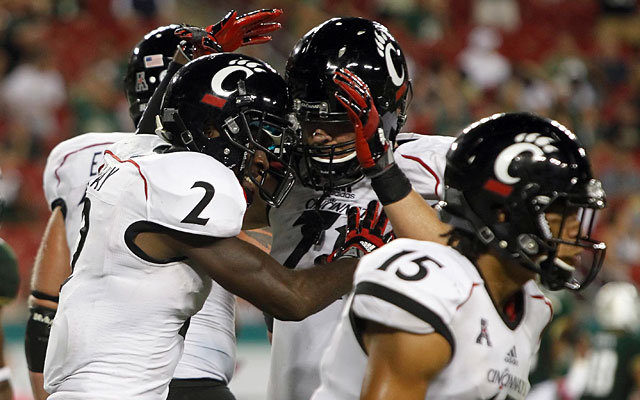 The College Football Playoff is here, such as it is.  It looks a lot like the Bowl Championship Series on steroids, but I digress.  To take a look at the changing landscape, I have posted pre-preseason bowl projections.
The CFP consists of six bowls.  Three are "contract" bowls, which means they are contracted with conferences for participants.  Those are the Rose (Big Ten champ vs Pac-12 champ), Sugar (SEC champ vs Big 12 champ) and Orange (ACC champ vs SEC/Big Ten/Notre Dame).  The others (Cotton, Fiesta and Peach) are called "host" bowls and will have at-large teams, one of which will be the highest rated champion of one of the non-major conferences (Group of Five).
Those six bowls will rotate as semifinal bowls on a three year schedule.  This year, the semifinals are the Rose and Sugar Bowls.  In years that a bowl hosts a semifinal, its conference contracts are irrelevant.  That means that, for example, if the Big Ten champion is a semifinalist this year, it won't be required to play in the Rose Bowl.  Also, in semifinal years, the contract teams of the semifinal bowls will appear in one of the other CFP games if it is not selected for the playoff.  So, if the Big Ten champion is not selected for the semifinals this year, it will play in one of the other four games.
The six CFP game matchups are created by the selection committee based on its rankings.  The six conference champions that automatically participate, regardless of rankings, plus the next six highest rated teams, will be the pool of teams for the six bowls.
My preseason semifinal matchups are No. 1 Alabama vs No. 4 Oklahoma in a rematch of last year's Sugar Bowl and No. 2 Florida State vs No. 3 Ohio State in the Rose Bowl.
I realize this violates the unwritten rule that the playoff contain a minimum of four SEC teams, but I have a good excuse.  My editor didn't catch it.
The playoff isn't the only change though.  There are four new bowls, bringing the total up to 38 (not counting the title game, which isn't technically a bowl) and there are several changes to which conference will play where.  I won't detail every change here, but the four new bowls are the Bahamas Bowl, Boca Raton Bowl, Camellia Bowl and the Miami Beach Bowl.
That means we now need 76 eligible teams to fill them all.  Idaho, Penn State and UNLV are ineligible this year due to sanctions.  I came up with 75 eligible teams. There is a procedure used to fill the bowls in that circumstance, so I added 5-7 Boston College, which is the top-rated 5-7 team in the APR.
Led by Heisman Trophy winner Baker Mayfield, the Big 12 finished with seven first-team sel...

Schiano would have made $4.4 million in Year 1 with annual raises as part of a six-year de...

Dykes spent this season as an offensive analyst at TCU
The 'Wyoming Wild Man' notched six tackles for loss as a junior in 2017

Zaycoven Henderson was charged with aggravated assault with a deadly weapon

Patterson is a former No. 1 recruit in the country