Bowl season preview: 35 things to watch
Jeremy Fowler helps preview the bowl season with 35 things he's looking forward to.
• 9 min read
The bowl season is less than two weeks away. Here are 35 things I'm looking forward to watching -- that's one thing for each bowl game.
1. Jan. 1 games: Happy New Year! Now here's Baylor, UCF, Michigan State, Stanford, Iowa, LSU, Wisconsin, South Carolina, Georgia, Nebraska, UNLV and North Texas for your enjoyment. Please use the clicker wisely.
2. Tre Mason: Tre on the Georgia Dome turf was like ice skating with pads. Now he'll take to the Rose Bowl field against FSU's physical front. If running lanes clog up, how will this guy improvise?
3. Auburn's rushing offense vs. Florida State's rushing defense: Auburn averages 3.5 rushing touchdowns per game. FSU's defense averages 0.0 rushing touchdowns allowed per game. Yep, this is gonna be awesome.
4. Jameis Winston: Winston's offensive game plan is simple -- "Ma-tri-cu-late the ball downfield," as he said after a win over Florida. Winston hasn't really had a bad game. In the two games he threw two interceptions, he also passed for 300 yards. He's responded every time a defense applied effective first-half pressure. Can Auburn get a lead and sustain it against him?
5. Snow ball: Notre Dame downgrades from the 40/40 club to the local bodega with its fall from the title game to the Pinstripe Bowl, but that's no knock on the NYC bowl. Let's see about a six-inch storm to make this one interesting. Curious to see how motivated Notre Dame will be for this one. You know Rutgers will be. They sneaked into 6-6 range.
6. Johnny's last game: Johnny Football in Atlanta will be as crunk as an Outkast-Goodie Mob reunion tour. After playing through minor injuries all year, Manziel should be refreshed for the Chick-fil-A matchup with Duke. Flash your dollar signs one more time for JF.
7. Texas-Oregon: The bowl folks got this one right. Say it with me: Compelling matchups. That's what it's all about. Hard to go wrong with these two. Marcus Mariota should be full speed on that bulky knee, but Texas can recover from a rash of injuries, too. Will this be Mack's last stand?
8. Vegas: One of the best December matchups will be Fresno and USC in the battle for the Royal Purple. Royal Purple is the sponsor. It also makes motor oil, which can't possibly supply enough to fuel Derek Carr's prolific attack. But USC will be the best defense Fresno faces all year.
9. Master bowl lists: Print out one and place in the kitchen, magnet to fridge. From Dec. 21 to Jan. 6, nearly every day will have a game. You must know this. The master bowl list will help you. In fact, CBSSports.com can help you here. Come along. Tell relatives.
10. UCF getting its BCS shot: Well, ESPN wasted little time bashing the Knights shortly after the BCS matchups were announced. But before you dismiss this as a 40-point blowout, UCF is more than a cottage-industry, run-and-shoot small school. There's NFL talent on this roster, starting with potential first-round pick Blake Bortles.
11. Ka'Deem vs. Andre: Two of the best running backs in the country getting after it in Shreveport on New Year's Eve. Yes, please. Arizona running back Ka'Deem Carey operates in a no-huddle attack, while Boston College's Andre Williams thrives in the Eagles' old-school approach. The contrasting styles will be a lot of fun.
12. Jordan Matthews: Make sure to catch the BBVA Compass Bowl to watch the country's most underrated receiver (probably because he plays at Vandy). Matthews averaged 100 catches and 1,329 yards the last two seasons with spotty quarterback play. Somehow, he didn't make the Biletnikoff Award cut.
13. Bo Pelini: In his last game, Pelini was flagged for swinging his hat near a ref and dared his athletic director to fire him. What do you got next, Bo? If there's one thing Pelini's not, it's uninteresting. A win over an SEC school -- the injury-riddled Georgia Bulldogs -- would help offset a shaky year.
14. Buffalo Wild Wings: This bowl has created a good niche in line with the BWW brand's rising popularity nationwide. Was kind of looking forward to K-State/Nebraska, reliving an old Big 12 rivalry, but Michigan will draw tickets in Tempe. For two 7-5 teams, this is about the best BWW could do.
15. GoDaddy -- The Interim bowl: Arkansas State has already lost Bryan Harsin to Boise State, and Ball State's Pete Lembo's name has surfaced in relation to other college football vacancies. Who's gonna coach this game? It should be entertaining regardless, especially with BSU's Keith Wenning slinging it.
16. LSU's offense: With Zach Mettenberger out with an ACL tear, it's time to see what Cam Cameron's offense looks like with Anthony Jennings, who looked crisp orchestrating a 99-yard, game-winning drive against Arkansas. LSU will stick with its pro-style set for the Outback Bowl against Iowa.
17. Man ball: Stanford and Michigan State might feature a vertical passing attempt every four plays or so. Otherwise, this game will be ground-and-pound personified. Unleash the big boys up front and let running backs Jeremy Langford and Tyler Gaffney get 3 and 7 and 3 and 50.
18. Mizzou's Big 12 return: The Big 12 should wear Mizzou's success in the SEC as a badge of honor. The Tigers struggled to win a Big 12 title but nearly snatched an SEC crown in Year 2. Oklahoma State and Mizzou reunite in the Cotton Bowl for what promises to be a delightful light show courtesy of Gundy and Pinkel.
19. Upset specials: Most bowls are evenly matched but there are a few double-digit-point spreads that could go the other way -- Rutgers vs. Notre Dame (-16 1/2), Arizona State vs. Texas Tech (+13 1/2) and Duke vs. Texas A&M (-12 1/2).
20. Fight Hunger Bowl: Washington and BYU average a combined 1,000-plus yards of offense, with both ranking in the national top 15 in total offense. This Friday night game (Dec. 27) shouldn't disappoint if you're looking for a 53-49 score and marginal defense.
21. Aaron Donald: The Little Ceasars Bowl pitting Pitt against Bowling Green isn't the sexiest matchup of the bowl seasons, but Aaron Donald is worth the price of admission. The Nagurski Award winner led the nation in tackles for loss (2.2 per game) and finished 13th in sacks with 10.
22. Clemson-Ohio State in the Orange Bowl: This matchup was inevitable as soon as the Buckeyes dropped the Big Ten title game to Michigan State. Clemson was spanked by West Virginia in its last Orange appearance, so Dabo won't be short of motivation for his crew. Ohio State will savor the moment of a BCS bowl after staying at home last year because of NCAA sanctions.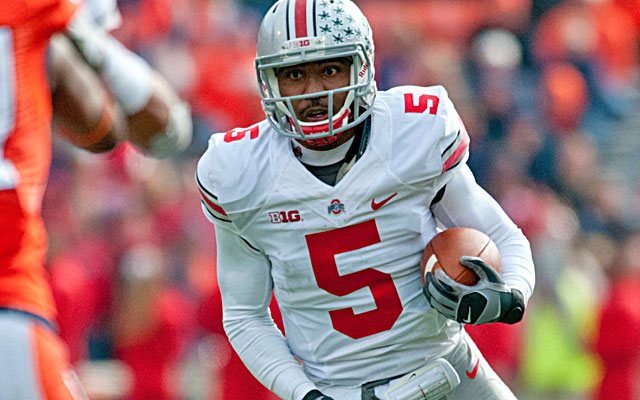 23. Marion Grice chasing ASU history: After a lava-hot start to the year, injuries have Arizona State running back Marion Grice stuck on 20 touchdowns -- two short of the ASU single-season scoring record. Texas Tech's struggling run defense might help Grice catch the record in the Holiday Bowl.
24. New Mexico Bowl: Last year's Arizona-Nevada game was a tone-setter for the bowl season, and Washington State-Colorado State has potential for similar fireworks. Mike Leach's offense will throw the ball 183 times and Colorado State is rejuvenated in Jim McElwain's second season.
25. Myles Jack: The Pac-12 freshman of the year as a running back/linebacker will rush the ball, score touchdowns, force fumbles and sell popcorn at halftime for UCLA. Virginia Tech's defense will be ready in the Sun Bowl on Dec. 31.
26. One last Carlos Hyde bulldoze: On 4th-and-2 in the decisive play against Michigan State in the Big Ten title game, Braxton Miller got the ball, which is understandable -- he's Ohio State's star quarterback. But Hyde can get you two yards. He got two fourth-quarter carries against Michigan State, but expect the Buckeyes to pound the rock against Clemson in the Orange Bowl.
27. Jadeveon Clowney returns to Florida: Clowney will play in the Capital One Bowl, about an hour north of where 'The Hit' happened last year against Michigan. The forced fumble/one-handed scoop fueled hype for an immensely talented player who underwhelmed at times in 2013 and finished with three sacks as offenses schemed around him. But before Clowney heads to the NFL, let's hope Wisconsin Joel Stave drops back enough to see what Clowney can do.
28. Tommy Rees going out strong: Rees was always there for Notre Dame, like the guy stuck in the friend zone that has coffee with the girl anyways because he's a nice guy. But Rutgers' shaky pass defense gave up more than 3,700 yards this year. The Pinstripe Bowl could be Rees' day in the sun -- or the snow.
29. Bowl of the understated upswing programs: The Heart of Dallas Bowl will feature two programs that have done sneaky-good jobs -- eight-win North Texas under Dan McCarney and seven-win UNLV under Bobby Hauck. Hauck entered the year with serious heat surrounding his job status but won his way into an extension. The Mean Green has some exciting athletes. If you've never seen Brelan Chancellor return a kick, your Saturdays have gone unfulfilled. 
30. Don't sleep on Oklahoma: Ho-hum, another 10-win season for Bob Stoops. After Texas A&M dismantled Oklahoma's defense in last year's Cotton Bowl, expect a spirited performance from the Sooners against Alabama in the Sugar Bowl.
31. Music City: Ole Miss draws great crowds, and Nashville's close enough to Atlanta that Georgia Tech should have a good crowd. This game will have atmosphere, triple option ball and two Nkemdiches.
32. Kelvin Benjamin: When Winston gets pressured, he can heave it to this mini-Megatron. The 6-foot-5, 234-pound Benjamin gets FSU 19. 1 yards per catch and a touchdown nearly every third time he touches the ball. Let's see what he does on the biggest stage.
33. Oklahoma State's defense: The Bedlam rivalry ended bitterly for the Cowboys, but Glenn Spencer's unit is still going strong. The Sooners won last week at OSU despite one offensive touchdown. Expect the Pokes' aggressive cornerbacks to challenge Mizzou's big receivers in the Cotton Bowl.
34. Poinsettia: Another compelling small-school matchup. NIU is -- well, clearly you know about Jordan Lynch -- and Matt Wells did a nice job keeping Utah State together despite injuries to quarterback Chuckie Keeton and several other key players. This one could be more evenly matched than it would appear on paper.
35. The Defense bowl: Or maybe it's Offensive Allergy Bowl. Syracuse and Minnesota, this year's Texas Bowl participants, rank 100th and 80th in scoring offense, respectively. That's OK by me. Both teams play inspired ball and thrive off toughness.
College football bowl games were all announced on Sunday, and you can check out the entire...

SportsLine simulated every bowl game 10,000 times for pick'em leagues and confidence pools

Everything you need to know to watch and pick the Las Vegas Bowl on Saturday
Everything you need to know to watch and pick the Camellia Bowl on Dec. 16

Everything you need to know to watch and pick the New Mexico Bowl on Dec. 16

Everything you need to know to watch and pick the Cure Bowl on Saturday