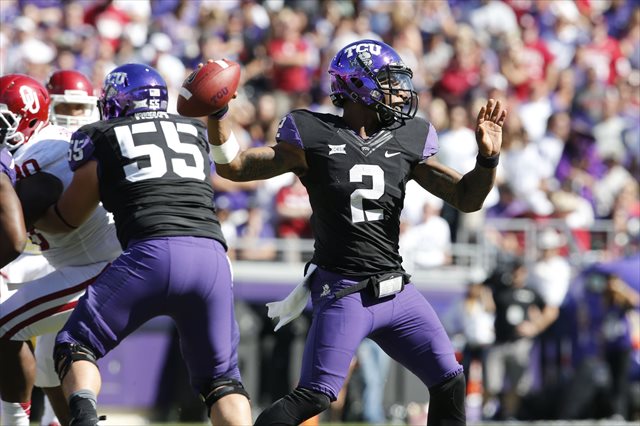 The topic of signal stealing flared after Auburn's recent win at Kansas State, when Bill Snyder said the Tigers were able to decipher some of the Wildcats' signals during the teams' first half.
There's bound to be more discussion on the topic in the Big 12 after TCU quarterback Trevone Boykin and coach Gary Patterson said Oklahoma transfer quarterback Baker Mayfield helped the Sooner staff read the Horned Frogs' signals in TCU's 37-33 upset. Mayfield worked with first-year Frog co-offensive coordinator Sonny Cumbie at Texas Tech in 2013.
"Old Baker Mayfield was on the sidelines and calling out every freaking signal we had, so shout out to Baker Mayfield and OU for that," Boykin said after the game, per the Fort Worth Star-Telegram.
"You can know [the call], but the whole question is can you stop it and executing every play," Boykin said. "I guess, I don't know, it's just a shout out to them."
According to the Oklahoman, Fox reported at halftime of their game broadcast that Patterson had also said Mayfield had been reading the Frog signals. Mayfield "was on the sidelines in street clothes, often standing right with Sooners defensive assistant at the front of the group," according to the paper.
Bob Stoops said that Mayfield wasn't making an effort to help the Sooners with TCU's signs.
"No," he said when asked, per the Oklahoman. "We did want to know between timeouts if there was anything we could notice. We have other players looking for things they notice as well. He didn't have a headset on, no."
Despite his walk-on status at Texas Tech, Mayfield is not eligible to play for Oklahoma this season after having a waiver request denied by the NCAA, though he did receive clearance from Tech and the NCAA to receive a scholarship.