Braxton fallout: End of an era, Big Ten hopes and playoff dream
Braxton Miller's season-ending injury changes everything at Ohio State. A good zone-read quarterback is like a good point guard. Now the Buckeyes have to start over with a redshirt freshman leading a team with championship aspirations.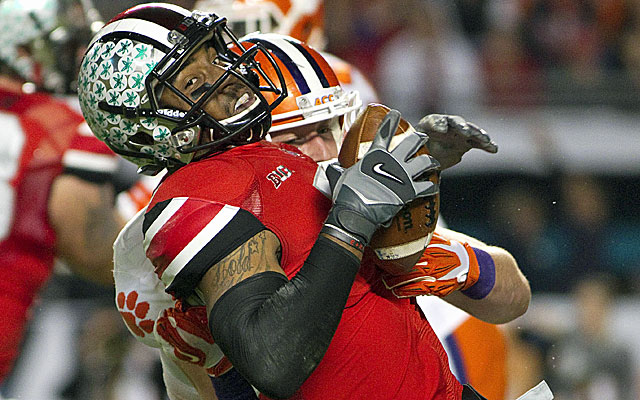 Conference previews: ACC | Big Ten | Big 12 | SEC | Group of Five/Independents
Thoughts and prayers go out to Braxton Miller, greater Columbus and assorted Bucknuts. The great quarterback's season-ending injury changes everything.
Preseason polls have become birdcage liners. No Braxton means no playoff. It doesn't do wonders for the Big Ten's rep and schedule strength, either. The tragic injury may open the door for Michigan State to repeat but even a win over the Bucks on Nov. 8  suddenly has to look less impressive to that 13-member playoff selection committee.
Ohio State 's best player is reportedly done for the year.
"We are to consider injuries, so we will," that playoff committee's chairman said Tuesday from his office.
Jeff Long is also the Arkansas AD. One reason he was chosen to oversee the committee is his vast experience at big-time football schools -- Michigan, Virginia Tech, Oklahoma, Pittsburgh. Throw in Arkansas and his resume includes experience at schools currently in four of the Power 5 conferences.
On the subject of Ohio State, perhaps the most powerful collegiate athletic committee ever assembled has time to let the news breathe. It isn't like Miller went down in early December with a championship on the line. But it could come to that.
Long was mostly non-committal on the subject. Before the official word on Miller came down Tuesday, Long was asked that hypothetical question: What if a key player for a playoff-contending team is knocked out of -- or shortly before -- a conference championship game?
The hypothetical answer could apply today.
"Certainly there is a discussion about the backup quarterback could step and lead them to a championship," Long said. "We've seen those examples in our history and then we've seen teams that weren't quite the same when a star player goes out.
"That's something that humans can do that the computers and polls don't necessarily take all of that into account."
Taken to its extreme, this one injury may have settled the lineup for the first Football Four. The champions of the Pac-12, Big 12, ACC and SEC look fairly solid at this point as playoff participants.
Cruel fate may have taken care of the playoff's incongruous math. Five power conferences don't fit into those top four spots. (Perhaps) the Big Ten's best team (definitely) did lose its best player. Math problem solved?
Certainly not the perception problem that has nagged the Big Ten. Put is this way: One thing the league cannot afford is another hit to its competitive reputation, even with an objective committee looking on.
Preseason top five? Really? With redshirt freshman J.T. Barrett taking over, the Bucks face a suddenly significant challenge in the opener against Navy on the road. And there were other concerns, such as the loss of the Big Ten's leading tackler (Ryan Shazier) and top tailback (Carlos Hyde). The offensive line is mostly new.
The returning quarterback we may never see again in college. We feel for you C-bus. We really do.
You were witnessing the maturation of an elite young athlete into an outstanding young adult. The promise of 2014 for Miller and the Buckeyes was palpable. In most preseason metrics, they were Big Ten favorites. Maybe there was a Heisman lurking out there too for Miller.
"I walk by [the trophies] a lot," Miller said last month. "Eddie George, Troy Smith, Archie [Griffin]. I have to get it. I'm doing whatever it takes."
Tears your heart out. The hurt oozing from the Scarlet and Gray is equally discernible. A good zone read quarterback is like a nimble point guard in the current football culture. You saw what Johnny Football did for a school, an offense and an awful defense.
Ohio State didn't just lose a quarterback, it lost its firestarter, its soul. It lost a 1,000-yard rusher and a 2,000-yard arm.
Miller was the athletic version of a federal bailout. If everything else broke down, an elusive, tough, smart 6-foot-2, 220-pound specimen could be counted to scramble for a first down, while taking on a linebacker or two. Some even consider him an NFL running back.
"What most people forget is that strength of schedule when you begin a season looks one way and by the end of the season can look a completely different way," Long said.
Today, in the eyes of the football world, Ohio State just isn't the same team. Not when Barrett, that redshirt freshman backup, is coming off an injury himself. Turns out he blew out his ACL during his senior season in Wichita Falls, Texas.
In his case, there was no selection committee around to pass judgment.
From Chip Kelly to Billy Napier, did these schools and coaches make the right calls this silly...

SportsLine's computer model simulated every college bowl game 10,000 times, with surprising...

Everything you need to know to watch and pick the Boca Raton Bowl on Tuesday
College football recruiting begins earlier than normal with a National Signing Day in Dece...

Getting Leavitt back was obviously high on Cristobal's list of priorities

Cristobal's first game at Oregon ended the same way Chip Kelly's did