Braxton Miller returns in style and Ohio State's streak lives on
Braxton Miller comes back and reminds the nation why he was a preseason Heisman favorite in beating Wisconsin and extending Ohio State's winning streak to 17.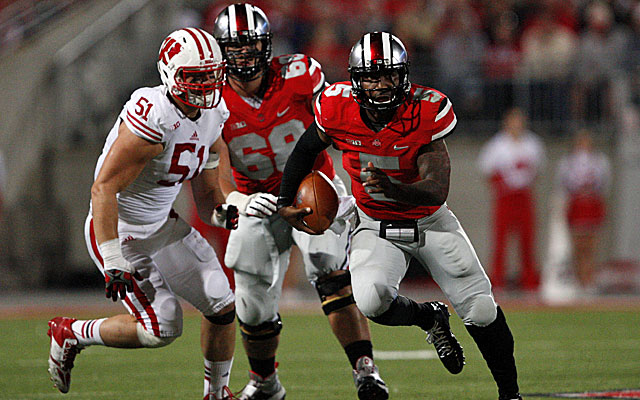 COLUMBUS, Ohio – That quarterback controversy contrived/enabled by Urban Meyer is sooo last week.
That was assured with one second left in the first half Saturday when Ohio State's Braxton Miller hit Corey Brown with the worst Hail Mary you'll ever see. That's because the 6-foot Brown was so wide open running a streak pattern that Miller wisely zinged a line drive on fourth down from the Wisconsin 40. There was no need to throw a jump ball in the end zone because Brown was so wide open in the end zone.
Good move especially since Miller had almost thrown an interception on the previous play.
"I told coach, 'Let's throw it again,' he said. "I made up for it on the next throw."
Ohio State's 31-24 win over the Badgers was Miller's comeback stage after missing nearly three full games with a knee injury. Against a team that had yet to allow a passing touchdown, he tied a career high with four scoring passes. He also broke Cornelius Greene's 38-year old record for career rushing yards by an Ohio State quarterback.
Not that Miller ever lost his starting job but when the team's backup quarterback (Kenny Guiton) has the fourth-most touchdown passes in the country, people talk. They especially talk in and around Columbus where Miller was king – until Guiton started looking like the king-in-waiting
"If he was [not] healthy I'd like to get Kenny in the game," Urban Meyer said. "What I saw on Thursday [in practice], then there was no doubt who was going to be our starter."
Whatever, the college football world – including Planet Buckeye – had apparently forgotten that Miller was pretty much the Heisman Trophy favorite in August. That was pre-Alabama when Johnny Manziel was both knee-deep in Sharpies, NCAA allegations and the fallout from his offseason, off-field conduct.
Miller was the low-key, high-upside Buckeye whose only downside with his down side. The kid doesn't exactly light up a room. In fact, he's been portrayed a human dimmer switch when it comes to leadership.
These last three weeks the country had moved on, and for good reason. While Miller was nursing that knee Guiton threw 12 of his 13 touchdown passes.
"I am proud of Kenny and the way he led the team while I was out," Miller said. "I look at him as a big brother. So no controversy with that."
Whether it was gamesmanship or genuine concern, Meyer confused the situation in the lead up to Wisconsin. On Tuesday, Miller was even on the depth chart with Guiton. There was speculation that both might get on the field at the same time. Then on Thursday, Miller was "our starting quarterback," according Ohio State's coach. When Meyer was interviewed on Saturday, he hinted at Guiton getting some snaps.
Intentional or not, the misdirection had the desired effect. Wisconsin may not have been confused, but Ohio State was solidified with Miller back in control. That was evident on Miller's fourth touchdown pass in the third quarter. Stopped in his tracks by a defender, he halted and winged a one-yard touchdown  pass through three defenders once again to Brown.
The games, once again, mean something at Ohio State. Wisconsin marked the first ranked opponent played by the Buckeyes since last year's bowl ban. While everyone talked Manziel, Alabama, LSU and Georgia on Saturday, the Buckeyes quietly build on the nation's longest winning streak, now at 17 games.
Ohio State has a future, along with its starting quarterback.
"We're excited to have him back,"  offensive lineman Jack Mewhort said of Miller. "We need him going forward."
Occidental College was reportedly down to 35 healthy players for the 2017 season

Midway through the season, we make some (more educated) predictions for the rest of the ye...

Babe Ruth supporting the Fighting Irish is one of the best photos of the week
Could two teams from the same conference make it into the College Football Playoff?

Given the schedule and recent performance, can anyone in the SEC stop Alabama?

SportsLine's Barrett Sallee has gone 29-14 against the spread the last two weeks and loves...