Breaking down BCS bowl games, and more from final go-round
If there is a theme to the five BCS bowls, it is loyalty. College football's big boys didn't go much outside their comfort zone.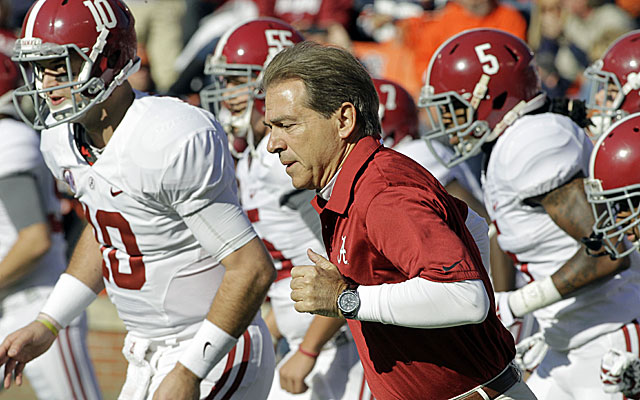 If there is a theme to the five BCS bowls, it is loyalty.
The big boys didn't go much outside their comfort zone. Clemson Tigers to its ancestral home in the Orange. A rare sighting of Alabama Crimson Tide and Oklahoma Sooners on the same field in the Sugar Bowl. The Rose Bowl gets both the Big Ten and Pac-12 champions -- not always a certainty.
What was left flowed, um, downhill. With the last selection the Fiesta Bowl had to take at-large selection Central Florida Gators . The Fiesta has done its part in that respect taking Boise, TCU Horned Frogs and Utah Utes in the past.
The matchups
Orange Bowl: With a chance to go off the reservation and invite perhaps, Oregon Ducks , the Orange stayed loyal to its ACC partner and paired Clemson with Ohio State Buckeyes State" data-canon="Ohio Bobcats" data-type="SPORTS_OBJECT_TEAM" id="shortcode0">.
Remember, the ACC is partnered up with the Orange for the next 12 years in the playoff era. The same goes for the Sugar (Big 12-SEC) and Rose (Pac-12-Big Ten).
Sugar Bowl: Executive director Paul Hoolahan went old school. Nothing wrong with Alabama-Oklahoma. This is a contract bowl a year early. Amazingly, the teams have met only four times, the last time 10 years ago.
Big Game Bob returned in the upset of Oklahoma State Cowboys and lots of folks believe Bama is still the best team in the country.
Fiesta Bowl: Suggestion for Fiesta marketing plan: Hey, come see a September non-conference game in January! They'll need a one-car garage for the media hospitality room for this matchup.
All credit to Baylor Bears and Central Florida but we're not exactly talking a voracious media horde descending upon the Valley. The Knights played in front of about 1,000 fans Saturday in the bitter cold at SMU. That was only about 72,000 less than Auburn Tigers in the SEC title game.
Both schools earned BCS bowl berths. What a country.
Baylor is in because of its first Big 12 title. Central Florida grabbed the American's first/last automatic berth.
Rose Bowl: Michigan Wolverines State is in Pasadena for the first time in 26 years. Bring sun screen, Sparty you'll need it. Stanford Cardinal is in a BCS bowl for the fourth consecutive year.
Fans might as well bring ear plugs. There's going to be some pad slappin'. The teams have met five times total and not since 1996.
BCS title game: The SEC streak is unbroken, for now. Auburn's late inclusion makes it eight consecutive years an SEC team has played for the championship. A Tigers' win obviously, would make it eight straight titles.
Forgetting the LSU Tigers -Alabama 2012 rematch, the SEC has won the remaining six games in that seven-game streak by an average of 16.5 points. Of the SEC opponents over the last seven years, only Ohio State (2006-2007) returned to a championship game.
Given a chance to get back to that pinnacle for the first time since '07, the Buckeyes suffered that crippling loss to Michigan State Spartans .
Meanwhile, Bruce Feldman wrote what I was thinking minutes after the SEC title game: Tre Mason should be in the Heisman conversation. It's stunning that Mason has had second-best rushing season in Auburn history, next to Bo Jackson. It's equally stunning that Auburn has four 500-yard rushers, including two 1,000-yard rushers.
Heisman ballot repped in these games: How my Heisman ballot would look: 1, Winston; 2, Mason; 3, AJ McCarron .
If there were a playoff: How a playoff would look now: No. 1 seed Florida State Seminoles vs. No. 4 seed Michigan State; No. 2 Auburn vs. No. 3 Alabama.
Yes, you're seeing what I'm seeing -- an Iron Bowl rematch. They're going to become more common in the playoff era unless the selection committee intervenes. But that wouldn't be fair to Alabama in this scenario for playing a tougher schedule than Michigan State, being No. 1 all season and losing its only game of the season to a top five team on the road at the gun.
Hmmm ...
Speaking of rematches: If Auburn and Alabama win their bowl games, the top of those final human polls (AP and coaches) are the Iron Bowl. No. 1 Auburn, No. 2 Alabama.
Bye, bye, Coaches Poll (kinda): By the way, less than a month to go until the coaches' poll ceases to be relevant in -- and profit from -- the process. Did Mike Gundy really rank his team higher (Oklahoma State, No. 10) than the rival that just beat him (Oklahoma, No. 12)? Yes, he did. Each school finished 10-2.
Familiar faces
The final BCS game lineup includes the top three in all-time appearances -- Ohio State (10), Oklahoma (9) and Florida State (8).
The Big Ten will retire the team trophy with 28 appearances in 16 years. That beat out the SEC by one game.
There's a reason that the SEC, Big 12, Big Ten and Pac-12 have consolidated their power in the new playoff era. Teams from the four leagues played in 98 of the 140 total BCS games. Monopoly? That's 70 percent.
The next time those schools line up to play next season those conferences will be guaranteed approximately $90 million for their bowl affiliations before a shoulder pad is strapped on.
Small reward
Leave it to the Mountain West -- part of the new non-BCS Group of Five conferences. The league will likely retire the BCS trophy for excellence. There is no such thing, actually. But the conference that didn't exist at the beginning of the BCS 16 years ago will finally and forever be 3-1 in BCS bowls (.750).
That's the highest winning percentage of any conference. It can't be caught unless Central Florida beats Baylor in the Fiesta.
Hey, 1-0 is 1-0. UCF Knights and its conference, the American, drop below that contract bowl Mendoza Line next season.
The junior will take the snaps for the defending national champions in 2017

MetLife Stadium is about 10 miles away from where the World Trade Center buildings once st...

The Terps will wear these against Indiana on Oct. 28.
The coach of the Eagles isn't here for no science talk

These are the teams that are getting too much -- or too little -- love before the season

The Crimson Tide start atop the AP Top 25 poll for the second straight season