Breaking down O'Bannon judge's four most important questions at trial
What the judge is asking lawyers at the Ed O'Bannon trial can shed light on what she thinks are the most important details in the case vs. the NCAA.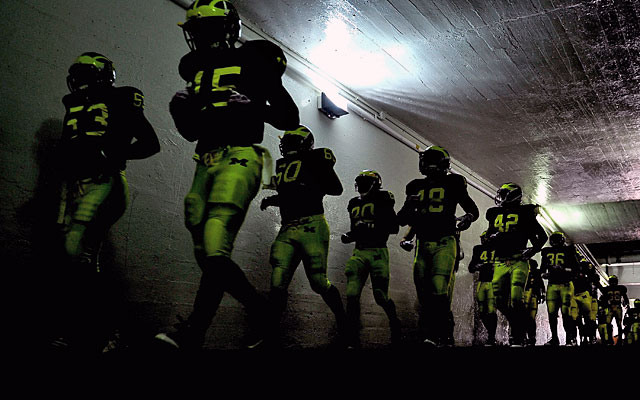 Two weeks are done in the three-week Ed O'Bannon vs. NCAA trial. Published reports suggest NCAA president Mark Emmert and Big Ten commissioner Jim Delany may not have helped the NCAA's case with some of their statements in Week 2. (Read the transcrips here from the testimony by Emmert and Delany.)
Ultimately, both sides are trying to convince one person (as of now, until the appeals come): U.S. District Judge Claudia Wilken. It can be dangerous to make conclusions from questions by a judge during trial. But what Wilken asks sheds some light into her thinking and what's most relevant to her. Here are the four most important questions Wilken has asked so far:
Are football and men's basketball players integrated within university communities?
Under antitrust law, a monopoly can still conduct price-fixing if the effort accomplishes something good (i.e., competitive benefits). Wilken's questions have focused heavily on one of the NCAA's four defenses: Not paying players helps integrate athletics and academics. She asked O'Bannon economic expert Roger Noll, arguably the most important witness in the case, a series of four questions in Week 1.
Wilken: Does Noll think football players hanging out with theater majors benefits both students?   Noll: The demands of playing football and men's basketball hurt athletes' ability to interact with other students, such as in extracurricular activities or through jobs.
Wilken: If players made a lot of money, would they be elite and lack integration with other students?   Noll: There already is a lot of differences based on economic backgrounds and non-athletes can participate in activities resulting in payments, unlike college athletes.
Wilken: Are football and men's basketball players connected to other sports because their sports' revenue contributes financially to those teams?   Noll: When the football team attends a field hockey game, they're the only team there. When the field hockey team attends a football game, they're just faces in the crowd.
Wilken: Should integrating academics with athletics be a reason not to pay players?   Noll: No, because there is so much money made in the two major sports that those demands get in the way of education.
Could money be put in trust fund for players?
Near the end of Emmert's direct testimony about how payments to players would isolate athletes from other students, Wilken intervened again regarding the integration of athletes and academics. "If the money was held in a trust until the athletes graduated, would that have the same effect?" Wilken asked. Emmert said it would because players "would have the knowledge (the trust money) was there, and they would try to use it, to monetize it, to borrow on it."
Wilken followed up by asking whether the same isolation would apply to "students whose parents were rich and had money that other students did not." Responded Emmert: "It is the same problem."
Before trial, Wilken wrote that for the NCAA to succeed on the integration defense it "must present evidence to show that (1) the ban on student-athlete compensation actually contributes to the integration of education and athletics and (2) the integration of education and athletics enhances competition" among the universities for football and men's basketball players.
How are athletes exploited by commercial enterprises?
Wilken pressed Emmert to explain what he meant about the "exploitation of athletes" by commercial enterprises. Emmert explained he's referring to third parties who would take advantage of players, such as agents and financial advisers, "people who would use them as shills for products." Emmert was drawing a line that any payment to an athlete would be exploitation.
"Maybe you don't want that, but do you consider that to be exploitation of them?" Wilken asked. "Or is it just something you don't want to happen?"
Emmert replied, "When this rule again has been discussed by the membership, to the answer to that would be both." When Wilken pressed for further clarification, Emmert said that once a college athlete is converted into a pro athlete, the player is not at college "avocationally but vocationally."
Where's the rest of the money?
Wilken has been heavily focused throughout the trial on money: Who gets it, where does it come from, and where does it go? When NCAA managing director of research Todd Petr finished explaining how the NCAA distributes its revenue, Wilken was perplexed.
"Are we done with all the money?" Wilken asked. An NCAA attorney replied yes. "Where's the rest of it?" asked Wilken, who said she had added $500 million yet Petr estimated a total of $900 million.
Added Wilken: "I'm looking for the big picture." Petr returns to the witness stand on Monday, when Wilken's questions will inevitably resume during the final week of the trial.
Louisville and TCU get big-time bumps after conference rivals fell on Saturday

Georgia jumped four spots to No. 8, while Florida State dropped 14 spots to No. 25

The Bulldogs jumped up to No. 7 after an emphatic win over Mississippi State
The Penn State running back made a case that he's a legit Heisman Trophy contender

The Nittany Lions came up huge when they needed to against Iowa

It just might have been the best game of the season so far