Breaking Down the Buzz: Alabama
Our new series breaks down the current hottest topic for fans of BCS teams are between the end of the season and the start of spring camp. Today: Alabama.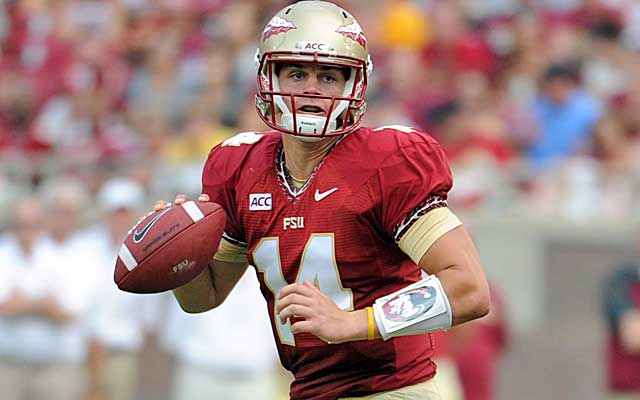 Each Monday, Wednesday and Friday, the Eye on College Football examines what current hot topic the fans of one BCS team are obsessing over -- rationally or not. Today's team: the Alabama Crimson Tide .
What they're talking about is ... Jacob Coker. Even after the departure of Luke Del Rio, Alabama has four quarterbacks on their post-AJ McCarron roster, with a fifth -- four-star, top-100 recruit David Cornwell -- already on campus. With rising fifth-year senior Blake Sims groomed for the starting job for four seasons now, and plenty of depth behind him, the Tide shouldn't have to worry about bringing in a transfer quarterback for 2014, right?
But buzz over the possibility of Jameis Winston's backup and Alabama native Coker riding in to save the two-loss day has been building among Tide fans for months, and not without reason; Bruce Feldman spoke to Florida State's coaches about the redshirt sophomore at the BCS national championship and came away with nothing but the ravest of reviews.
Coker hasn't yet said anything about a possible transfer, but just-graduated Tide receiver Kevin Norwood's radio comments last week -- which assumed the "guy coming in from Florida" would be in the quarterback mix -- set the rumor mill to full blast, and reports that Nick Saban and assistant Lance Thompson met with Coker at his Mobile, Ala. home Tuesday have lit up Tide message boards left and right.
What they're saying is ... GIMME GIMME GIMME. A quick persual of the first page of the Bama Online forum -- which in addition to Tuesday's report includes threads titled "Jacob Coker workout video," "Correct me if I'm wrong about Jacob Coker," "Coker video," and "Quick question regarding Coker," -- should tell you that yes, Tide fans are just a bit giddy over the prospect of adding a potential new starter under center. A sampling of responses from Bama Online's recent report: 
•"This guy and a hunger that only comes from losing and underachievement are our ticket to the playoff next year."
•"Well, there goes your QB spring battle. I know its cliche and all, but I would be shocked if anyone other than Coker was starting in ATL vs WVU this fall."
•"Arguably the most important signee of the Saban era. Possibly the difference between not missing a beat, contending for NCs in 2014, 2015, or a real rebuilding effort until [2015 five-star commitment Ricky] Town is ready in 2016. Yes, I think Coker means that much to us. Damn glad we got him."
•"[In response to who Coker is similar to:] Michael Vick with a side of Tom Brady, topped off with John Elway."
•"I don't think I've heard anyone mention this Jacob Coker ..."
Yes, those last two are sarcasm. This, however, is not, and tells you how deeply Tide hearts are set on Coker's arrival:
•"We will need him to stay healthy."
And what we're thinking is ... you can't blame them. First off, even if nothing is set in stone just yet, it's incredibly difficult to see Coker playing anywhere else in 2014 if he graduates early as expected; he's too good to sit behind Winston for another year, and there's far too much smoke from both the Alabama and FSU side of things to think that either 1. Alabama doesn't actually want him 2. he might actually go someplace else. (Feldman mentions twice here that Coker grew up a devoted Alabama fan.)
At this stage, the bigger question might be if Coker is worth the hype ... and that's the sort of thing that can't really be answered until he sees the field. But both that he pushed Winston for as long as he did and that Saban and Co. are willing to bring in a two-year transfer at all should tell you something, and that something is positive.
Unless, of course, you're Sims. Part of the lack of confidence on the Tide fanbase's part comes down to his iffy showing in the 2013 spring game, when he went 5-of-10 for 52 yards with two interceptions. A much, much bigger spring camp will be necessary to show that the job is still his to lose -- no matter what the buzz today says. 
Florida State and Alabama will face off in a highly touted game in Atlanta in Week 1

Five NC State freshman were punished team rules and code of conduct violations

Browne was benched in favor of Darnold early into last season
There are new names to learn every season, and here are 14 to keep an eye on from the SEC

Taking a close, detailed and opinionated look at the SEC a week before the start of the 2017...

Rosier will start for the Hurricanes in their opener against Bethune-Cookman