Breaking Down the Buzz: Arkansas
Arkansas fans are excited about new defensive coordinator Robb Smith's approach to defense.
Each Monday, Wednesday and Friday, the Eye on College Football examines what current hot topic the fans of one BCS team are obsessing over -- rationally or not. Today's team: the Arkansas Razorbacks.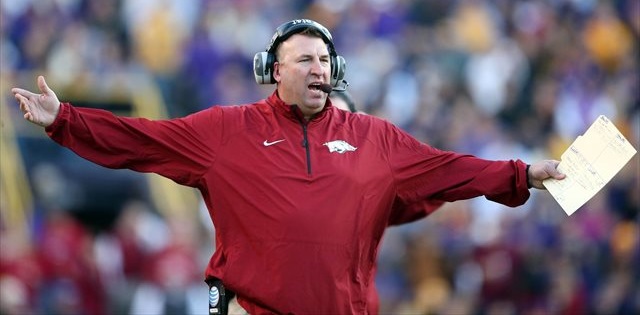 What they're talking about is … Robb Smith. The former Rutgers defensive coordinator was announced as the Hogs' new defensive play-caller over the weekend, replacing the departed Chris Ash, and Bret Bielema didn't shy away from building up his new staff member to the Hog faithful.  
"I know he'll bring in an attacking defensive philosophy that is built specifically to stop offenses in the SEC," Bielema said. "Robb has been promoted time and time again at every place he's been. With his background, he captivates a room no matter where he is and players gravitate towards him. He's demonstrated an understanding of what it takes to build a team into a championship program."
Not surprisingly, given that the Hog defense was a mess in 2013 -- 102nd in FBS yards per-play allowed, and dead last in the SEC in points allowed and yards per-play allowed in conference games -- Smith's appointment has been the source of plenty of chatter on the likes of Hawgs247, Hogville.net, and other Hog-centric message boards.
What they're saying is … eh. As with basically every coaching hire that isn't, say, replacing Mario Cristobal with Ron Turner, Smith has been embraced with open arms by a not-insignificant number of Arkansas-supporting message board denizens. But as Hog fan blog Arkansas Fight writes, "fans don't seem particularly excited by" Smith's arrival after hoping for Butch Davis (!) or a promotion for linebackers coach Randy Shannon; writer Doc Harper says he can't "pretend he's the people's choice."
A sampling of the responses from the Hawgs247 thread following Smith's introduction:
• "Not impressive at all. Might as well get behind him because we're stuck with him for a year or 2 before he jumps to the NFL."
• "Well this just sucks. I hate this hire. He has to prove something to me this year not next year this year. With these players if he is worth me spending my money to watch then he will be a difference maker this year. I will not hear any excuses about the players aren't here yet."
• "I'm sure the rest of the SEC is awake at night over this monsterous hire (SARCASM)"
From the Arkansas Fight thread under the above post:
• "Boooo!!! Just like our recruiting class, mediocre and disappointing."
• "Ehhhh. The 2012 Rutgers team [which represents Smith's only season as a defensive coordinator] gave up 6.6 yards per pass and 12.1 yards per catch.
On the plus side they only gave up 2.7 yards per carry and had 23 forced turnovers (including 18 interceptions).
This seems to be more a 'fills a need' type hire than 'an upgrade.' Here's hoping I'm wrong."
And if those are on the far end of the vitriolic spectrum, this is more-or-less representative:
• "Well, I hoped for a different outcome but [Bielema] chose what he thought was best for HIS team. I will respect and support his decision but if it doesn't work out it could bite him in the rear."
The general consensus: Bielema still has the benefit of the doubt, for now. But that doesn't mean Hog fans will be impressed by anything he does after 3-9, 0-8. And they're not impressed by Smith.
And what we're thinking is ... Smith is about as strong a hire as the Hogs were going to get. Having only one season as a defensive play-caller under his belt isn't optimal, and Smith's Rutgers unit -- featuring the likes of All-American linebacker Khaseem Greene -- had a talent advantage over much of the Scarlet Knights' schedule that simply won't exist at Arkansas in the current SEC West. 
But that's nit-picking. The bottom line is that Smith learned from an outstanding defensive coach in Greg Schiano, and that his lone season at the coordinator level was a smashing success; the Scarlet Knights finished eighth in the country in yards-per-play allowed, fourth in scoring defense, fifth in yards-per-carry allowed, ninth in turnovers forced, fourth in red zone touchdown percentage allowed. That 6.6 yards per-play mentioned by a commenter? That ranked a perfectly-respectable 32nd. Whatever the talent, whatever Rutgers' schedule, Smith's lone defense wasn't just good -- it was elite.
It's possible, yes, that was a fluke. But it's also possible -- and looking at the above numbers, maybe even likely -- that Smith is an outstanding young coach who represents one of Bielema's better hires. It may or may not work for Smith (or Bielema), but his chances -- and the chances Bielema could have corralled anyone verifiably better -- are bright enough that the welcome should be warmer.
Florida's roster got a boost on Tuesday with the return of several key members of the prog...

Tom Hutton joins the ranks of former Aussie rules footballers joining the college football...

The freshman is already on Heisman lists after throwing the walk-off score in the national...
These seven teams should make the most noise down the homestretch towards signing day

Air Force was forced to cancel 11 athletic events because of the 69-hour government shutdo...

Olson has a lot of the tools offensive coordinators want in a quarterback